Workup
Imaging Studies
Plain radiography
Usually, the diagnosis can be established by means of plain radiography (see the images below), and biopsy is not necessary. [17, 18, 19]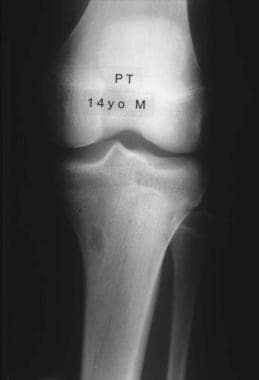 Plain radiograph of fibrous cortical defect of the proximal tibia.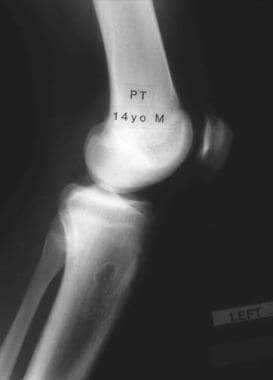 Lateral radiograph demonstrating a solitary fibrous cortical defect in the proximal tibia.
The classic picture is that of an elliptical radiolucent lesion eccentrically located within the metaphyseal cortex of long bones, especially the femur. The margins are sharply demarcated, and the appearance is often septated. In some cases, multiple lesions may develop (see the image below).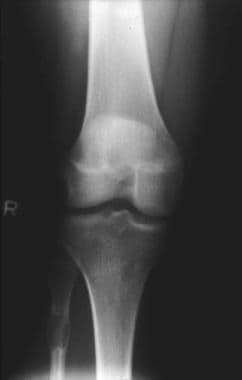 Plain radiograph demonstrating multiple fibrous cortical defects in multiple bones.
Computed tomography
Computed tomography (CT) should not be performed unless a strong doubt about diagnosis is present, except to confirm a pathologic fracture (see the image below). This lesion is located eccentrically, and CT scans should depict a central lucency. CT may confirm a minimally displaced fracture. [17, 18, 19] It may also be helpful in preoperative planning for FCDs in unusual locations (eg, the femoral neck).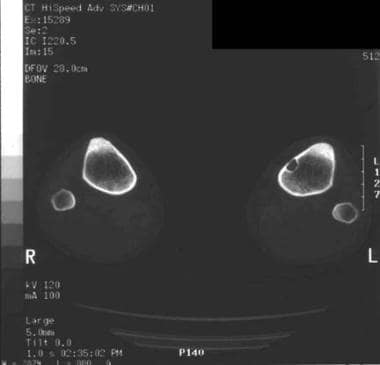 CT scan of the fibrous cortical defect shown in the plain radiographs in Images 2-3; note the cortical location and the sclerotic rim around the central lucency.
Bone scintigraphy
This study is not indicated for diagnosis. Nevertheless, in some cases, a methylene diphosphonate (MDP) technetium bone scan can help in assessing the biologic activity of the lesion. [17, 18, 19] Minimal increased uptake can be seen, as in the image below. In associated fractures, this study is not useful.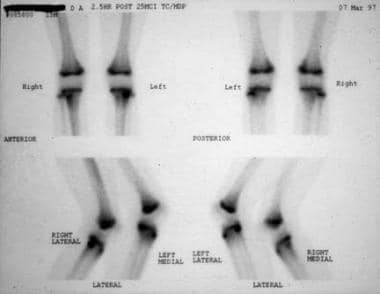 Methylene diphosphonate technetium bone scan of the fibrous cortical defect in Images 2-4; uptake is minimally increased at the site of the lesion.
Biopsy
Biopsy is rarely needed, because radiographs typically are diagnostic. [16]
Histologic Findings
Histologic analysis of FCD reveals a predominantly bland fibroblastic component with a few histiocytes, myofibroblast cells, and giant cells (see the image below). The lesion is marked by proliferations of spindle cells arranged in a storiform pattern. Hemosiderin deposits also are found. Around the lesion, some leukocyte infiltration may be present.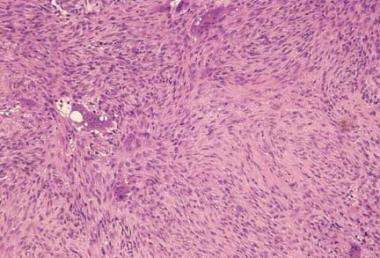 Histologic section of a fibrous cortical defect demonstrating a bland fibrous stroma in the absence of nuclear atypia or mitoses; a few giant cells are scattered within the stroma.
Fractures through an FCD may change the histologic pattern. In these cases, blood deposits due to the fracture and formation of new bone are seen. Care must be taken not to confuse early callus with osteogenic sarcoma.
What would you like to print?