Presentation
History
The most common presentation of primary lymphoma of bone (PLB; also referred to as reticulum cell sarcoma, malignant lymphoma of bone, or osteolymphoma) consists of several months of bone pain and the appearance of a soft-tissue mass. Constitutional symptoms (B symptoms), such as weight loss, fever, and night sweats, are present in fewer than 10% of patients with PLB. Hypercalcemia is seen in some pediatric patients and has been associated with a poorer prognosis. PLB may be rarely seen in patients with AIDS, immunosuppression, and Paget disease of bone.
The severity of bone pain should be ascertained, particularly with weightbearing. Activity-related pain that subsides with rest or worsening pain despite adjuvant chemoradiation may be indicative of structural insufficiency and the need for prophylactic fixation.
Physical Examination
Patients with PLB may present with a prominent mass, even with minimal radiographic changes. All lymph nodes should be palpated. Nodal involvement is rare with primary soft-tissue or bone sarcomas, but is an important factor in managing lymphoma. (See the image below.)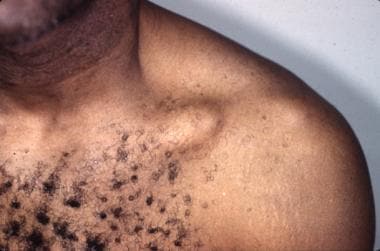 Clinical photo of a left shoulder shows a prominence in the midportion of the left clavicle. This 45-year-old man was suffering from local pain and tenderness but had no history of prior trauma.
What would you like to print?