Overview
Overview
Primary lymphoma of bone (PLB) is an uncommon entity and represents less than 5% of all primary bone tumors. Other names for PLB include reticulum cell sarcoma, malignant lymphoma of bone, and osteolymphoma. Orthopaedic surgeons typically encounter PLB as a solitary lesion with a variable radiographic appearance. Alternatively, patients with stage IV systemic lymphoma and skeletal involvement may be referred to orthopedic surgeons for the treatment of impending or pathologic fractures. Osseous involvement of disseminated lymphoma is not uncommon.
Bone lymphoma is depicted in the images below.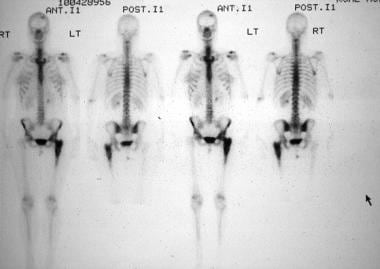 Total skeleton technetium-99m (99mTc) nuclear medicine scan reveals an isolated increased uptake in the left proximal femur at the site of this patient's bone lymphoma.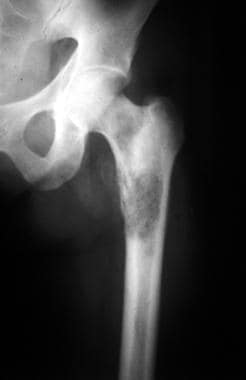 A woman who is in the early part of her fifth decade presents with progressive left thigh pain and a limp. An anteroposterior radiograph of her left proximal femur reveals a lytic destructive process involving the subtrochanteric region, with medical cortical erosion, soft-tissue extension, and an associated lesser trochanteric avulsion fracture. The proximal femur is the most common site for primary bone lymphoma.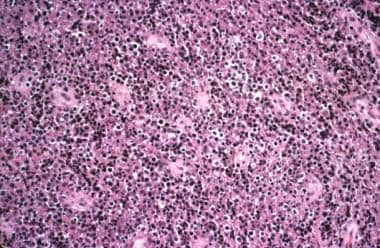 Diffuse infiltrate of large lymphoid cells is present, with cleared cytoplasm and hyperchromatic nuclei. Admixed small, reactive lymphocytes also are noted.
The definition of PLB includes the following criteria:
Histologic documentation of lymphoma in the bone

A solitary bone lesion or multiple skeletal lesions

No involvement of lymph nodes (except regional lymph nodes) or other lymphoid tissue
Soft-tissue extension from the bone is a common feature of PLB.
Commonly involved bones in PLB, in order of decreasing frequency, include the following:
Femur

Humerus

Tibia

Spine

Pelvis

Sternum

Ribs

Bones of the skull and face
The metadiaphyseal portion of bone is the most common site of disease. Involvement of the small bones of the hands and feet is rare. Some studies suggest that the mandible and maxilla are frequently affected sites, but confirmation that bone is the primary site of disease is not well documented.
Current state of research
There have been no randomized therapeutic trials for this rare disease. Most of the literature consists of retrospective reports on various chemotherapy and radiation therapy regimens.
Frequency
PLB constitutes less than 5% of primary bone tumors and less than 5% of extranodal lymphomas (or approximately 1% of all primary non-Hodgkin lymphomas). [1]
Secondary involvement of bone marrow is seen in 5-15% of patients with Hodgkin disease and 30-53% of patients with non-Hodgkin lymphoma. Up to 50% of patients with acquired immunodeficiency syndrome (AIDS)–associated Hodgkin disease have secondary bone marrow involvement. [2, 3]
Sex and age predilections
The median age range for PLB is 36-52 years, but the peak prevalence is age 50-70 years. It is rare in children. Males are affected more frequently than females (male-to-female ratio, 1.51.8:1).
Prognosis
Primary lymphoma of bone (PLB) generally has a better prognosis than most primary bone sarcomas or metastatic lesions. The Surveillance, Epidemiology, and End Results (SEER) database reported 5- and 10-year survival rates of 58% and 45%, respectively, including patients from 1973-2005. [4] These rates are lower than are reported in most other literature. A study from Memorial Sloan-Kettering Cancer Center reported a 5-year overall survival rate of 95% with chemoradiation and 78% with single-modality treatment. [5] The patients treated with only chemotherapy, however, tended to have more advanced stage disease. The University of Miami reported a progression-free survival rate of 83% at 4 years. [6] Demircay et al reported a disease-free 5-year survival rate for patients younger than 60 years and older than 60 years of 90% and 62%, respectively.
Positive prognostic factors for outcome include younger age at diagnosis, multimodal treatment, and localized disease. Other factors such as type of lymphoma, sex, and size of the lesion do not seem to be significant on multivariate analysis.
Etiology
The etiology of primary lymphoma of bone (PLB) is unknown. Viral agents and immunosuppression have been implicated in some cases. PLB has been documented as a posttransplant lymphoproliferative disorder in patients who have been immunosuppressed. Bone has also been documented as a site for primary lymphoma in patients with AIDS. Rarely, patients with Paget disease of bone may develop malignant lymphoma in the involved bone.
Genetic considerations
Cytogenetic and molecular abnormalities are associated with many different lymphomas. These also can be documented in the setting of primary bone lymphoma.
Some common recurrent abnormalities are as follows:
t(14;18)(q32;q21) - Overexpression of Bcl-2 protein, seen in 80-90% of follicular B-cell lymphomas and in 20% of diffuse large B-cell lymphomas

Rearrangements involving band 3q27 - Rearrangement of BCL6 gene, seen in 35% of diffuse large B-cell lymphomas

t(8:14)(q24;q32) - Overexpression of Myc protein, seen in 80% of Burkitt lymphomas; variant translocations t(2;8)(p11;q24) or t(8;22)(q24;q11), found in the remaining 20% of cases

t(2;5)(p23;q35) - Formation of nucleophosmin–anaplastic lymphoma kinase (NPM-ALK) fusion protein, seen in T-cell anaplastic large cell lymphoma

t(11;14)(q13;q32) - Overexpression of cyclin D1, seen in mantle cell lymphoma (not reported as a primary bone lymphoma)
Patient History
The most common presentation of primary lymphoma of bone (PLB) is several months of bone pain and the appearance of a soft tissue mass. Constitutional symptoms (B symptoms), such as weight loss, fever, and night sweats, are present in less than 10% of patients with PLB. Hypercalcemia is seen in some pediatric patients and has been associated with a poorer prognosis. Primary lymphoma of bone may be rarely seen in patients with AIDS, immunosuppression, and Paget disease of bone.
The severity of bone pain should be ascertained, particularly with weight bearing. Activity-related pain that subsides with rest or worsening pain despite adjuvant chemoradiation may be indicative of structural insufficiency and the need for prophylactic fixation.
Physical Examination
Patients with primary lymphoma of bone (PLB) may present with a prominent mass, even with minimal radiographic changes. All lymph nodes should be palpated. Nodal involvement is rare with primary soft-tissue or bone sarcomas, but is an important factor in managing lymphoma.
See the image below.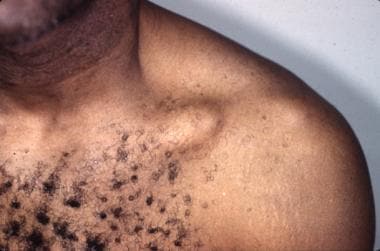 Clinical photo of a left shoulder shows a prominence in the midportion of the left clavicle. This 45-year-old man was suffering from local pain and tenderness but had no history of prior trauma.
Differential Diagnosis
Differential diagnosis based on radiographic examination, depending on a lesion's exact radiographic appearance and on the age of the patient, includes the following:
Metastatic carcinoma

Osteosarcoma

Malignant fibrous histiocytoma or fibrosarcoma of bone

Neuroblastoma and other small round cell tumors

Osteomyelitis

Langerhans cell histiocytosis

Multiple myeloma

Leukemic infiltrate

Paget disease

Giant cell tumor
Basic Laboratory Tests
Routine laboratory testing including a complete blood cell count with differential and a basic metabolic panel with calcium levels should be obtained. As with any workup of an aggressive-appearing bone lesion in an adult, additional laboratory testing includes alkaline phosphatase, which can be elevated in Paget disease and osteosarcoma; lactate dehydrogenase, which can be elevated in lymphoma and Ewing sarcoma; prostate-specific antigen for prostate cancer; liver function tests for liver disease; erythrocyte sedimentation rate and C-reactive protein for infection; and urine and serum protein electrophoresis for multiple myeloma.
Plain Radiography and CT Scanning
There is a wide variability in the plain radiographic appearance of primary lymphoma of bone (PLB). These presentations include an essentially normal-appearing bone with only a subtle shadow from an associated soft-tissue extension; a focal, well-circumscribed, lucent lesion; and a permeative destructive lesion with an aggressive periosteal reaction. [8] These patterns and variability in appearance are similar to other round cell tumors such as Ewing sarcoma. Subtle findings on radiographs, unless they are pathognomonic for well-known benign entities, should always be further investigated with advanced imaging or at least monitored for stability over time.
Radiographic images of malignant lymphoma are provided below.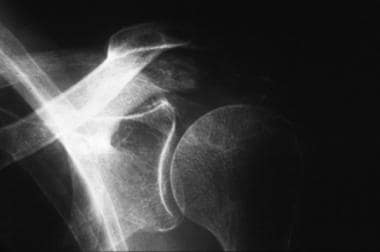 An elderly woman presents with complaints of left shoulder pain of several months duration. A plain radiograph of the left shoulder (glenoid view) reveals a destructive lytic process eroding the cortical margins of the acromial process.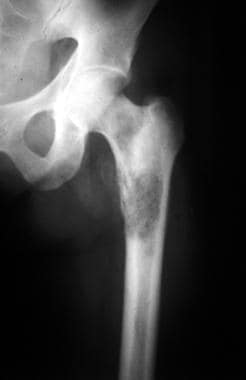 A woman who is in the early part of her fifth decade presents with progressive left thigh pain and a limp. An anteroposterior radiograph of her left proximal femur reveals a lytic destructive process involving the subtrochanteric region, with medical cortical erosion, soft-tissue extension, and an associated lesser trochanteric avulsion fracture. The proximal femur is the most common site for primary bone lymphoma.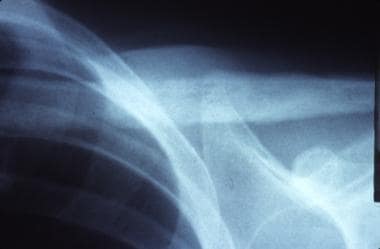 Anteroposterior radiograph of the left clavicle reveals a mixed lytic and sclerotic destructive process within the midportion of the bone, with indistinct, permeative borders.
MRI
Although primary lymphoma of bone (PLB) can appear subtle on plain radiographs, the appearance on MRI is usually more dramatic. Primary lymphoma of bone is a marrow-replacing process, and this is evident on T1-weighted series as low signal intensity within the medullary space. On T2-weighted and short tau-inversion recovery (STIR) series, these reactive and edematous areas produce high signal intensity. Typically, the lesions demonstrate areas of intravenous contrast uptake.
Many instances of PLB have an extensive soft-tissue component with minimal cortical destruction. It is hypothesized that the malignant cells extravasate from the bone through small vascular channels in the cortex.
See the images below.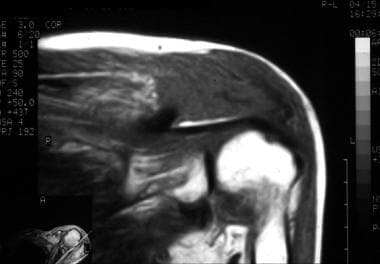 Coronal, T1-weighted magnetic resonance imaging (MRI) scan of the left shoulder reveals the replacement of the left acromion by a low-signal process extending into the surrounding soft tissue.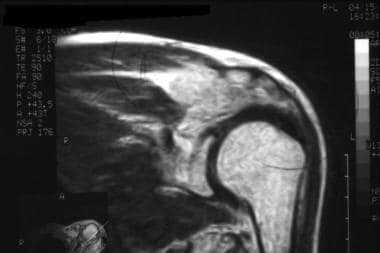 Coronal, T2-weighted magnetic resonance imaging (MRI) scan of the left shoulder reveals a high-signal process involving the left acromion and extending to the surrounding soft tissue. The MRI scan's features are suggestive only of a very high cellularity fluid-containing process, but they are nonspecific. Biopsy is required for a specific diagnosis.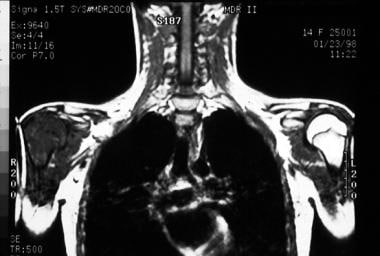 Coronal, T1-weighted magnetic resonance imaging (MRI) scan of the upper thorax and bilateral shoulders reveals a marrow replacement low-signal process involving the entire right proximal humerus. The corresponding T2-weighted MRI scan showed a high-signal process in this area. This MRI scan was produced after plain radiographs were interpreted as normal and an MRI scan of the cervical spine and brachial plexus revealed the unsuspected findings in the humerus.
Nuclear Medicine
Technetium Tc 99m bone scan and gallium scan
These modalities have very good sensitivity, with increased uptake of technetium Tc 99m or gallium in 98% of primary lymphoma of bone (PLB), particularly at the periphery of the lesions. A central cold area representing necrotic tumor may be present.
See the images below.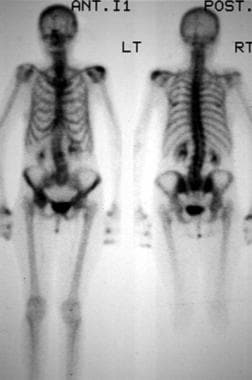 Total skeleton technetium-99m (99mTc) nuclear medicine scan shows increased uptake in the left acromion, the site of bony involvement by lymphoma in this patient. The initial differential diagnosis suggested metastatic disease to bone in addition to multiple myeloma and lymphoma, in that order.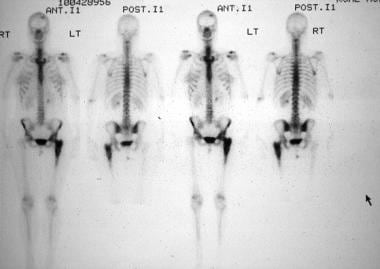 Total skeleton technetium-99m (99mTc) nuclear medicine scan reveals an isolated increased uptake in the left proximal femur at the site of this patient's bone lymphoma.

Technetium-99m (99mTc) total skeleton nuclear medicine scan shows increased uptake in the midportion of the left clavicle, an area corresponding to the clinical site of bone enlargement.
Biopsy
After a full imaging workup has been completed, a biopsy is typically necessary to establish a diagnosis. Fine-needle aspiration (FNA) relies on cytological interpretation and is controversial for primary lesions. Core-needle biopsy (CNB) provides more tissue than FNA and allows histological analysis, but CNB may not provide enough tissue for a battery of ancillary studies. If the lesion does not have a soft-tissue extension that can be sampled or a cortical defect that can be used to access the medullary canal, an open biopsy with a bone trephine or even a cortical window may be necessary. [9] All surgical biopsies should be performed by a trained orthopaedic oncologist. There are many pitfalls, including unnecessary contamination of other compartments and ill-advised incisions detrimental to future operations.
If lymph nodes are enlarged, they also should undergo biopsy for staging and further evaluation of the disease process.
Obtaining sufficient tissue for ancillary studies is imperative. Consultation with the pathologist and/or laboratory personnel before performing a diagnostic procedure is essential if lymphoma is being considered in the differential diagnosis of a bone lesion. This communication should continue at the time of biopsy. Frozen section confirmation of tissue viability and adequacy should be performed.
Generally, it is best to send the tissue specimen as fresh, on a saline-soaked Telfa pad, rather than in formalin. This allows for chromosome studies, flow cytometry, and immunohistochemistry. The pathology laboratory generally places specimens as necessary into diluted formalin fixative.
Histologic Findings
The Revised European American Lymphoma (REAL) classification separates lymphomas into 3 main categories: B-cell lymphoma, T-cell and natural killer (NK) cell neoplasms, and Hodgkin disease. Within the B-cell and T-cell/NK types, they are further divided into precursor versus peripheral (mature) subtypes.
The vast majority (~80%) of primary lymphoma of bone (PLB) cases are diffuse large B-cell lymphoma (DLBCL), one of the more common non-Hodgkin lymphomas. On histology, it is characterized by large cells that are centroblastic, immunoblastic, or anaplastic. The centroblastic variant is most common and has the appearance of large lymphocytes with scant cytoplasm.
Histologic differential diagnosis includes Ewing sarcoma, neuroblastoma and other types of small round cell tumors, granulocytic sarcoma, and Langerhans cell histiocytosis.
Immunohistochemical images of malignant lymphoma are provided below.
Distinguishing lymphoma from Ewing sarcoma can be challenging. An immunohistochemical panel that includes consistent markers for Ewing (CD99) and for lymphoma (terminal deoxynucleotidyl transferase [TdT]) should be performed. Other markers such as CD43, CD79a, CD20, and leukocyte common antigen (LCA) are inconsistently present in lymphoma but should be absent in Ewing sarcoma. Vimentin is positive in the majority of Ewing sarcoma and minority of lymphoma cases. [10, 11]
Staging
Staging studies include radiographs and MRIs of the primary lesion; whole-body bone scan; bilateral iliac crest bone marrow biopsy; CT scanning of the chest, abdomen, and pelvis; and, in children, cerebrospinal fluid analysis to exclude central nervous system involvement.
A solitary bone lesion with primary lymphoma of bone (PLB) is classified as stage IE according to the Ann Arbor system. This represents one extranodal site of involvement. If regional lymph nodes are involved, it is stage IIE. Disseminated disease is deemed stage IV.
Nonoperative Treatment
Radiation therapy for primary lymphoma of bone (PLB) provides adequate local control rates; however, when used alone, it results in high rates of systemic failure. The addition of chemotherapy provides superior overall survival and a decreased incidence of relapse. [12] Multimodal chemoradiation can often even allow bone healing. Only approximately one third of patients with PLB ultimately require surgery for impending pathologic fractures. [13] Patients should be monitored radiographically and clinically during chemoradiation for bone healing. Those with persistent activity-related pain should be evaluated for surgery before progressing to less restrictive weight-bearing precautions.
Chemotherapy typically consists of cyclophosphamide, doxorubicin (Adriamycin), vincristine, and prednisone (CHOP) with or without rituximab, an anti-CD-20 antibody (RCHOP). Intrathecal methotrexate may be given for central nervous system prophylaxis. Radiation therapy of 40-60 Gy, fractionated over several weeks, usually follows chemotherapy. [14, 15, 16] Refractory cases have been treated with allogeneic bone marrow transplantation. [17]
In children, aggressive chemotherapy alone appears to be as effective as combined-modality therapy. Because radiation therapy in children is associated with an increased incidence of adverse, growth-related consequences, it should be avoided in this population.
Surgical Management
Surgery is not a primary modality of treatment for primary lymphoma of bone (PLB), aside from biopsy and treatment of skeletal complications. Before the advent of effective radiation and chemotherapy, some patients were treated with amputation. Indications for the operative involvement of orthopedic surgeons in PLB most commonly fall into 1 of the following 3 categories:
Diagnosis

Treatment of pathologic or impending pathologic fractures

Decompression of spinal canal compromise
No clear role for surgical debulking or wide resection currently exists for PLB.
Indications for prophylactic stabilization of impending pathologic fractures
Because lymphomas involving bone may result in pathologic fractures, appropriate steps should be taken to prevent such fractures before they occur. In most patients, particularly those who are younger and compliant, protected weight bearing and use of a gait-aid devices suffices during chemoradiation and until there is improvement of the radiographic appearance. Prophylactic stabilization may be indicated in selected patients who are either unable or unwilling to take such measures to avoid fracture, or if there is an increase in activity-related pain indicating structural insufficiency and microfractures.
The evaluation for impending pathologic fracture in PLB is similar to that for metastatic bone lesions. The highest-risk lesions are those of a lytic nature that involve more than one half to two thirds of the bone diameter. This is particularly true for lesions that are located in the peritrochanteric region and cause pain with weight bearing. Lesions that have cortical destruction are at higher risk than those that are primarily marrow replacing.
Prophylactic stabilization typically involves curettage, cementation, and augmentation of the lesion with internal fixation. An adjuvant such as cryotherapy may be used.
Indications for fixation of pathologic fractures
If a pathologic fracture occurs, the surgical decision making changes. On average, approximately one third of all pathologic fractures from metastases to bone heal after surgical fixation. This rate varies depending on the type of primary malignancy. There are no published rates for PLB, but with the addition of radiation therapy that further hinders bone healing, the surgeon should assume that the fracture will not heal.
Because the survival for PLB is fairly high, the construct chosen should be very durable. Several trauma studies have demonstrated the ability of a statically locked intramedullary nail of at least 12 mm diameter to support early weight bearing of an average adult male, even with comminution or a segmental bone defect. Nevertheless, the bone stock in patients with malignancy may be compromised and it is likely that long-term weight bearing on a nail with no bony support will result in hardware failure.
If the pathologic fracture occurs in an area amenable to bone resection and replacement with a megaprosthesis, this should be strongly considered. Cemented endoprostheses provide immediate stability and early resumption of activity.
Surgery for spinal involvement
Lymphoma can occur in the spine and cause nerve or cord compression. In cases of foraminal or central stenosis from soft-tissue extension of PLB, decompression may be necessary to prevent progressive neurologic deficit. If there is spinal instability either from the decompression or from a lytic lesion, spinal fusion also may be necessary.
Contraindications
Contraindications to surgery are similar to other conditions and are not specific to PLB. Needle biopsies are often adequate and can obviate the need for surgical biopsy. Because radiation and chemotherapy are effective modalities of treatment, a cure can be achieved without surgical intervention.
Complications
Complications from malignant bone lymphoma and its treatment can include the following:
Fracture nonunion

Wound infection

Failure of prophylactic fixation

Secondary arthritis following collapse of osteonecrotic bone

Toxicity of chemotherapy

Thrombophlebitis

Avascular necrosis of bone

Secondary malignancy from chemotherapy or radiation
What would you like to print?