Workup
Imaging Studies
Radiographs may show changes typical of degenerative arthritis, such as joint-space narrowing, subchondral sclerosis, and dorsal osteophytes (see the images below).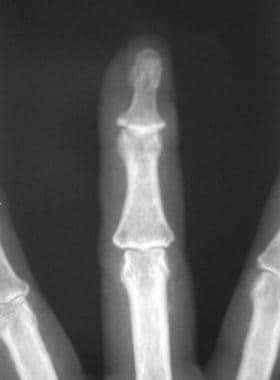 Degenerative changes at the distal interphalangeal joint.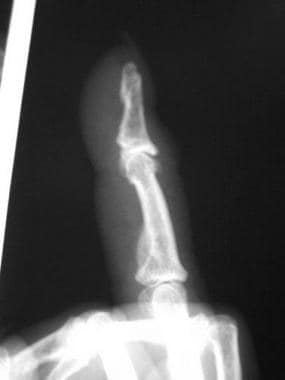 Dorsal osteophyte seen at the distal interphalangeal joint.
Additional studies rarely are needed. The diagnosis usually is made clinically, though magnetic resonance imaging (MRI) can help in difficult cases.
Procedures
Dermatoscopy may be a useful noninvasive adjuvant in the diagnosis of mucous cysts of the fingers. [14]
Histologic Findings
Grossly, mucous cysts are cystic, smooth, translucent masses with viscous fluid.
Under light and scanning electron microscopy, mucous cysts share the same ultrastructure as other soft-tissue ganglions. Under light microscopy, ganglions have a smooth collagenous lining. On scanning electron microscopy, crisscrossing layers of collagen are identified, with areas of elevations hypothesized to be multifunctional mesenchymal cells. No major degenerative or inflammatory changes are seen, nor are bursal or synovial endothelial cells. Multiple cavities may be found coalescing into a larger space.
What would you like to print?