Workup
Imaging Studies
Findings on plain radiography generally are not specific for neurilemmoma (neurilemoma; also referred to as schwannoma). The rare intraosseous lesion presents as a benign-appearing, well-circumscribed lesion. Differential diagnoses for these lesions include giant cell tumors, chordomas (when involving the spine), and chondroblastomas. Massive bony destruction may be present, especially when the lesion involves the sacrum.
Special studies to consider include computed tomography (CT) and magnetic resonance imaging (MRI). [8] MRI is particularly useful (see the image below); it shows a usually round or oval mass with a moderately bright signal on T1-weighted images and a bright, heterogeneous signal on T2-weighted images. [9] The mass is usually less than 2.5 cm in size. The lesion enhances uniformly with gadolinium contrast.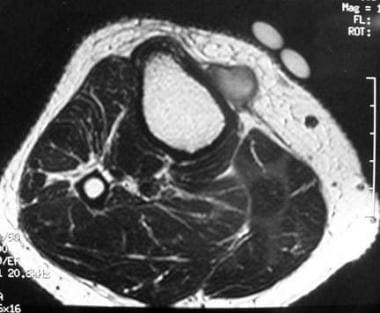 Neurilemmomas have very distinctive appearances on magnetic resonance images. Many investigators believe that the presence of a target sign on a peripheral nerve is diagnostic for a neurilemmoma.
Wu et al conducted a study to determine the value of ultrasonography (US) in the diagnosis of neurilemmoma and to determine whether the presence of a round or roundlike shape on the ultrasound image is diagnostically useful. [10] They concluded that US is capable of diagnosing neurilemmomas with a high degree of accuracy but that round or roundlike shape and the ratio of longitudinal maximal diameter to short maximal diameter (L/S) are of little value in identifying neurilemmomas of the limbs.
Yuan et al, in a study assessing the diagnostic accuracy of multiparametric US for evaluating signs of peripheral nerve schwannoma, determined that excellent accuracy could be achieved by combining two-dimensional (2D) imaging, color flow imaging, and elastography. [11] ​ specific US signs specific to peripheral schwannoma included polar blood supply sign and target sign on elastography.
Biopsy
Biopsy may be needed to clearly define the tissue type. For bone lesions and for particularly large soft-tissue lesions, biopsy is prudent to ensure correct diagnosis and management. Whenever a biopsy is considered, strict biopsy guideline principles must be followed.
Histologic Findings
Lesions of the spinal cord often have a dumbbell shape; otherwise, they are fusiform in shape. They have an epineurium encapsulation, frequently with overlying vessels. The cut surface is pink or white. In very large masses, degenerative cysts, hemorrhage, or dystrophic calcification may be present.
Neurilemmomas have a well-defined fibrous capsule. Histologically, there are two distinct regions, as follows:
Antoni A areas - These are cellular regions with predominantly benign spindle cells in many intersecting bundles; they may palisade around eosinophilic regions that are called Verocay bodies, and they are positive for S100 staining

Antoni B areas - These are much less cellular and have a background of loose connective tissue that is myxomatous in appearance
Occasionally, a more aggressive histologic appearance may predominate, but such forms usually lack mitotic figures.
Staging
Neurilemmomas are commonly classified according to the Enneking system for benign lesions, as follows:
Grade 1 - Inactive lesions

Grade 2 - Lesions that deform the surrounding tissues but are not destructive or locally aggressive

Grade 3 - Lesions that are locally aggressive and may invade local tissues but do not have metastatic potential
Generally, neurilemmomas are grade 2 or 3.
What would you like to print?