Presentation
History
Symptoms of osteosarcoma may be present for weeks or months (occasionally longer) before patients are diagnosed. The most common presenting symptom is pain, particularly pain with activity. Patients may be concerned that their child has a sprain, arthritis, or growing pains. Often, there is a history of trauma, but the precise role of trauma in the development of osteosarcoma is unclear.
Pathologic fractures are not particularly common. The exception is the telangiectatic type of osteosarcoma, which is more commonly associated with pathologic fractures. The pain in an extremity may result in a limp. There may or may not be a history of swelling (see the image below), depending on the size of the lesion and its location. Systemic symptoms, such as fever and night sweats, are rare.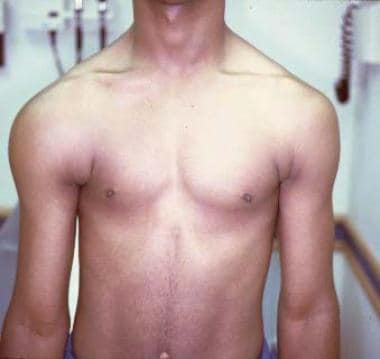 Clinical appearance of a teenager who presented with osteosarcoma of the proximal humerus (same patient as in the following images). Note the impressive swelling throughout the deltoid region, as well as the disuse atrophy of the pectoral musculature.
Tumor spread to the lungs only rarely results in respiratory symptoms and usually indicates extensive lung involvement. Metastases to other sites are extremely rare, and therefore, other symptoms are unusual.
Physical Examination
Physical examination findings are usually limited to the site of the primary tumor, as follows:
Mass - A palpable mass may or may not be present; the mass may be tender and warm, though these signs are indistinguishable from osteomyelitis; increased skin vascularity over the mass may be discernible; pulsations or a bruit may be detectable

Decreased range of motion - Involvement of a joint should be obvious on physical examination

Lymphadenopathy - Involvement of local or regional lymph nodes is unusual

Respiratory findings - Auscultation is usually uninformative unless the disease is extensive
What would you like to print?