Workup
Laboratory Studies
Routine blood tests are performed to assess the patient's general medical condition and assessment of fitness for anesthesia.
Plain Radiography
Orthogonal views of the affected long bone with the joints above and below should be obtained, preferably in conjunction with full-length radiographs of the bones. Because parosteal osteosarcoma is a bone-forming tumor, the lesions will be radiopaque on radiography. The degree of opacity depends on the maturity and quantity of the osseous component (see the image below).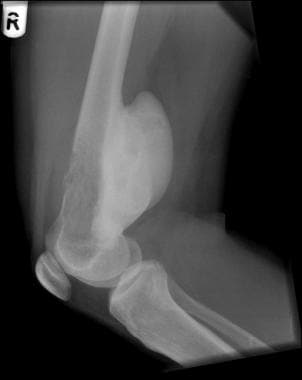 Plain radiograph showing increased opacity in lesion (parosteal osteosarcoma) in posterior aspect of distal femur (classic site).
Commonly, peripheral areas appear cloudy and indistinct, indicating that they are less mature. However, there is no correlation between radiopacity and histologic grade: even a lesion that is heavily radiopaque on radiographs and has sharply demarcated margins can be a high-grade poorly differentiated tumor. A radiotranslucent line may be seen between the cortex and the tumor, indicating the presence of fibrous and cartilaginous tissues. The tumor can present late; thus, cortical erosion and medullary involvement may be seen at presentation.
Computed Tomography
Computed tomography (CT) may be employed for local staging (see the images below), but magnetic resonance imaging (MRI) is preferred.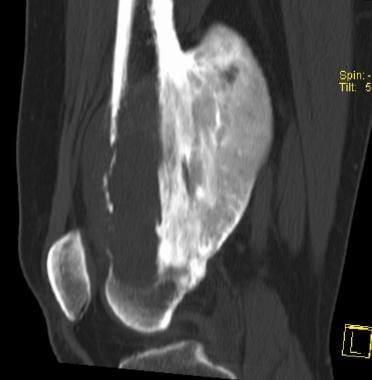 CT sagittal reconstruction of same lesion as in plain radiograph shown above.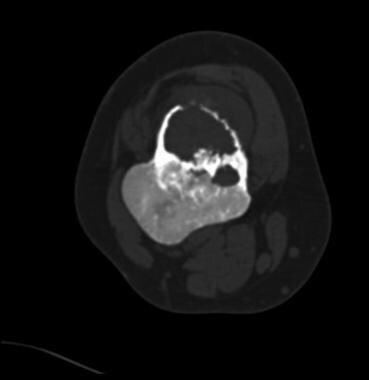 CT axial section of same lesion as in image above.
Magnetic Resonance Imaging
MRI is very useful for evaluating intramedullary involvement, especially in late-presenting cases. It is also useful for determining joint involvement, assessing tumor encroachment on major neurovascular tissues, and examining the surrounding reactive zone for the purposes of preoperative planning (see the images below). To exclude rare skip lesions in dedifferentiated parosteal osteosarcoma, MRI should cover the whole bone.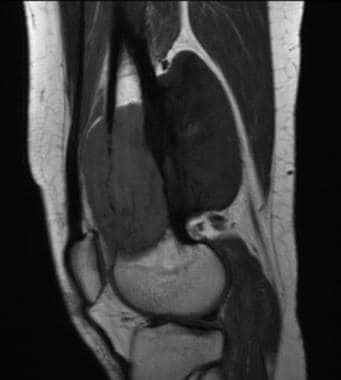 T1-weighted MRI scan of same lesion as in plain radiograph shown above.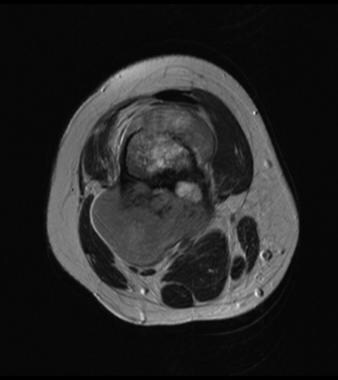 T2-weighted MRI axial section of same lesion shown in image above.
A study by Aparisi Gómez et al, aimed at differentiating tumoral growth from the surrounding inflammatory change in parosteal osteosarcoma, found that MRI lacked specificity for tumor invasion and recommended that it be correlated with CT whenever positive so as to add specificity for tumors. [5]
Other Tests
Angiography was more commonly used before the advent of CT and MRI, when it was valuable for defining the relation of the tumor to the major vascular structures, particularly in the popliteal and axillary regions.
Bone scanning shows an area of dense uptake within the lesion. It is useful for identifying metastasis.
Biopsy
Core biopsy may be done with Islam needles to confirm the diagnosis. If a sufficient sample cannot be obtained, open biopsy may be performed. The following basic principles of bone biopsy should be adhered to:
The biopsy must be done by—or, at least, discussed with—the surgeon who will be providing the definitive surgical treatment

The incision should be placed in such a way that it lies in the same line as the planned incision for the definitive procedure, so that it can be completely excised

The incision should not cross neurovascular structures

The specimen should be taken from the tumor margin because the center of the tumor may have only necrotic tissue; the periphery of the lesion is usually active, with a reactive zone

If a drain is maintained, it should be placed very near the wound; the drain tract must be excised in toto during definitive surgery
Histologic Findings
The surgical specimen shows a hard matrix-producing tumor arising from the underlying cortex of the bone. Microscopically, parosteal osteosarcoma consists of well-formed bone trabeculae in a hypocellular spindle-cell stroma. Its microscopic morphology allows it sometimes to be misdiagnosed as other benign tumors. [6]
The bone trabeculae are arranged in a parallel fashion. Spindle cells usually show minimal atypia, though in approximately 20% of cases the stroma is more cellular, with moderate cytologic atypia. Mitotic figures are rare. Approximately 50% of cases show cartilaginous differentiation in the form of either cartilaginous nodules or cartilaginous cap. Marrow involvement and cytologic atypia do not predict a worse outcome.
Dedifferentiation is seen in approximately 15% of parosteal osteosarcomas, either at the time of the original tumor or, more often, at the time of recurrence. Dedifferentiated parosteal osteosarcomas carry a worse prognosis, comparable to that noted with the conventional osteosarcomas.
What would you like to print?