Workup
Approach Considerations
Lucas reported that "distinguishing osteoblastoma from osteosarcoma is one of the most challenging and important problems in orthopaedic pathology and ... is sometimes impossible." [24] The histologic diagnosis requires a meticulous microscopic examination for cellular atypia, nuclear atypia, abnormal mitoses, and a permeative (penetrating) pattern. If any of these characteristics are found, osteosarcoma should be considered the likely diagnosis.
Immunohistochemical analysis may also aid in the diagnosis. The cells of osteoblastoma may show a different reactivity pattern for the expression of cyclooxygenase (COX)-2 than atypical osteoblastic cells in osteosarcoma. [33]
The diagnosis and treatment of osteoblastoma frequently requires the coordinated participation of an experienced radiologist, a pathologist, and a surgeon with expertise in orthopedic oncology. Once the diagnosis is made, the outcome is generally good.
Laboratory Studies
No serum or blood studies are helpful in the diagnosis of osteoblastoma. Histologic analysis of an appropriate, representative biopsy specimen is required to make the diagnosis. The representative sample must be at least 1.0 cm in volume and from the body of the mass; taking a piece of irritated, reactive periosteum adjacent to the lesion or from the aneurysmal component of such tumors will result in an inappropriate diagnosis.
Radiography
Standard plain films are the most helpful radiographs for making the diagnosis of osteoblastomas. These tumors typically possess several general characteristics on standard radiographs. [10, 34, 35]
First, osteoblastomas tend to occur in particular locations, and an awareness of their typical, most frequent locations must be kept in mind.
The radiographic presentation shows a well-circumscribed radiolucent lesion in the bony cortex, with a thin shell of peripheral new bone separating it from the surrounding soft tissue (see the images below).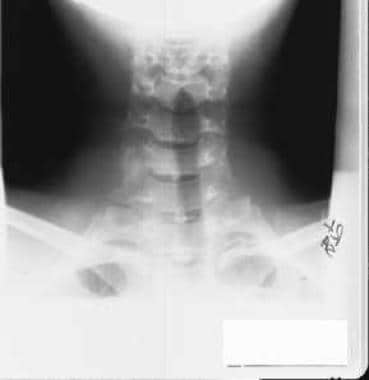 Radiograph of cervical spine of 15-year-old girl.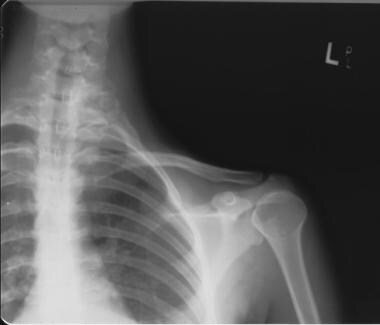 Radiograph of cervical spine reveals expansile lesion in posterior elements of cervical spine in 15-year-old girl.
The lesion is typically larger than 2.0 cm in diameter, and does not have a surrounding, intense, reactive zone of bone surrounding it, as is characteristic of osteoid osteoma.
Approximately two thirds of osteoblastomas in tubular bones occur within the cortex, and the remaining one third appear within the medullary canal.
Within the vertebral column, radiographs most commonly display the tumor in the posterior elements. It is usually a well-defined destructive process within the cortical bone but may bulge into the surrounding soft tissues and spinal column. This is probably because the limited bony volume of the posterior element cannot contain the substantial (>2 cm) volume of tumor growth at this site.
Within the long bones, the radiographic presentation of osteoblastoma is usually a rounded or oval, lucent tumor arising within the diaphysis.
In general, reactive bone formation is seen more frequently in cortical bone lesions than in those arising within the spongy bone of the spine, ilium, or talus.
Osteoblastoma may have features similar to those of malignancy (eg, cortical destruction and extraosseous soft-tissue expansion), but as noted above, this is usually due to the associated aneurysmal bone cyst component.
Computed Tomography
Computed tomography (CT) is a useful imaging tool for the diagnosis, and management planning of these tumors. During the preoperative evaluation, CT can provide information about the size and extent of the lesion in cortical bone. It is most helpful with vertebral-column lesions that are difficult to localize clearly on plain radiographs (see the image below). CT often results in smaller and more accurate surgical resections.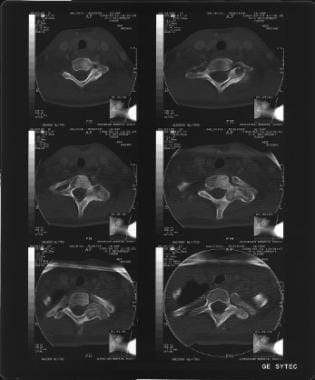 CT of cervical spine reveals expansile lesion in posterior elements.
Magnetic Resonance Imaging
Magnetic resonance imaging (MRI) is most helpful in depicting the extent of lesions that extend into the surrounding soft tissues, bone marrow, and spine. Like CT findings, MRI findings alone are not diagnostic (see the images below).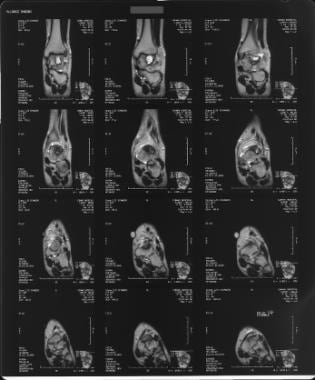 T1-weighted sagittal MRI of left foot demonstrates lesion in talus with low signal intensity. MRI findings are not specific enough to suggest diagnosis of osteoblastoma but aid in determining extent of lesion.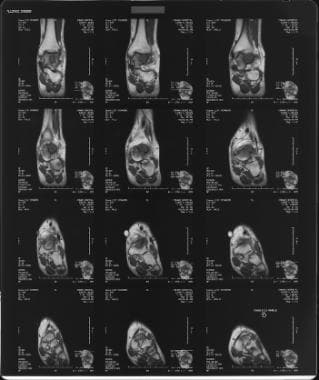 T2-weighted sagittal MRI of left foot demonstrates lesion in talus with high signal intensity.
Bone Scintigraphy
Bone scintigraphy is a sensitive tool but not a specific one. It reveals intense focal activity of the radionuclide at the tumor site but, by itself, is not diagnostic. Many bone tumors (eg, osteoid osteoma, aneurysmal bone cyst, fibrous dysplasia) show a similar type of focal activity (see the image below).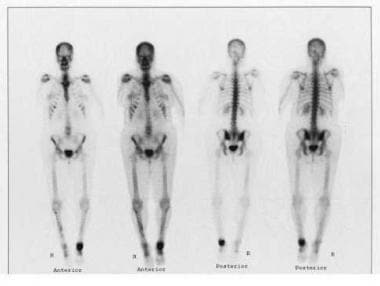 Increased radionuclide activity in talus corresponds to site of lesion.
Angiography
In the past, angiography was commonly used to determine the vascularity of the lesion, but at present, with the availability of more definitive studies, it is not considered to be helpful or cost-effective in most situations. It can, however, be helpful if information is needed on the locations and extent of involvement of adjacent major vessels.
Biopsy
Biopsy of the lesion is necessary to provide an appropriate, representative tissue sample for histologic diagnosis.
Fine-needle biopsy usually is not indicated for obtaining a tissue sample for this tumor, because the amount of tissue is usually too small to make any diagnosis other than benign versus malignant and primary versus metastatic disease. This tool has up to a 25% false-negative/false-positive outcome in most hands. A core needle biopsy is more useful to obtain a representative specimen for diagnosis.
Open biopsy may also be performed. The use of this type of biopsy depends on the anatomic location of the lesion, the experience of the person performing the biopsy, and any associated defects (eg, aneurysmal bone cyst) present with the mass.
Histologic Findings
Osteoblastoma has been characterized as having a cellular osteoblastic tissue with active intercellular production of osteoid material and primitive woven bone (see the images below).
Photomicrograph of osteoblastoma (original magnification, X40). Special thanks to Dr Ronald Burns, Palmetto Richland Department of Pathology, for his assistance in obtaining these slides.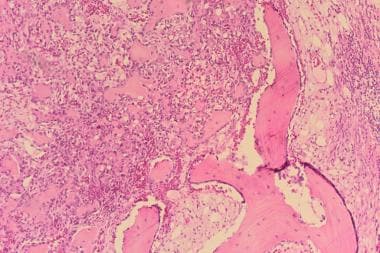 Photomicrograph of osteoblastoma (original magnification, X100). Special thanks to Dr Ronald Burns, Palmetto Richland Department of Pathology, for his assistance in obtaining these slides.
General histologic findings of osteoblastoma include the following:
Most important, immature bony trabeculae are lined by osteoblasts; some of these trabeculae may have extensive ossification, whereas others may be without mineralization

Highly vascularized connective tissue - The stroma contains widely dilated capillaries and areas of large dilated blood sinusoids

Mitotic activity - Mitotic activity is nil to minimal in 89% of cases
Histologic findings are very important in making the diagnosis of osteoblastoma versus osteosarcoma, but the differentiation is often difficult. Histologic hints in separating the two diagnoses include the following:
Osteoblastoma has a very low rate of mitosis and minimal cytologic atypia

Osteoblastoma has a tendency for peripheral maturation and does not permeate surrounding bone and soft tissue as osteosarcoma does

Osteoblastoma rarely has the cartilaginous matrix that is often present with osteosarcoma
Staging
The Enneking system, now known as the Musculoskeletal Society Tumor Staging System, categorizes benign tumors into the following three levels [31, 32] :
Latent (stage 1) - These tumors are asymptomatic and are usually discovered incidentally; they may be active in adolescence but become latent after adulthood

Active (stage 2) - These tumors usually enlarge slowly, are always surrounded by a rim of normal bone, and are usually discovered during an investigation of bone for other reasons (eg, after an associated pathologic fracture or mechanical dysfunction); they usually grow slowly but steadily, have benign cytologic characteristics, remain intracapsular, and do not metastasize

Aggressive (stage 3) - These tumors grow rapidly, destroy surrounding bone, and are symptomatic (eg, a giant cell tumor of bone); they are usually associated with an aneurysmal bone cyst that destroys bone aggressively and extends extracapsularly, though the histologic architecture and cell structure of the osteoblastoma remains benign in these instances
In most cases, osteoblastoma is a stage 2 lesion.
What would you like to print?