Treatment
Approach Considerations
Initial treatment of VIPomas is directed toward correcting volume and electrolyte abnormalities. Octreotide acetate controls diarrhea in up to 90% of patients with VIPomas. Glucocorticoids reduce symptoms in 50%.
Systemic chemotherapy may be needed in cases of unresectable or progressive disease. Streptozocin, doxorubicin, fluorouracil, or a combination of these appears to be beneficial, though the number of treated cases has been limited.
Local tumor resection is the treatment of choice. In advanced disease, tumor debulking may relieve symptoms, but it is not effective in all cases. Transarterial chemoembolization (TACE) with chemotherapy-loaded materials may provide palliation in patients with extensive hepatic disease. [22] This treatment may be repeated several times, depending on tumor growth and symptoms. External radiation therapy may be indicated in unresectable tumors. Laparoscopic surgical resection has been successful in at least one adult with hepatic metastasis. Irreversible electroporation (IRE) for the management of unresectable pancreatic VIPoma has been reported. [23]
In patients with VIPoma, parathyroidectomy does not correct hypercalcemia. (VIP and its parathyroid hormone–like action cause hypercalcemia.)
Pharmacologic Therapy
Initial treatment for VIPoma is aimed at correcting any volume, electrolyte, and acid-base abnormalities with intravenous (IV) normal saline, potassium chloride, and, if acidosis is severe, sodium bicarbonate. In many cases, these abnormalities are pronounced enough to necessitate hospital admission.
In more than 90% of patients, somatostatin effectively reduces serum vasoactive intestinal peptide (VIP) levels and promptly controls diarrhea. [16] To circumvent the short serum half-life of somatostatin, the derivative octreotide is used. A long-acting octreotide formulation is available that allows once-monthly intragluteal administration. (Patients may have to make monthly clinic visits to receive the injections.) Diarrhea recurs when treatment is discontinued. It is currently debated whether somatostatin analogues also diminish tumor size.
Unless a surgical cure has been achieved (see Surgical Intervention), octreotide dosing is continued in most patients. Long-term octreotide treatment frequently results in gradually increasing resistance to this therapy. When the highest tolerable dosages of octreotide are unable to control symptoms, interferon alfa may be added to control diarrhea (and, possibly, achieve a modest reduction in tumor size).
Glucocorticoids are less effective, reducing symptoms in approximately 50% of patients. However, they are also less expensive.
In patients with advanced disease, tumors may respond to treatment with streptozocin-based chemotherapy (eg, streptozocin combined with 5-fluorouracil [5-FU]). If conventional chemotherapy and somatostatin are not effective, 5-FU may be combined with interferon alfa. Other chemotherapy agents that may be considered include dacarbazine and doxorubicin HCl.
Radiation Therapy
The use of radiolabeled octreotide to target radiation treatment toward a VIPoma is based on the affinity of octreotide for the somatostatin receptors on the VIPoma cells. In one trial, half of the patients achieved stabilization of previously progressive tumors, with minimal bone marrow toxicity. [24] This therapeutic approach may be applied to advanced neuroendocrine tumors in general.
Occasionally, external radiation therapy may be indicated for locally advanced unresectable tumors; however, experience with this treatment is limited.
Surgical Intervention
Surgical exploration with tumor resection (see the image below) leads to cure in 50% of patients. After appropriate fluid and electrolyte replacement, all operable patients with apparently resectable disease should receive abdominal exploration with careful staging. Intraoperative ultrasonography of the pancreas may aid in locating an otherwise unidentified tumor. For patients without nodal or distant metastasis, complete surgical resection offers the only chance for a cure.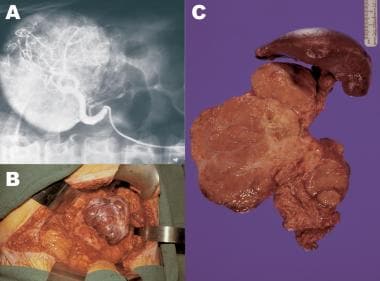 Patient with a large VIPoma. (A) Arteriogram showing vascularity of a large VIPoma preoperatively. (B) Large mass seen intraoperatively. (C) Gross pathologic specimen. Patient subsequently developed liver metastases; he was treated with chemoembolization of liver masses multiple times and finally succumbed to disease 20 years after initial surgical treatment.
Local tumor resection is the treatment of choice. [16, 25, 26, 27] Pancreatoduodenectomy is indicated when the tumor is in the pancreatic head or processus uncinatus. If no tumor is found at surgery, a blind pancreatic tail resection may be performed. A total pancreatectomy no longer is recommended. Serum VIP levels may normalize within an hour after curative tumor resection. Preoperative treatment with a proton pump inhibitor is advisable to prevent rebound gastric acid hypersecretion after surgical tumor removal.
Severe hypotension may develop temporarily during and after tumor removal as a consequence of the vasodilatory effect of the VIP released during manipulation of the tumor. Severe hypertension may develop temporarily after tumor removal. Postoperatively, octreotide therapy will usually be needed indefinitely to control symptoms of VIP hypersecretion from residual tumor. [26]
In most cases, at the time of diagnosis of VIPoma, metastatic disease is already present. For these patients, tumor debulking may reduce clinical symptoms, [16, 27] but for substantial clinical benefit to be achieved, operative planning ought to include resection of more than 90% of tumor volume.
Unresectable liver metastases may be treated with hepatic artery radioembolization or transcatheter chemoembolization with doxorubicin or cisplatin. [28] When embolization is unsuccessful or not feasible for liver metastases, percutaneous or intraoperative radiofrequency tumor ablation may be attempted, though it is not ideal for large metastatic tumors.
All patients being surgically treated for a VIPoma should undergo a cholecystectomy to alleviate concerns of gallstones with somatostatin analogue therapy, in case such therapy is needed in the future. In patients with VIPomas, a parathyroidectomy does not correct hypercalcemia unless the VIPoma is resected.
Orthotopic liver transplantation has been performed in a small number of adult patients with pancreatic endocrine tumors; the 5-year survival rate has been approximately 50%. [29]
Consultations
Consultations with the following specialists may be warranted:
Endocrinologist - Consultation with an endocrinologist is indicated, particularly in MEN 1 or other polyhormonal secretion states or in cases where long-term hormonal suppression is required

Gastroenterologist - Consultation with a gastroenterologist may be indicated for evaluation of long-term diarrhea or for colonoscopic evaluation for villous adenoma

Surgeon - Consultation with a surgeon experienced in pancreatic surgery may be indicated if the evaluation suggests a resectable or debulkable tumor or if exploratory surgery is contemplated
Long-Term Monitoring
Patients with VIPomas need frequent outpatient follow-up to monitor hydration status and serum electrolyte levels. In patients with continuing fluid loss that is not controlled effectively by medical and surgical treatment options, a long-term central venous access device may be implanted; the patient may be trained to replace fluid and electrolytes at home or in an ambulatory setting.
Posttreatment VIP levels may serve as a tumor marker for recurrent disease.
What would you like to print?