Workup
Radiography
Congenital coxa vara (CCV) is differentiated radiographically from other forms of proximal femoral varus by the characteristic finding of an inverted Y-shaped lucency (see the image below). This lucency is made up of the proximal physeal plate and a fragment of bone inferolateral to the physis, which represents a contained area of abnormal calcification.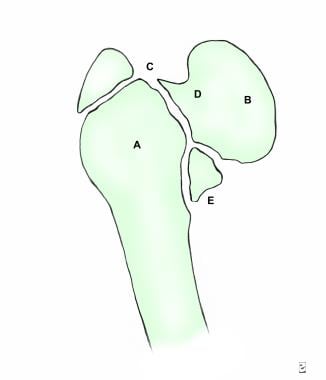 Characteristic radiographic findings of congenital coxa vara. (A) Decreased neck shaft angle. (B) Smaller and flatter femoral head. (C) More vertical orientation of physeal plate. (D) Coxa brevis. (E) Abnormal bony fragment inferolateral to physeal plate and contained in inverted Y-shaped lucency.
Other, more generic radiographic features are shared with the other causes of coxa vara. These include the following:
Decreased neck-shaft angle, often approaching or less than 90°

Smaller and flatter femoral head

More vertical orientation of the physeal plate

Decreased femoral anteversion or even retroversion of the head on the femoral neck

Coxa brevis

Often, a shallow acetabulum with a more oval shape
Scrutinize films for evidence of acquired or metabolic causes of coxa vara, such as avascular necrosis, slipped capital femoral epiphysis (SCFE), septic destruction of capital femoral epiphysis or metaphysis, fibrous dysplasia, and rickets.
In a study that proposed quantifying CCV with the Hilgenreiner epiphyseal angle (HEA), Weinstein et al also suggested that rather than using the Hilgenreiner line, which can change with pelvic obliquity induced by the commonly associated limb-length discrepancy, a horizontal line parallel to the ground can be drawn instead. [10] Values for hips affected with CCV average 40-70° but may be as high as 70-90°. This physeal angle remains the most commonly used means for quantification of vertical tilt of the proximal femoral physis at presentation and during follow-up, as well as for evaluating the amount of correction achieved with surgical intervention.
CT and MRI
Computed tomography
Computed tomography (CT) with possible three-dimensional (3D) reconstructions can be used to help delineate the proximal femoral defect. It commonly reveals displacement of the proximal femoral epiphysis and associated metaphyseal spike of bone, from its normal superior-anterior position on the femoral neck to an inferior-posterior position. This results in relative femoral retroversion with respect to the head-shaft relationship.
CT may provide useful information regarding femoral anteversion or retroversion and the amount of bone stock in the area, which is important information for preoperative surgical planning.
Magnetic resonance imaging
Findings from magnetic resonance imaging (MRI) include widening of the growth plate with expansion of cartilage mediodistally between the capital femoral epiphysis and the femoral metaphysis. The usefulness of MRI as a preoperative imaging modality, in both diagnosis and surgical planning, is relatively limited.
What would you like to print?