Workup
Imaging Studies
Radiography
Posterior dislocation
Radiographic views for posterior dislocation include anteroposterior (AP) internal and external rotation views, an axillary lateral view, and a scapular-Y view. Posterior dislocations are often missed on standard AP radiographs alone (see the image below).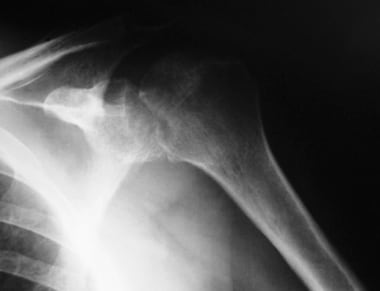 Anteroposterior radiograph of this shoulder demonstrates an impression defect in the humeral head; however, the posterior dislocation is not readily apparent on this view.
Because the humeral head is fixed in internal rotation, the standard internal and external rotation views yield the same image, and obliteration of the greater tuberosity creates a light-bulb appearance of the humeral head. The acromiohumeral distance is decreased compared with that of the normal side, and the normal overlap of the humeral head on the glenoid is lost.
The best radiographic view for diagnosing a posterior dislocation is the axillary view, which allows identification of the glenohumeral relationship. Locked posterior dislocations are readily apparent on the axillary view. Evaluation using this view is also made for posterior translation, reverse Hill-Sachs lesions, and posterior glenoid rim pathology.
The scapular-Y view can be helpful; however, interpretation can occasionally be difficult because of variations of the beam angle.
Posterior instability
Radiographic views for posterior instability include AP views in internal and external rotation, a Stryker notch view, and a West Point or axillary view. Findings on radiographs for instability are often normal; however, occasional osseous pathology can be found.
A reverse Hill-Sachs lesion can be seen on the external rotation view.
The axillary view is used to note such lesions as glenoid hypoplasia, excessive glenoid retroversion, erosion or fracture of the posterior glenoid rim, lesser tuberosity fractures, and extra-articular ossific lesions of the posterior glenoid (Bennett lesion). Bennett lesions are seen primarily in high-level throwers but do not necessarily represent shoulder instability. [61] Schwartz et al found that 20% of patients had capsular calcification along the posterior aspect of the capsule and labrum and that 20% had 2-4 mm of bony erosion of the posterior glenoid rim on an axillary view. [25]
Computed tomography
Computed tomography (CT) also can be used to evaluate osseous involvement, such as glenoid retroversion or hypoplasia and a reverse Hill-Sachs lesion or glenoid rim damage. [62] (See the image below.) Glenohumeral instability is associated with a low percentage of shoulders with bony abnormalities. CT arthrography may assist with visualization of labral pathology or excessive posterior capsular redundancy when present. [63]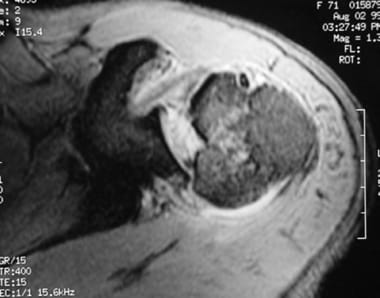 Axial cuts of the postreduction computed tomography (CT) scan demonstrate the anterior impression defect with persistent posterior subluxation of the humeral head.
Magnetic resonance imaging
Magnetic resonance imaging (MRI) helps rule out rotator cuff pathology but has been an inconsistent tool for identifying labral and capsular involvement in posterior instability. MRI arthrography may assist with the evaluation of labral pathology if present.
The efficacy of MRI in identifying posteroinferior labral abnormalities has been questioned, perhaps because of capsular redundancy in this region. In postoperative cases especially, the usefulness of MRI is limited, and this study usually is not obtained. [61, 64]
MRI can be valuable in the assessment of capsular stripping, bony infractions, and subscapularis avulsion. It can also aid in the accurate diagnosis of glenoid retroversion, glenoid dysplasia, and increased posterior capsular area. [65, 66]
Other Tests
Electromyography (EMG) and nerve conduction studies can be helpful in clarifying unexplained weakness and in documenting the presence of neurologic injury, particularly in patients in whom revision surgery is planned. The axillary and suprascapular nerves can be injured in the posterior approach to the shoulder.
Documentation of preexisting neurologic lesions is important before further reconstructive attempts are made, especially in cases involving litigation.
What would you like to print?