Workup
Laboratory Studies
Laboratory studies are typically not indicated in the diagnosis of osteonecrosis. Tests can be utilized to identify inciting factors, such as the following:
Imaging Studies
Radiographs help establish the diagnosis in most cases. Essential radiographic views include anteroposterior (AP), true AP, and axillary. See the images below.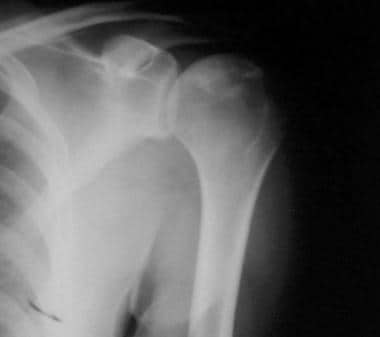 Shoulder osteonecrosis stage II disease.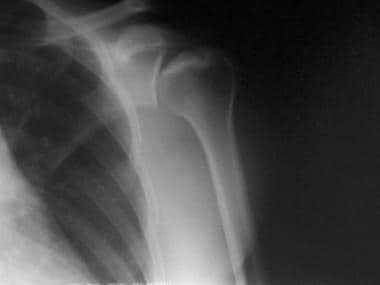 Shoulder osteonecrosis stage IV disease.
Magnetic resonance imaging (MRI) is the diagnostic modality of choice for cases in which there is clinical suspicion of shoulder osteonecrosis but radiographs are normal; MRI has sensitivity and specificity greater than 98% for shoulder osteonecrosis. [8] The extent of humeral head necrosis on MRI is a good predictor of future collapse. [9]
Other imaging modalities include the following:
Bone scan

[8]

– Can be helpful when disease is suggested clinically but is not apparent on radiographs; not commonly used because of the high success rates of MRI

Tomography – Helpful in stage II disease to further define the lesion
Other Tests
Additional studies may include the following:
Biopsy – Can be performed at the time of surgery (eg, core decompression), but the diagnosis usually is based on clinical and radiographic findings.

Venography

Intraosseous pressure measurements
Histologic Findings
The first phases involve cell and marrow necrosis. The reparative phase occurs as the dead bone is removed and replaced by healthy bone. During this period, the bone is weak and subject to subchondral collapse. Following collapse of the subchondral plate, damage to the articular cartilage occurs with resultant arthritic changes to the joint.
Staging
Osteonecrosis of the humeral head has been staged by Ficat and Arlet (modified for the shoulder) [10] :
Stage II - Cystic and/or osteosclerotic lesions; humeral head contour is normal; see the image below

Shoulder osteonecrosis stage II disease.

Stage III - Subchondral collapse or crescent sign
What would you like to print?