Workup
Imaging Studies
Historically, cervical spine radiographs were routinely obtained in the emergency department (ED) for patients with a history of pain or of trauma, as well as for nonresponsive patients who are unable to report pain.
In 2013, the American Association of Neurological Surgeons (AANS) and the Congress of Neurological Surgeons (CNS) released updated guidelines for the management of acute cervical spine and spinal cord injury. In these guidelines, radiographic assessment was based on the presentation of the patient as falling into one of the following categories [15] :
Awake, asymptomatic patient

Awake, symptomatic patient

Obtunded or unevaluable patient
Briefly, for awake, asymptomatic patients who are without neck pain or tenderness, who have a normal neurologic examination, who do not have an injury hindering accurate evaluation, and who are able to complete a functional range-of-motion examination; radiographic evaluation of the cervical spine is not recommended. [15]
For symptomatic or obtunded or unevaluable patients, high-quality computed tomography (CT) of the cervical spine is recommended, if available; routine three-view cervical spine radiography is not recommended. [15] If high-quality CT is not available, a cervical spine series with anteroposterior, lateral, and odontoid views is recommended and should be supplemented with CT for areas that are suspicious or are not well visualized.
Radiographs should specifically include the open-mouth view (see the image below). After confirmation that neutral rotation is present and the radiograph is reliable (eg, as determined by looking at the incisors to confirm lack of rotation of the head), the odontoid should appear symmetrically centered between the lateral masses. A C1 (atlas) fracture is often associated with lateral displacement; thus, if the ring of C1 overhangs or extends laterally more than 6.9 mm over the lateral mass, a fracture of the ring of C1 is established. However, less excursion does not exclude this fracture, particularly if there is minimal displacement in the supine patient.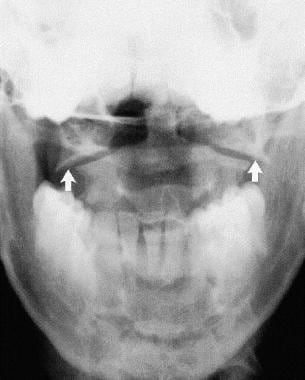 Fracture of C1 ring may result in lateral displacement and subsequent overhang on open-mouth view in radiographs.
The lateral view is also crucial because the atlanto-occipital membranes may be disrupted and an occipitoatlantal dislocation may be observed; the normal anatomy must be confirmed. If any suspicion of disruption or dislocation exists, traction must be avoided, as well as any subsequent flexion-extension maneuvers or inappropriate manipulation, until that possibility can be excluded.
The odontoid should be well imaged from the lateral view; any lack of alignment or discontinuity that suggests fracture also suggests instability of the upper cervical spine, which may be associated with a C1 fracture but indicates very significant instability that necessitates immobilization of the occipitoatlantoaxial complex.
On the lateral view, the Power ratio may be used to evaluate for possible atlanto-occipital dislocation: A ratio greater than 1 of the basion to the posterior arch of C1 (BC) over the anterior arch of C1 to the opisthion (AO) is suspicious for anterior dislocation.
If the ring is not clearly observed to overhang but asymmetry is present between the atlas and the odontoid, a C1-C2 problem may be present, particularly atlantoaxial rotary subluxation, which may be a result of one of the facets between these two vertebrae being displaced or locked in a dislocated position.
Unfortunately, a possible C1-C2 instability, particularly the cock-robin position of the head that may be present with displacement of C1 on one side (most often anteriorly), makes obtaining the standard open-mouth and other radiographic views difficult. CT (see the images below) facilitates those investigations wherein thin cuts best demonstrate the pattern of disruption for evaluating the location and displacement of suspected fractures of C1.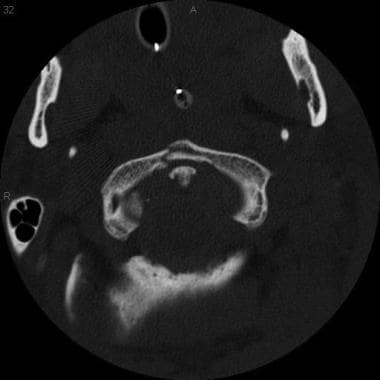 Computed tomography is often best for visualizing C1 ring fractures. Note anterior disruption, which must be accompanied by another break in ring.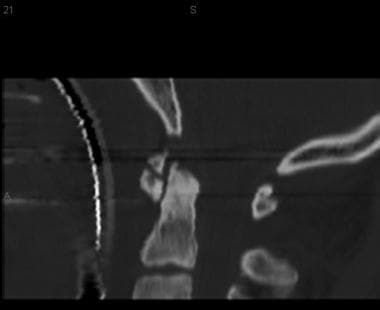 Computed tomography sagittal views can be used to evaluate atlantodental (or atlantodens or atlas-dens) interval or to visualize C1 fractures.
Unilateral posterior displacement of the atlas also produces the cock-robin position, but this displacement is usually without a fractured dens. In trauma cases, most commonly, a unilateral combined anterior-posterior subluxation occurs when the transverse ligament is disrupted. The C1 ring may displace anteriorly and reduce the space available for the spinal cord.
CT angiography (CTA) [16] or magnetic resonance angiography (MRA) may be valuable to detect occlusion, thrombosis, or intimal tear in patients with suspected vascular compromise or symptoms consistent with a vascular insult. Digital subtraction angiography (DSA) may also help evaluate collateral circulation. If any circulatory problems are diagnosed, immediate anticoagulation with heparin prevents further extension of thrombosis, and administration of oxygen maintains cerebral oxygenation.
What would you like to print?