Workup
Laboratory Studies
The laboratory workup, in general, is the same as it would be for any trauma patient. It should include a baseline complete blood count (CBC), a urinalysis, and an appropriate chemistry profile as indicated. Because of the high incidence of associated intra-abdominal pathology, close attention should be paid to liver function test (LFT) results.
Imaging Studies
The radiographic workup [23] initially should include anteroposterior (AP) and lateral views of the thoracolumbar junction. The posterior elements should be observed clearly to identify the fracture line and its propagation. (See the image below.)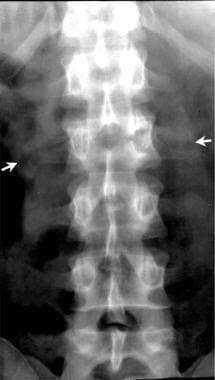 Anterior view of Chance fracture of L2 vertebral body. Fracture line follows horizontal plane through L2 vertebral body and transverse processes (arrows).
Computed tomography (CT) may be necessary to clearly delineate the entire bony nature of this injury; sagittal and coronal reconstructions are helpful. [24]
As a rule, magnetic resonance imaging (MRI) is unhelpful, except in individuals with unexplained neurologic deficits, which are uncommon with this injury. The scan may demonstrate a contusion of the conus or compression of the cauda equina, which may correlate with the clinical examination. [25]
What would you like to print?