Workup
Laboratory Studies
The evaluation of a patient with an acute lumbar spine fracture should include routine laboratory tests, such as the following:
Complete blood count (CBC)

Electrolytes

Coagulation profile

Blood type and crossmatch
Spinal fractures often are associated with open fractures of the limbs, with significant blood loss and acute anemia. Additional spinal fractures at noncontiguous levels can occur, often in high-energy injuries. [26] These must be excluded. A careful medical history should be documented, and a careful physical examination, including a thorough neurologic examination, should be performed.
Imaging Studies
The combination of plain radiographs, computed tomography (CT), and magnetic resonance imaging (MRI) allows bony and ligamentous injuries to be defined. Analysis of the radiologic studies should be based on biomechanical concepts. The information obtained from these studies allows classification of the injuries and identification of unstable injuries, and it aids in selection of the proper instrumentation to adequately stabilize the bony elements. [27]
Plain radiography
The most important initial radiographic examination is a complete spinal radiograph series that includes anteroposterior (AP), lateral, and oblique views. Upright, weightbearing, or flexion and extension radiographs may be useful in determining instability from ligamentous injuries in some cases. (See the image below.)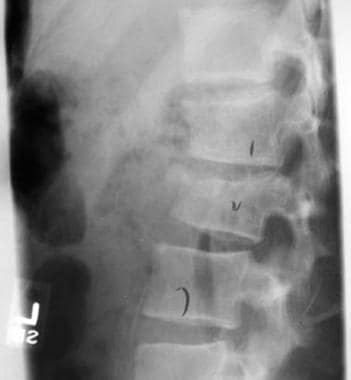 A 42-year-old man fell from a tree. He arrived at the hospital with a complete paraplegia. Plain radiographs reveal a fracture of L2 with L2-L3 subluxation.
Analysis of plain radiographs should proceed in an organized sequence, beginning with the alignment on both AP and lateral radiographs, with identification of the margins of the vertebral bodies, the spinolaminar line, articular facet joints, the interspinous distance, and the position of the transverse processes. Oblique radiographs are useful in examining for pars interarticularis fractures and facet subluxation.
In patients with severe multiple traumatic injuries, the preliminary radiology studies performed in the trauma room are essential for the management of patients with traumatic injury to the spine. They will have an impact on the need for further testing and type of immediate management.
Abnormalities of alignment include disruption of the anterior or posterior vertebral body lines, disruption of the spinolaminar line, dislocated facets, and rotation of spinous processes. Kyphotic angulation often is associated with misalignment and bony fractures. Disruption of the posterior margin of the vertebral body line and widening of the interpediculate distance are important signs of vertebral disruption. Narrowing of a disk space usually accompanies a flexion injury and is seen at the level above the fractured vertebra. Widening of the facet joint or complete baring of the facets indicates a severe posterior ligamentous injury. These findings usually are associated with widening of the interspinous distance.
Computed tomography
After the analysis of routine spinal radiographs, CT is performed on areas of suspected bony injury. CT best defines complex fractures and involvement of the posterior elements. The scan should include one full vertebra above and one full vertebra below the level of the fracture, with a thinkness of 3-5 mm. Both bone and soft-tissue windows should be imaged and coronal and sagittal reconstructions obtained. (See the images below.)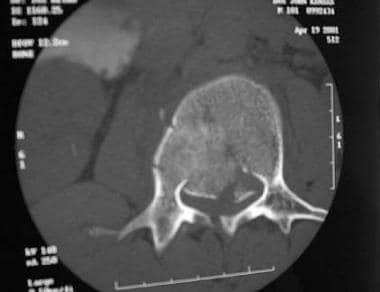 CT scan of a 42-year-old man who fell from a tree. He arrived at the hospital with a complete paraplegia (same patient as in Image above). Note the large amount of bone retropulsed inside the spinal canal.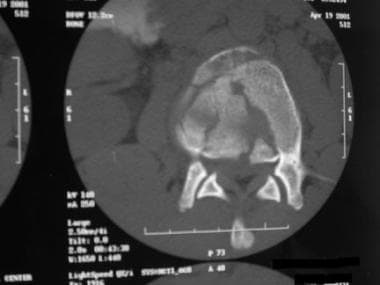 CT scan showing a burst of the L2 vertebral body.
Fractures oriented in a horizontal plane, such as Chance fractures and fracture-compression, may not be well visualized with axial CT. Coronal reconstructions facilitate the evaluation of complex spinal fractures. Tridimensional reconstructions can be used to better define the extent of canal compromise and posterior element fractures. [12]
Magnetic resonance imaging
MRI allows better visualization of the spinal cord and ligamentous structures. [28] On T2-weighted images, high signal intensity indicates spinal cord injury and edema. Ligament disruptions can sometimes be demonstrated with MRI. The anterior and posterior longitudinal ligaments are best seen on T1- and T2-weighted images, respectively. Identifying disrupted ligaments frequently is easier than identifying intact ligaments.
One disadvantage of MRI is the need for special nonmagnetic mechanical ventilators and other life-support monitors. Some patients who are hemodynamically unstable may not be candidates for MRI. In addition, patients with multiple traumatic injuries frequently pelvic fractures stabilized with external fixators, which may produce significant metallic artifacts. MRI is contraindicated in patients with implanted pacemakers, dorsal column spinal cord stimulators, vagal nerve stimulators, or other metallic mechanical implants.
Other Tests
Electromyography and nerve conduction studies
Needle electrode muscle evaluation studies and nerve conduction studies are complementary techniques, usually performed together. Because results usually are negative if the studies are performed during the acute period, it is important to perform these studies during the subacute phase (1 or 2 weeks following the injury).
Electromyography (EMG) can show evidence of denervation in the lower-extremity muscles or abnormalities in the sphincter muscles. Examination of the paraspinal muscles makes it possible to distinguish lesions on the spinal cord or cauda equina from lesions in the lumbar or sacral plexus.
Nerve conduction studies are an essential part of the evaluation of suspected radiculopathy. For example, demonstration of a superficial peroneal sensory response in the face of L5 symptoms or a sural sensory response in the face of S1 symptoms is useful in localizing the lesions to proximal levels. Motor nerve conduction study results can be normal in most patients with lumbosacral radiculopathies, and peroneal motor conduction velocity may be mildly slowed.
Urodynamic studies
Patients with spinal fractures can develop urinary retention.
Methods of objectively testing the behavior of the lower urinary tract during filling, storage, and micturition include uroflowmetry, cystometry, sphincteric EMG, and combined studies. The appropriate use of urodynamic testing provides valuable information for the evaluation and subsequent treatment of neurourologic dysfunction.
Evoked potentials
Somatosensory evoked potentials and nerve action potentials may be employed both to illustrate preoperative dysfunction and to confirm postoperative improvement.
What would you like to print?