Workup
Laboratory Studies
The diagnosis of coccygodynia (coccydynia) is predominantly based on clinical examination. Laboratory investigations show no particular abnormality, except in the presence of infection or tumor. [3]
Imaging Studies
Radiologic investigations are helpful in diagnosis. However, because coccygodynia is a dynamic disorder, it can only be appreciated on dynamic radiographic imaging.
Dynamic radiography
Dynamic films taken in both a sitting and a standing position allow measurement of sagittal pelvic rotation and the coccygeal angle of incidence. The coccyx can move as much as 22° when a person sits or shifts from standing to sitting. Subtle posterior coccygeal subluxations can be found only when a sitting lateral film of the coccyx is compared to a standing film to check the amount of translation. Sitting and standing films will show radiographic abnormalities in as many as 70% of symptomatic cases of coccygodynia. [10] (See the image below.)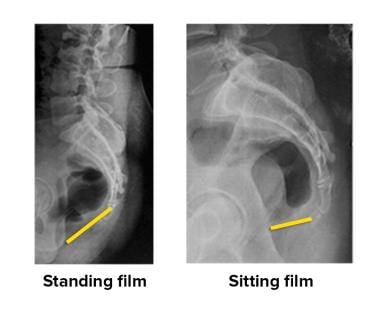 Dynamic radiographs obtained from patient with coccygodynia.
In dynamic radiographic imaging, hypermobility of the coccyx is defined as more than 25° of flexion on the lateral view; subluxation is defined as more than 25% translation of the coccyx from the standing view to the sitting view. Measurement of the intercoccygeal angle (ie, the angle formed between the first coccygeal segment and the last coccygeal segment) can provide an objective measurement of the forward inclination of the coccyx.
Computed tomography
Computed tomography (CT) plays no role in diagnosing idiopathic coccygodynia, except in cases of traumatic etiology with an obvious fracture or in cases involving infections or tumors. Contrast films may be helpful in differentiating infection and tumors.
Magnetic resonance imaging and bone scanning
Magnetic resonance imaging (MRI) and technetium-99m bone scanning may demonstrate inflammation of the sacrococcygeal area indicative of coccygeal hypermobility. [10] However, these advanced imaging techniques may not be as accurate as dynamic radiography. [5] MRI can be helpful for ruling out possible tumor. It has been used to measure the sacrococcygeal and intercoccygeal angles in patients with idiopathic coccygodynia.
Provocative diskography
Provocative diskography is a promising investigation in the assessment of coccygodynia. In a study by Maigne et al, [23] coccygeal diskography was technically successful in 44 of 51 cases and yielded positive results in all cases of subluxation and hypermobility; 50% of the patients had normal dynamic films but positive diskograms.
Fluoroscopy and injection
Pressing the region of tenderness with a blunt needle to elicit pain and subsequent relief of pain with injection of local anesthetic under fluoroscopic guidance may be helpful in confirming the diagnosis and may be therapeutic as well.
What would you like to print?