Workup
Laboratory Studies
Obtain routine preoperative laboratory tests for patients undergoing surgery.
Imaging Studies
Isthmic defects are best observed on oblique lumbar radiographs. Lateral plain radiographs with flexion and extension views are the studies most commonly used to demonstrate segmental instability. Some practitioners advocate the use of lateral bending films as well, especially in persons with degenerative listhesis and scoliosis. (See the images below.)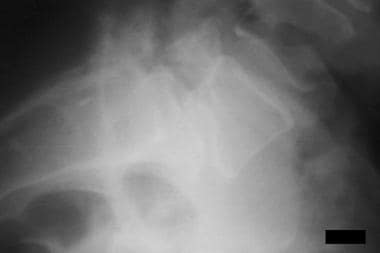 Spondylolisthesis, spondylolysis, and spondylosis. Isthmic spondylolisthesis (type IIa) with grade 2 slippage of L5 over S1 and spondylolysis (lytic pars defect) is depicted posteriorly.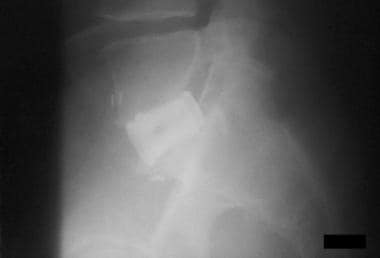 Spondylolisthesis, spondylolysis, and spondylosis. Although interbody devices afford immediate stability to anterior column, their use as standalone devices has been associated with pseudoarthrosis. Thus, concomitant posterior fixation is often used to augment their stability.
Although computed tomography (CT) is poor for demonstrating spondylolisthesis, it is useful in demonstrating pars interarticularis (isthmus) defects, facet arthropathy, canal diameter, foraminal stenosis, and disk herniation. When combined with myelography (static or dynamic flexion and extension views), CT may demonstrate evidence of nerve-root compression and concomitant instability. Myelography generally is not indicated unless neurologic signs or pain unexplained by findings other imaging methods exists.
Magnetic resonance imaging (MRI) is most sensitive in demonstrating soft tissues and ascertaining the presence of central and foraminal stenosis. It also can demonstrate endplate reactive changes (Modic types I and II) observed in individuals with degenerative spondylolistheses. Use of MRI in isthmic and dysplastic types is limited.
Bone scanning can be very useful in demonstrating acute fracture of the pars interarticularis in persons with isthmic-type spondylolisthesis. It is also used in degenerative-type slips to reveal any acute reaction, though it has low specificity in this application.
The use of diskography is advocated by some in individuals with degenerative disk disease with low back pain due to intradiskal pathology. Patients with multilevel disk degeneration spanning long segments of the spinal column may benefit from provocative diskography in order to limit the levels fused to the symptomatic levels.
Myelography is usually performed through a transcutaneous subarachnoid injection of radiopaque dye. When combined with CT, myelography is highly specific for central, lateral recess, and foraminal stenosis. Dynamic imaging (with flexion and extension lateral radiographs) also can be obtained, in which the dye column characterizes the position of the neural elements during motion.
What would you like to print?