Workup
Approach Considerations
Diagnosis of venous thromboembolism (VTE) may include laboratory tests, imaging (eg, chest radiography, computed tomography [CT], angiography, ultrasonography [US], echocardiography, and ventilation-perfusion [V/Q] scanning) and tests such as plethysmography and electrocardiography (ECG).
Guidelines for diagnosis of VTE have been published by the American Society of Hematology (ASH). [20] (See Guidelines.)
Laboratory Studies
Arterial blood gas assessment on room air demonstrates hypoxemia (arterial oxygen tension [PaO2] < 80 mm Hg) and an elevated alveolar-arterial oxygen gradient. Acid-base status may demonstrate a respiratory alkalosis.
Enzyme-linked immunoassay (ELISA) can be used to quantify the presence of D-dimer, which is a specific degradation product of cross-linked fibrin. [21] This is an important marker of the activation of fibrinolysis. It can be elevated in pneumonia, cancer, sepsis, and surgery.
A plasma D-dimer level higher than 500 ng/mL has been shown to have a sensitivity of 97% and a specificity of 45%. The value of D-dimer is in its negative predictive value. A plasma D-dimer level lower than 500 ng/mL in those with low pretest probability essentially excludes pulmonary embolism (PE).
This study is less helpful in older patients, in that the D-dimer level tends to increase with age. In a study by Righini et al, an age-adjusted D-dimer cutoff combined with a probability assessment was shown to rule out the diagnosis of pulmonary embolism (PE) in emergency department (ED) patients with suspected PE and was associated with a low likelihood of subsequent symptomatic VTE, thus increasing the proportion of patients in whom the diagnosis could be excluded. [22]
Elevated troponins are associated with an adverse prognosis in acute PE. [23] Elevated natriuretic peptides, brain natriuretic peptide (BNP), and N-terminal pro-BNP have been shown to be predictive of adverse short-term outcomes in acute PE and can be predictive of mortality. [24, 25] Measurement of both troponin and BNP are important for risk stratification in patients with PE.
Bilirubin levels may also assist in the diagnosis of VTE. In a study that included 103 patients with VTE (distal DVT, proximal DVT, or PE) and 50 control subjects, Duman et al found that in comparison with the control group, the VTE group had a lower bilirubin level (9.0 ± 2.6 μmol/L vs 7.3 ± 3 μmol/L), a higher high-sensitivity C-reactive protein (hs-CRP) concentration (0.8 [0.3-2] mg/L vs 1.1 [0.2-3] mg/L), and a higher white blood cell (WBC) count (7.4 ± 1.5 ×109/L vs 8.2 ± 2.7 × 109/L). [26]
Chest Radiography
Chest radiographic findings most often are normal. Radiographs may, however, reveal an enlarged right descending pulmonary artery, decreased pulmonary vascularity (Westermark sign), a wedge-shaped infiltrate, or an elevation of the hemidiaphragm (Hampton hump). If infarction occurs, a pleural effusion may be present.
Helical (Spiral) Computed Tomography
Helical (spiral) CT allows for the imaging of pulmonary vessels by way of intravenous (IV) contrast material as the patient moves through a gantry at a constant rate and the radiography source rotates. PE is diagnosed by identifying filling defects, which are either central or adherent to the wall (see the image below).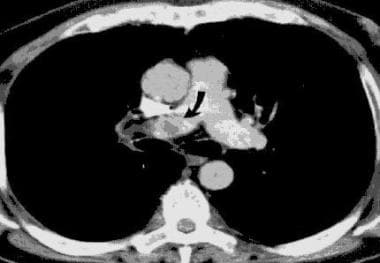 Venous Thromboembolism (VTE). Helical CT scan of the pulmonary arteries. A filling defect in the right pulmonary artery is present, consistent with a pulmonary embolism.
The advantage of helical CT is that it is minimally invasive and allows concurrent visualization of the parenchyma, pleura, and mediastinum. When looking at the main, lobar, and segmental veins, helical CT has a sensitivity of about 93%. Its positive predictive value is approximately 95%.
The limitations of helical CT include the need for contrast and the requirement for a higher dose of radiation than is used with some other diagnostic modalities. Obliquely or horizontally oriented vessels (eg, those of the segmental branches of the right middle lobe and lingula) are poorly visualized. The scan is technically inadequate or inconclusive in approximately 1-10% of cases.
Doppler Ultrasonography
Results from Doppler US can indicate the presence of thrombus within a vein. A normal vein is free of internal echoes and can be compressed. In acute deep vein thrombosis (DVT), however, internal echoes are present and the vessel is not compressible.
Duplex scanning of the venous system uses Doppler flow assessment combined with B-mode US. The advantage of color flow Doppler US is the ability to determine motion and the direction of flow.
Echocardiography
Echocardiography can demonstrate signs of right-side heart strain. Right ventricular dilatation, right ventricular hypokinesis, or tricuspid regurgitation may be present. Interventricular septum bulging into the left ventricle may be present, and the size of the left ventricle may be reduced. Echocardiography can also be used to identify signs of impending heart failure.
Pulmonary Angiography
Pulmonary angiography has long been the diagnostic criterion standard. Angiography allows for the visualization of the pulmonary vasculature with contrast agents, and in the event of PE, it evidences the cutoff of a vein and a lack of flow to the affected area.
It is an invasive procedure that requires the administration of IV contrast material, and it is more expensive than other procedures.
Pulmonary angiography leads to increased morbidity in approximately 2-5% of patients; this is related to bleeding and to complications from the use of IV contrast agents. Mortality occurs in fewer than 1% of patients in whom this procedure is performed.
Venography
Contrast venography is an invasive technique that can provide direct proof of thrombus by demonstrating a filling defect with the aid of contrast medium through the deep venous system. However, it can cause iatrogenic venous thrombosis, tissue sloughing from contrast extravasation, and an allergic contrast reaction.
Ventilation-Perfusion Scanning
V/Q scanning is a common screening technique. This modality provides a probability estimate for PE by evaluation of the size and the number of defects in the perfusion of the lung compared with the areas of ventilation.
The diagnosis of PE is easily made with this modality when the probability estimate is high for PE. With a normal scan finding, the possibility of PE is excluded. However, the test results are nondiagnostic in about 66% of cases. The image below compares normal ventilation findings with a perfusion defect.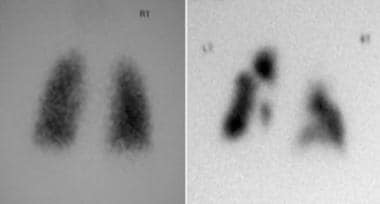 Venous Thromboembolism (VTE). Ventilation-perfusion scan. Left image: Posterior view of normal findings on ventilation scan. Right image: Posterior view of a perfusion scan that reveals a perfusion defect in the left upper quadrant. The defect in the middle of the image is due to the position of the heart.
Plethysmography
Impedance plethysmography may detect impaired venous emptying of the leg by assessing the volume response to temporary occlusion of the venous system. Emptying is assessed by the rapidity of volume decrease. Slow emptying indicates obstruction.
Impedance plethysmography is a noninvasive method of assessment. Sensitivity and specificity have been reported to be between 92% and 95%. However, it is of limited value when DVT is asymptomatic or distal or when findings are nonocclusive.
Conditions leading to poor forward blood flow, hypotension, or vein compression can be responsible for false-positive results.
Electrocardiography
ECG is of greatest value in ruling out myocardial infarction. Sinus tachycardia often is present, and right axis deviation, right bundle-branch block, and deeply inverted T waves in V1-V3 may be found. An S1Q3T3 pattern may be seen.
What would you like to print?