Presentation
History
Patients with reflex sympathetic dystrophy (RSD; also referred to as complex regional pain syndrome [CRPS] type 1) have a history of trauma, minor rather than major (eg, Colles fracture), in about 50-65% of cases. [12] The condition may also follow a surgical procedure (see the image below).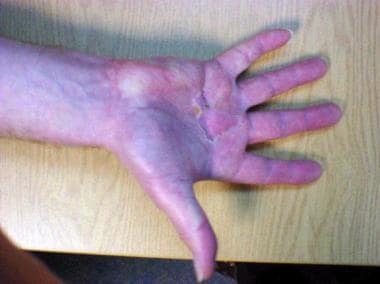 Reflex sympathetic dystrophy following surgery for Dupuytren contracture.
Physical Examination
Symptoms and signs of RSD include the following:
Pain, described as burning, throbbing, shooting, or aching

Hyperalgesia

Allodynia (perception of pain with normally innocuous stimuli, characteristic of sympathetically mediated pain [SMP])

Hyperpathia
Trophic changes (occurring within 10 days of onset of RSD in 30% of the extremities affected) include the following:
Stiffness and edema

Atrophy of hair, nails, and/or skin
Changes in autonomic function include the following:
Abnormal sweating, either excess or anhydrosis

Heat and cold insensitivity

Redness or bluish discoloration of the extremities
What would you like to print?