Treatment
Approach Considerations
Surgical fixation of a triplane fracture should be undertaken if the residual fracture gap is 2 mm or greater after attempted closed reduction and casting. [32] A successful closed reduction can be predicted in displacements greater than 3 mm secondary to energy of the injury, soft-tissue interposition at the fracture site, and swelling. [22, 33]
An absolute contraindication is the presence of infective lesions and cellulitis. In the presence of significant swelling and blisters, adequate wound closure may not be achieved; therefore, surgery is delayed until the swelling resolves, and measures to reduce the swelling, such as limb elevation and cryocompressive therapy, are initiated immediately.
Medical Therapy
Nondisplaced triplane fractures (< 2 mm displacement) and extra-articular fractures can be managed with immobilization in a short leg cast for 4-6 weeks. Serial radiographs are obtained at weekly intervals during the first 3 weeks to check for late displacement. For displaced fractures, closed reduction is attempted with general anesthesia.
Closed reduction
General anesthesia and, at times, skeletal muscle relaxation are required to reduce the displacement. The mechanism of injury or the motion that produced the injury is reversed to obtain realignment. For medial fractures, the foot is positioned in external rotation; for lateral fractures, in internal rotation. Avoid more than two attempts at realignment: Each attempt causes additional trauma and bleeding and, possibly, further injury to the distal tibial growth plate. Closed reduction resulting in adequate fracture reduction in all planes is obtained in approximately 30-50% of triplane fractures.
Postreduction computed tomography (CT) scans and serial radiographs are needed to assess adequacy of reduction and guard against loss of reduction in the cast.
Adequate closed reduction is followed by 4-6 weeks of above-knee casting. The cast then is replaced with a below-knee cast to allow limited weight bearing with crutches for an additional 4 weeks. Following removal of the final cast, progressive return to normal activity is encouraged with ongoing physical therapy and range-of-motion (ROM) exercises.
Surgical Therapy
Open reduction and internal fixation
Open reduction and internal fixation (ORIF) is performed for a triplane fracture demonstrating 2 mm or more of displacement after attempted closed reduction. The surgical approach depends on the fracture planes and can be anterolateral for lateral fractures or anteromedial for medial fractures. Small stab incisions are often needed for the placement of screws, either solid or cannulated.
The strength of operative screws and pins has increased progressively, while the diameters of operative screws have decreased. Titanium-based materials of greater diameter may be replaced by composite materials of lesser diameter, thus lessening the trauma associated with their operative placement.
Reduction and fixation of the metaphyseal spike may be all the surgery that is needed. An alternative is the placement of epiphyseal screws parallel to the joint surface, avoiding the growth plate and the ankle joint. More than one screw is needed, and the primary goal is reduction of the physeal fracture and joint surface.
Preoperatively, it is essential to detect all other injuries and address them adequately, as well as other comorbidities and preexisting medical conditions and needs. In persons with open fractures, tetanus immunization should be updated preoperatively if needed, and prophylactic antistaphylococcal antibiotics should be administered.
Intraoperatively, portable or fixed overhead radiography or C-arm fluoroscopy is needed to evaluate the results of internal fixation (ie, to confirm that the fracture is reduced and that screw placement is satisfactory) before the patient leaves the operating room. Wider availability of intraoperative CT C-arm or navigation technology will improve the accuracy of screw placement and internal fixation in these complex fractures.
Surgical fixation resulting in anatomic realignment of a triplane fracture can be viewed in the images below.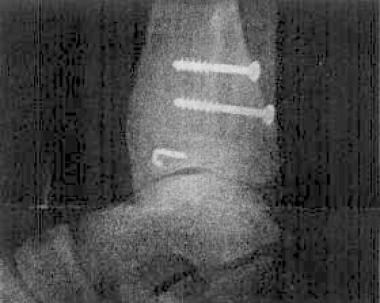 Lateral view at 60 days postoperatively of this 3-part triplane fracture in a 14-year-old male demonstrates accurate anatomic reduction. Two compression screws have been placed through a posterolateral incision. A vertical sclerotic line appears above, through, and below the screws, indicating healing of the realigned posterior metaphyseal spike. A 0.062 inch smooth Kirschner wire is observed.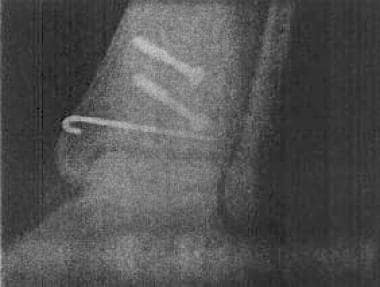 Anteroposterior view at 60 days postoperatively of this 3-part triplane fracture demonstrates accurate anatomic reduction and 2 compression screws fixating the posterior metaphyseal spike. The horizontal 0.062 inch smooth Kirschner wire is accurately placed in the epiphysis from a medial approach through a single stab incision. Midway along the Kirschner wire a vertical line in the sagittal plane is observed, representing the original fracture through the epiphysis. Note that all fixation devices avoid the tibial growth plate.
The anterolateral epiphyseal fragment of a three-part injury is reduced and held with either a screw or a Kirschner wire (K-wire). [34] Before the patient leaves the operating room, a final set of postreduction radiographs is completed.
Arthroscopic reduction and internal fixation of two-part triplane fractures has been described as having advantages over traditional ORIF. [35, 36, 37, 38]
Postoperative Care
Postoperatively, standard incision care and suture removal are performed as directed by the physician. An above-knee cast is used for 4-6 weeks, followed by a below-knee partial weightbearing cast. When internal fixation has been accomplished and early physical therapy or ROM exercises are desired, the short leg cast may be replaced by a removable air splint.
Complications
In general, young healthy adolescents do well after a triplane fracture, [39] even though it is a serious injury. Potential complications include the following:
Tibial length growth retardation or deformity around the ankle secondary to epiphyseal growth plate injury

Posttraumatic arthritis

Postoperative infection

Fracture blisters
Long-Term Monitoring
All patients with triplane ankle fractures must be monitored closely for potential complications. At discharge, the treating physician must make each patient aware of all of the follow-up requirements. Emphasis should be placed on the importance of patient involvement because such involvement has a direct bearing on the likelihood of a favorable outcome.
Typically, the initial above-knee cast is replaced 4-6 weeks after the injury, regardless of the treatment mode. This cast is replaced with a below-knee cast or a removable boot.
What would you like to print?