Workup
Imaging Studies
Stress fractures may not show up on radiographs for the first 2-4 weeks after injury. (See the image below.) The first radiographic finding may be a localized periosteal reaction or an endosteal cortical thickening. The low sensitivity of radiography for stress fractures makes bone scanning, magnetic resonance imaging (MRI), and computed tomography (CT) the preferred tests for diagnosis.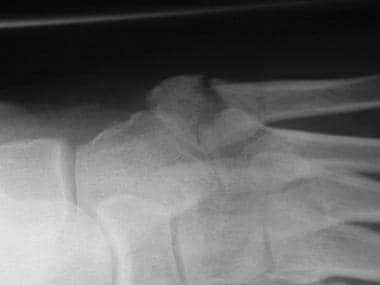 Fifth metatarsal stress fracture.
Technetium-99m bone scan findings may be positive in the case of a stress fracture after 72 hours; however, a positive bone scan finding is nonspecific, and it may be indicative of another diagnosis, such as an infection or a neoplastic process. Conventional radiography and bone scanning have been compared for the initial detection of stress fractures; positive findings were reported in 96% of bone scans but on only 42% of radiographs.
MRI is also useful in the diagnosis of stress fractures. It provides information about bone integrity and fracture orientation, and it can demonstrate focal tissue damage and edema.
The MRI findings of stress fractures typically follow one of two patterns. In the first pattern, a hypointense bandlike fracture line is visible with surrounding bone or tissue edema. The second MRI pattern represents an amorphous stress fracture or response pattern. In this pattern, there is no obvious fracture line or band; instead, the fracture may have diffuse or scattered areas of hypointensity on T1-weighted images, with increased signal intensity on T2-weighted images. [42]
Short-tau inversion recovery (STIR) imaging sequences suppress the normal fat signal intensity in bone marrow, allowing better visualization of intramedullary bone. [43, 44, 45]
Wright et al carried out a systematic review of published studies with the aims of assessing the diagnostic accuracy of imaging modalities used to diagnose lower-extremity stress fractures and formulating evidence-based recommendations for clinical practice. [46] Reported sensitivities and specificities (with 95% confidence interval) for these modalities were as follows:
Conventional radiography - Sensitivity, 12% (0-29%) to 56% (39-72%); specificity, 88% (55-100%) to 96% (87-100%)

Nuclear scintigraphy - Sensitivity, 50% (23-77%) to 97% (90-100%); specificity, 33% (12-53%) to 98% (93-100%)

MRI - Sensitivity, 68% (45-90%) to 99% (95-100%); specificity, 4% (0-11%) to 97% (88-100%)

CT - Sensitivity, 32% (8-57%) to 38% (16-59%); specificity, 88% (55-100%) to 98% (91-100%)

Ultrasonography (US) - Sensitivity, 43% (26-61%) to 99% (95-100%); specificity, 13% (0-45%) to 79% (61-96%)
The investigators found MRI to be the most sensitive and specific imaging test for diagnosing stress fractures of the lower extremity. [46] They concluded that when MRI is available, nuclear scintigraphy is not recommended, because of its low specificity, high dosage of ionizing radiation, and other limitations. They also noted that radiography is likely to yield false-negative results at initial presentation, particularly in the early stages of fracture, and sometimes fails to identify an existing stress fracture at any time.
Grading
Several grading systems for stress fractures based on MRI or scintigraphic findings have been proposed for correlating imaging findings with clinical findings and providing treatment guidelines (see Table 2 below). [43]
Table 2. Grading of Stress Fractures According to Radiologic Findings [43] (Open Table in a new window)
| | | | |
| --- | --- | --- | --- |
| Grade | Radiographic Finding | Bone Scan Finding | MRI Finding |
| 1 | Normal | Poorly defined area | Increased activity on STIR image |
| 2 | Normal | More intense | Poor definition on STIR and T2-weighted images |
| 3 | Discrete line | Sharp area of uptake | No focal or fusiform cortical break on T1- and T2-weighted images |
| 4 | Fracture or periosteal reaction | More intense localized transcortical uptake | Fracture line on T1- and T2-weighted images |
What would you like to print?