Workup
Laboratory Studies
The preoperative laboratory studies that are performed depend on the patient's age, the extent of the injuries, and other conditions that add to the patient's morbidity.
Patients with trauma require an Advanced Trauma Life Support (ATLS) workup. [29]
Tests that can be performed preoperatively but are not mandatory are as follows:
Complete blood count (CBC)

Electrolyte, creatinine, and glucose levels

Urinalysis

Coagulation studies, including measurement of the activated partial thromboplastin time (aPTT) and international normalized ratio (INR)

Cross-matching and typing of the patient's blood

Alcohol and toxicology screening
Imaging Studies
Radiography
Depending on the patient's medical status, preoperative chest radiography may be indicated.
Radiographs of the limbs are obtained in accordance with the so-called rule of twos, as follows:
Two views - Obtain anteroposterior (AP) and lateral views of the injured limb (these views are 90° orthogonal to each other); depending on the area involved, specific radiographs may be required (see below)

Two joints - When an injury occurs to an extremity, the authors recommend obtaining radiographs of the joints above and below the injury to rule out any potential associated fracture or dislocation in a corresponding joint (see the image below)

Two limbs - The authors recommend obtaining radiographs of both the injured and noninjured limbs to aid in analysis of the osseous anatomy and, ultimately, to aid in the diagnosis; this is especially important for helping determine limb length and rotation in children with epiphyseal-plate injuries or in patients with severely comminuted fractures

Two times - The authors recommend obtaining prereduction images and postreduction or postfixation images to assess the adequacy of the fracture reduction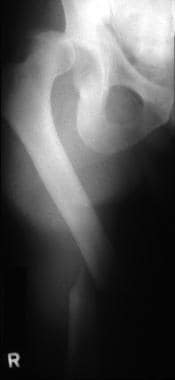 Midshaft femoral fracture with associated ipsilateral hip dislocation. This radiograph illustrates the rule of 2s principle.
The radiographs obtained should be described in terms of the so-called rule of six As, as follows:
Anatomy (eg, proximal tibia)

Articular (eg, intra- vs extra-articular)

Alignment (eg, first plane)

Angulation (eg, second plane)

Apex (in terms of the distal fracture fragment)

Apposition (eg, 75% or 0% [bayonet])
Joint-specific radiographs other than AP, lateral, or oblique images include, but are not limited to, the following:
Cervical spine – Odontoid view

Spine instability – Flexion and extension

Shoulder – Axillary

Clavicle – AP in 30° cephalic tilt

Scapula – Y view

Glenohumeral joint – Axillary (Because of pain from the fracture, the surgeon ordering these views may need to supervise the imaging examination.)

Acromioclavicular joint – No stress views required

Radial head – 45° Lateral

Comminuted elbow - traction views (the surgeon will likely need to provide the traction)

Scaphoid – Posteroanterior (PA) in ulnar deviation

Pelvis – Inlet and outlet

Acetabulum – Iliac oblique, obturator oblique (Judet views)

Femoral neck – AP view with 15° internal rotation

[37]

Knee joint – Notch view and/or Merchant view

Ankle joint – Mortise view

Calcaneus – Broden views

Talus – Canale view
Computed tomography and magnetic resonance imaging
Computed tomography (CT) is not indicated for the routine evaluation of common fractures. However, depending on the bones involved and the degree of comminution, CT can be invaluable in the preoperative planning for complicated fractures. This planning is paramount in periarticular fractures in which intra-articular involvement is suspected, such as tibial plateau fractures. CT may also be an important adjunct for assessing fracture reduction and fixation.
Magnetic resonance imaging (MRI) is indicated in assessing the spinal column for injury. [38]
Other Tests
Depending on the patient's medical status, baseline electrocardiography (ECG) may be indicated preoperatively.
What would you like to print?