Overview
Practice Essentials
Over the past decades, the methods available for the removal or improvement of acne scars and for the correction of wrinkle lines have increased exponentially with the advent of new skin filler substances, improved techniques for elevating existing scars, and technology for abrading and resurfacing facial contours. Seemingly every month, a new and improved filling agent or laser becomes available, claiming to be the best. In the midst of these technologic breakthroughs, the basic mechanisms remain the same. Three categories of techniques are presently available to improve scars: (1) scar removal and revision, (2) filling of depressed scars, and (3) contouring of the scar surface. [1]
Before and after images are below.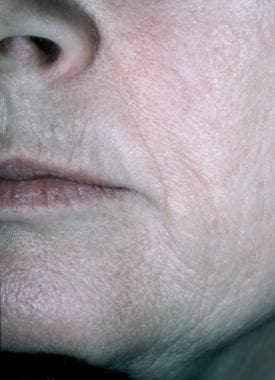 Photograph before collagen injection.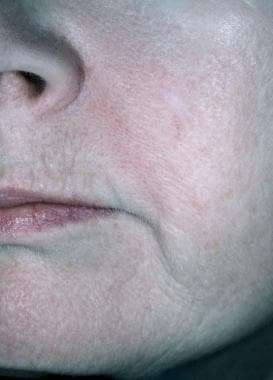 Photograph after collagen injection.
Numerous fillers are available. Biodegradable fillers include collagen, autologous fibroblasts, hyaluronic acid, calcium hydroxylapatite, and poly-L-lactic acid. [2, 3] Nonbiodegradable fillers include silicone (off-label) and polymethylmethacrylate beads. [4]
Other approaches to scar revision include surgically replacing or implanting material into the dermis for scar elevation.
History of the Procedure
Decades ago, scars were corrected using excision or dermabrasion techniques. Moreover, physiologic filling materials such as dermis, fascia, and fat have been used as autologous implants for many years, with specific operative techniques employed for each; these remain in use today but on the whole involve cumbersome and complicated surgical operations with associated adverse effects and complications. With the advent of filling agents, additional options have become available for scar correction.
The goal for research and development in the field of dermal fillers has been the synthesis of the ideal filler substance for skin and soft-tissue augmentation. The ideal filling material would have the following qualities:
Physiologic - Incorporates itself with the body's tissues

Simple procedure - Injectable

Risk-free - No complications or adverse effects

Permanent - Does not degrade with time
This ideal has not been met, but it has been the goal in creating all presently available materials.
The first US Food and Drug Administration (FDA)–approved injectable filling agent, bovine collagen, was approved in 1982. Since then, several other fillers have been approved. According to The Aesthetic Society, dermal filling was the second most used nonsurgical aesthetic plastic surgery procedure in the United States in 2021 (after neurotoxin use), with 1,777,989 procedures in women and 69,450 procedures in men. [5]
Problem
Distensible cutaneous scars are best elevated with filling material. A distensible scar is defined as one that elevates to the surface when tension is placed on either side. This simple test allows the clinician to determine whether a particular scar is likely to respond to filling material. Fibrotic ice pick and fixed scars cannot be elevated, because the scar tissue extends through to the subcutaneous tissue plane. Placing filling material in the dermis only elevates the surrounding skin and produces a donut effect, making the scar appear worse.
The ideal skin-filling agent is safe, physiologic, simple, and permanent. No known substance meets all of these criteria. Each of the available substances has adverse effects that detract from these properties, but all are the result of efforts to perfect their qualities to fulfill these requirements. In addition to the list of injectable filling materials, both synthetic and natural, other implant materials are available that can be placed surgically.
Indications
Indications for injectable fillers are acne scars, traumatic scars, photoaging, wrinkles, and gravitational rhytides.
Contraindications
Contraindications to this procedure include allergy to bovine collagen, allergy to lidocaine, pregnancy, or a collagen vascular disease such as dermatomyositis or polymyositis.
What would you like to print?