Overview
Background
Liposuction has become the most popular cosmetic procedure performed by board-certified plastic surgeons in the United States. [1] Although liposuction is not a technically difficult procedure, it requires thoughtful planning and an artistic eye to achieve aesthetically pleasing postoperative results. The goal of the liposuction surgeon is to remove "target" fat, leaving the desired body contour and smooth transitions between suctioned and nonsuctioned areas. Careful selection of patients and proper surgical technique help to avoid contour irregularity, and diligent perioperative care of the patient helps to avoid postoperative complications. [2]
History of the Procedure
Accounts of human interest in body weight and contour can be found throughout history. [3] Some of the simplest attempts to change body shape and appearance can be observed in the vast array of clothing used to hide, compress, and mold the human figure. Surgical procedures were devised to alter actual body shape permanently. [3] In 1921, Dujarrier used an obstetric uterine curette to remove fat from the knees of a ballerina. The patient sustained irreparable injury and was left with the horrendous result of an eventual amputation.
In 1978, Kesselring and Meyer reported the use of a suction-assisted curettage method in which sharp curettage and strong suction were employed to remove fat. [4] In the early 1980s, surgeons such as Illouz and Fournier began using suction cannulae without sharp curettage to remove subcutaneous fat. [5, 6] Illouz, in the early part of 1980, also introduced the concept of "wet" liposuction. This technique incorporates an injection of saline into the subcutaneous space before performing liposuction. He found this reduced blood loss and assisted in obtaining smoother, more satisfying results. This technique currently is used most often in liposuction procedures.
Traditional suction-assisted lipoplasty (SAL) became popular in the United States in the 1980s. It has a long track record and is considered the criterion standard tool for liposuction. [7] Increased support for advancing this procedure to more complex cases has been demonstrated successfully when used in the proper patients. Ultrasound-assisted liposuction (UAL) was introduced in the United States in the mid 1990s to address some of the shortcomings of SAL. Interestingly, this procedure gained popularity quickly in the management of gynecomastia.
Ultrasonic medical devices have been used in other fields (eg, neurosurgery, otology, ophthalmology, urology) for a number of years and have proven to be extremely useful and safe. UAL has been used in plastic surgery cases in Europe and in other countries aside from the United States for decades. Plastic surgeons who have used these devices have been extremely enthusiastic about them, [8] and they became more popular in the United States over the turn of the century. Some surgeons think that these devices are superior tools for sculpting and find less need for cross-tunneling compared with SAL.
Problem
Fat is deposited in the subcutaneous layer in almost all areas of the body. Fat is a normal component of the subcutaneous tissue layer. Fat cells may not be distributed evenly, causing some areas to be more prominent than is ideal. Liposuction is a surgical procedure that attempts to contour specific areas of fat accumulation that patients see as undesirable.
Epidemiology
Frequency
According to the American Society for Aesthetic Plastic Surgery (ASAPS) 456,828 liposuction procedures were performed in the United States in 2007. Liposuction is the most commonly performed cosmetic procedure in the United States. [1]
Pathophysiology
Patterns of fat distribution differ among races, ages, and sexes. The actual number of fat cells remains stable during adult life. The cells get larger with weight gain and smaller with weight loss. In general, women have a proportionately higher percentage of body fat than men. Women typically have a disproportionate number of fat cells in their hips, upper thighs, and buttocks, while men tend to have a more even distribution of fat cells in the trunk. Also, liposuction is effective in changing contour because it permanently removes fat cells that are distributed unevenly. The remaining fat cells still can store fat. Therefore, liposuction affects weight distribution but cannot prevent further weight gain.
A progressive accumulation of fat occurs intra-abdominally as a person ages. This intra-abdominal fat is not treated by liposuction, thus must be differentiated carefully from subcutaneous fat when evaluating a patient for surgery.
Indications
The ideal liposuction patient is healthy, eats a well-balanced diet, has good skin elasticity, desires treatment of minimal-to-moderate localized fat deposits, and is within 20-30% of ideal body weight. Note localized excess fat on the hips, inner thighs, and outer thighs in the image below.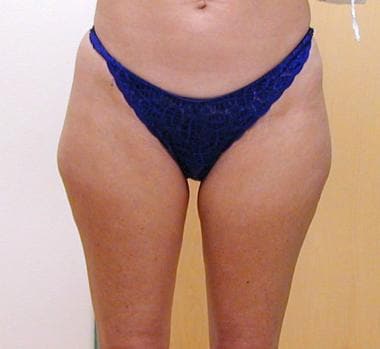 Liposuction, trunk. Frontal view of patient before tumescent suctioning. Note the excess fat on the hips, inner thighs, and outer thighs.
Modern liposuction techniques allow treatment of a much broader range of patients. New "super volume" liposuctions allow for treatment of patients with more generalized lipodystrophy. For more information, see the Medscape Reference article Large Volume Liposuction Safety and Indications. In addition, ultrasound-assisted liposuction (UAL) has afforded good results in patients with fatty deposits that were poorly responsive to traditional liposuction.
Although beyond the scope of this chapter, excisional surgery (eg, abdominoplasty or tummy tuck) has specific indications to treat problems such as severe skin laxity and truncal obesity in patients with poor skin elasticity. Excisional surgery and liposuction are often combined for an optimal result in certain patients.
Evaluation
A liposuction consultation should begin by asking the patient the following questions:
What would you like to change about your body?

What is your current weight?

How long have you been at this weight?

Have you had any significant weight gains or losses?

What is your current diet and exercise regimen?

For how long have you maintained this regimen?

Have you taken any diet pills to assist with weight reduction?

Have you had previous liposuction?

How will your life responsibilities allow for recovery time?
Relevant Anatomy
Two main layers of subcutaneous fat, deep and superficial, are present. Liposuction primarily is focused on the deeper layer of fat, since suctioning is safer and easier there. Suctioning in the superficial layer allows the surgeon to achieve subtle benefits in the procedure [9] but, because of its superficial location, increases risks of contour irregularities and injury to the skin. Others claim that superficial liposuction enhances skin retraction.
A study by Frank et al indicated that although an increase in total abdominal wall fat thickness is related to greater body mass index, the deep fatty layer tends to increase more than the superficial fatty layer. In addition, the investigators found reduced thickness of the superficial abdominal fatty layer, but increased thickness of the deep fatty layer, in relation to increased age. [10]
Contraindications
Liposuction carries greater risk for patients with significant medical problems. Heart disease, lung disease, diabetes, and peripheral vascular disease pose serous risk during any surgical procedure. Smoking or a recent history of smoking is a strong risk factor. Patients who have undergone previous surgery in the area to be contoured are at risk of surgical complications during liposuction. Surgery alters the local anatomy and distorts the normal subcutaneous planes in which liposuction is performed, increasing the chances of injury to local tissues.
What would you like to print?