Overview
Background
Liposuction of the neck and jowls (see image below) is clinically one of the most rewarding procedures in aesthetic surgery. With a short, low-risk, relatively inexpensive procedure, patients can achieve a dramatic change in their appearance. With recent technical advances, the results achieved with liposuction can, in many patients, rival those achieved with a facelift.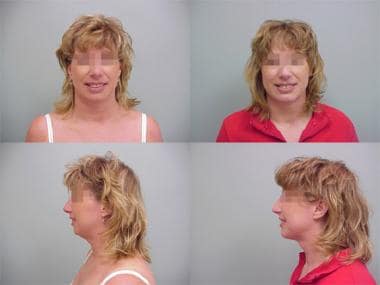 Patient aged 35 years. Left – Preoperative. Right - 4 months postoperative, liposuction of 25 mL from submental area and jowls with chin implant on right.
This article discusses the history, surgical technique, risks, and benefits of neck and jowl liposuction.
History of the Procedure
Liposuction of the submental area, neck, and jowl has been performed since the first description of liposuction in the late 1970s. Illouz performed the procedure prior to 1979, using a 5-mm cannula via a lateral approach. [1] Hetter described the use of smaller cannulae through a single submental incision. [2] In 1984, 2 additional sub-ear lobular incisions were made to allow for suction at a right angle to the submental suctioning. This lessened the chance of formation of visible ridges. It also decreased the chance of injury to the marginal mandibular nerve. By the mid 1980s, a 2.5-mm cannula was used. Suctioning of the cheeks, jowl, and mandibular border was added to neck suctioning to achieve a balanced result. Subplatysmal fat suctioning was added in 1987.
In the early years, neck liposuction was reserved for patients younger than 40 years, in whom skin shrinkage uniformly was expected. However, by the early 1990s, surgeons recognized that suction could be performed in older patients with an apparent excess of skin. The skin usually redrapes over the longer distance without hanging. This uses the geometric principle that the sum of 2 sides of a triangle is longer than the third side. In addition, surgeons realized that subdermal liposuction resulted in contraction of the skin.
Subcutaneous infiltration of the subcutaneous plane became standard by 1990, with varying concentrations of lidocaine and epinephrine used to provide anesthesia and hemostasis. Some surgeons have used internal and external ultrasonography since the late 1990s, although this technique has lost popularity over the last decade.
Recently, there has been a focus on skin tightening during and after liposuction. Devices such as laser-assisted liposuction and various forms of externally applied energy such as fractional lasers, radiofrequency and infrared radiation, and high-energy focused ultrasound (Ulthera) have been attempted. [3, 4, 5] There is still not enough unbiased evidence with any of these techniques to be able to recommend them. Therefore, liposuction of the neck and jowls should be performed only when the skin is expected to spontaneously contract. Alternatively, if the patient is willing to accept loose, potentially hanging skin, liposuction can be offered with the appropriate warnings and informed consent.
Problem
This problem comprises the triad of excess submental fat, jowl fat, and loss of the visible contour of the mandible. Fat in the submental region is usually related to obesity. However, fat may be present even in individuals of normal weight. As aging progresses, many people develop submental fat deposits independent of their weight. This may be more apparent as the skin loses elasticity and begins to hang. Similarly, jowl fat may be caused by excess fat or may be related to senescence. The etiology is similar for the loss of visibility of the mandibular border.
Accumulation of submental fat causes the cervicofacial concavity to decrease, eventually approaching a flat angle or convexity. While body fat may be hidden with clothing, fat in this area is the "giveaway" for obesity. A youthful neck is associated with a cervicofacial angle close to 118 degrees.
Jowls are a hallmark of aging faces and are present in most people by age 50 years. A loss of definition of the mandibular border also is a characteristic of aging, particularly in individuals who are overweight. In addition to removing fat, the procedure appears to stimulate the contraction of the skin, giving the appearance of skin removal.
Epidemiology
Frequency
One of the most common areas suctioned is the submental area and jowls. [6] In the author's practice, 25% of liposuction procedures are performed in this area. The procedure may be performed alone, in association with a facelift or platysmaplasty, or with resection of the subplatysmal fat along with a platysmaplasty. [7]
Presentation
As with most cosmetic surgery, women are more likely to request liposuction of the neck and jowls than men. However, a large number of men do undergo this procedure. The age range for this procedure is wide (17-70 y or older). Patients younger than 40 years usually present with generalized, mild-to-severe obesity. Some patients in their late teens or early 20s have an isolated submental fat pad. Patients older than 40 years present with middle-aged mild weight gain associated with other early changes of aging (eg, periocular wrinkling).
For more information on aesthetic procedures, visit Medscape's Aesthetic Medicine Resource Center.
Indications
Consider patients with submental and jowl fat who request aesthetic improvement as candidates for this surgery. Skin elasticity should be good to fair to predict good retraction of the skin. Patients who are not candidates for facelift surgery because of ongoing smoking, diabetes, or other medical problems may be candidates for liposuction because of the lower complication rate, although caution should be exercised in these patients because of the risk of skin loss. In one study, localized midline fat was a better predictor of a good outcome than the age or the quality of the skin. [8] A "crepe paper" appearance of the skin was the best predictor of failure. [8]
As newer methods of noninvasive skin tightening become proven by scientific studies, the pool of candidates for liposuction of the neck may actually increase, allowing fat removal in patients with skin that previously would have been expected to hang after liposuction.
Patients who require more rapid recovery than a facelift allows may be candidates for suction. As a secondary benefit, patients with extremely corpulent necks may achieve medical benefits. After fat removal, the contour of the neck may allow for easier intubation if general anesthesia is necessary in the future.
Relevant Anatomy
Liposuction of the jowls and submental areas is usually performed in the preplatysmal plane. As the marginal mandibular nerve is deep to the platysma, no important nerves are at risk if the integrity of the plane is maintained. Note and avoid the external and anterior jugular veins. The submandibular salivary glands and platysmal banding are prominent. Of particular importance with the use of ultrasonic liposuction in the area, complete avoidance of the area of the facial artery and marginal mandibular nerve is mandatory.
Of note is that subplatysmal fat cannot be suctioned; its removal requires a longer incision and direct removal. Subplatysmal fat is usually removed in the central compartment, often leaving the medial and lateral fat pads behind. [9]
Particular care should be taken in reoperative procedures, since the anatomy may have been altered with the prior procedure and because scar tissue will require greater force to the liposuction cannula, increasing the chance of deep penetration and injury. [10]
Contraindications
Relative medical contraindications include any illness that may place the patient at significantly higher risk for complications. [8] This includes cardiovascular, pulmonary, renal, hepatic, or endocrinologic disease. While the patient may accept the higher risks, the surgeon has the fiduciary responsibility to protect the patient from harm. If the patient has undergone prior neck surgery, liposuction may be ill advised. In this situation, scar tissue may necessitate more forceful suctioning, increasing the chance of penetration into underlying structures, with potentially disastrous consequences.
An alteration in normal anatomy may place the marginal mandibular nerve or deeper structures at risk. Aesthetic contraindications include poor skin elasticity, which may result in drooping skin. Note the platysmal banding. Consider concomitant platysmaplasty, since removal of the overlying fat can expose preexisting but hidden banding. Make note also of subplatysmal fat, which can be removed safely only with direct excision. Failure to remove this fat leads to patient dissatisfaction.
What would you like to print?