Overview
History of the Procedure
Balch first described the central pedicle reduction technique in 1981, although it was also described by many, including Hester et al. [1, 2, 3] The principle of this technique is to preserve the breast volume where maximum projection is desired, in the central portion of the breast. Evolution of the technique has resulted in the current technique described here. [4, 5]
Problem
Macromastia, or mammary hyperplasia, is the condition of large breast size out of proportion to a woman's body habitus that is associated with symptoms including back, neck, and shoulder pain. Macromastia is a common condition treated by plastic surgeons.
Using statistics from participating US plastic surgery practices, The Aesthetic Society reported that there were 82,643 breast reduction procedures performed in 2021, up from 55,332 in 2020, a 49% difference. The increase came on the heels of temporary closures and reduction in hours faced by many practices in 2020, during the coronavirus 2019 (COVID-19) pandemic. [6]
Etiology
Pathophysiology
The precise pathophysiology of macromastia is unclear. [7] End-organ hypersensitivity to hormonal stimulation appears to play a role. With the onset of menarche and hormonal production, breast growth and, in some cases, hypertrophy can be seen. Some patients present with macromastia following pregnancy; others see exacerbation of macromastia related to weight gain or obesity. [8, 9]
Presentation
Preoperative assessment includes a standard history and physical examination, with special attention directed to breast history and health, including family history of breast cancer. Preoperative photos should be taken and reviewed with the patient to point out conditions such as preexisting asymmetry. Representative before and after photos also should be reviewed if available to ensure that the patient understands the scars and has realistic expectations.
Indications
Macromastia is a common condition treated by plastic surgeons. Because women have various body shapes and sizes, and rules regarding insurance coverage vary from region to region, no universally accepted definition of macromastia that requires surgery exists. However, definite symptoms exist, which have been documented by numerous authors including Hagerty, Shewmake, and Gonzalez among many others. [10, 11, 12] Most commonly, these symptoms consist of upper back and neck pain, breast pain, shoulder grooving from bra straps, and inframammary intertrigo.
In an effort to relieve these symptoms of pain, a number of surgical techniques for reduction mammaplasty have been described using various pedicles and skin resections. [13, 14, 15, 16, 17, 18, 19, 20] The ideal breast reduction results in complete relief of symptoms while maintaining normal sensation and the ability to lactate. Additionally, the operation should result in an aesthetically pleasing breast shape with minimal scarring and a low complication rate. Lastly, most or all of these objectives should be achieved in a time-efficient and cost-efficient manner.
Successful breast reduction involves remodeling the breast parenchyma and creating a pedicle to maintain blood supply to the nipple-areola complex (NAC). Although vascular compromise is generally venous in breast reduction surgery, clear anatomical descriptions of the breast veins are lacking in textbooks.
A study by Karacor-Altuntas indicated that central pedicle horizontal scar breast reduction can be safely and effectively used in cases of gigantomastia without free nipple graft. The study included 53 patients (106 breasts) in whom the distance from the midclavicular point to the nipple ranged from 38-52 cm, with no patients experiencing postoperative nipple loss. [21]
Relevant Anatomy
Breast shape varies among patients, but knowing and understanding the anatomy of the breast (see the image below) ensures safe surgical planning. When the breasts are carefully examined, significant asymmetries are revealed in most patients. Any preexisting asymmetries, spinal curvature, or chest wall deformities must be recognized and demonstrated to the patient, as these may be difficult to correct and can become noticeable in the postoperative period. Preoperative photographs with multiple views are obtained on all patients and maintained as part of the office record.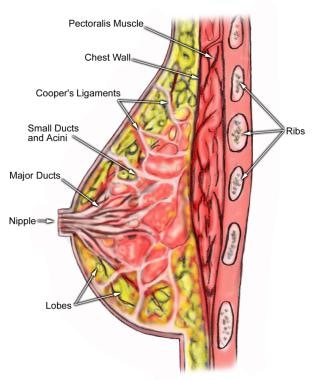 Anatomy of the breast.
The female breast consists of the glandular breast mound and the axillary tail of Spence. The nipple-areola complex (NAC) is the most prominent anatomic feature on the breast. It has important relations to the underlying glandular tissue.
The first of these relations consists of the blood supply to the NAC, which enters through the glandular breast tissue but also receives contributions from the subdermal plexus of the breast skin.
The second important anatomic relationship between the glandular breast tissue and the NAC is that of innervation. The nipple lies in the dermatome of the fourth intercostal nerve. Additional innervation is contributed by adjacent dermatomes. No clear anatomic distinction has been identified for innervation contributing erogenous versus tactile sensation.
Lastly, one must consider the communication between the lactiferous ducts of the glandular breast tissue and the nipple. Clearly, the importance of this depends upon the patient's childbearing status and any prior demonstration of the ability (or inability) to lactate.
For more information about the relevant anatomy, see Breast Anatomy.
Contraindications
Contraindications to breast reduction surgery are similar to contraindications to any elective surgical procedure, including cardiac and pulmonary considerations. Fortunately, most women seeking breast reduction surgery are often young and in otherwise good health. Since the operation is performed to relieve symptoms and not to treat a life- or limb-threatening disease, use common sense regarding general anesthetic risks. Smoking, diabetes, and obesity have been associated with increased complication rates, including nipple necrosis.
What would you like to print?