Treatment
Medical Therapy
In patients with macromastia who are obese, physician-directed weight loss programs that include diet and exercise may help reduce symptoms but are unlikely to lead to complete resolution alone. Often, patients find it difficult to exercise due to the physically limiting effects of macromastia.
Surgical Therapy
Breast reduction surgery directs its intentions toward 2 primary alterations in breast habitus. The first goal is a reduction in weight, with a consequent reduction in size. [11] Second, by placing most retained breast tissue at or above the inframammary fold, a favorable change in weight vectors on the upper thorax and spine is produced. While the surgeon always strives to provide good shape, aesthetic contour, and bilateral symmetry, reduction mammaplasty should be considered an operation to improve function. Aside from the aesthetic improvement, which is always sought and often realized, resultant patient-noted benefits, such as relief from upper back and shoulder pain and the increased ability to engage in the activities of daily living, remain essential to patient satisfaction.
Preoperative Details
Marking may differ significantly from the familiar Wise pattern. The surgeon may choose to use markings which permit a pure vertical closure. The author has found that pure vertical closure can be more difficult to achieve in cases where patients have a greater excess of skin than of volume. In such cases, tailoring an inframammary skin excision can improve cosmetic appearances by reducing inferior bunching and eliminating dog-ear redundancies. Often, this tailor tacking approach will yield inframammary scars that are significantly shorter than would be possible with inferior-pedicled, Wise pattern reductions. These shorter incisions are the byproduct of dermoparenchymal shaping by means of intraparenchymal pillar suturing rather than relying on the traditional skin resections to achieve desired shape. Another direct benefit from this phenomenon is a reduced-tension skin closure.
Proposed nipple location is set with the "A" point (top of the keyhole) approximately 2 cm below the anteriorly transposed inframammary fold. Medial and lateral skin excision limits are identified by lateral and medial displacement of breast tissue using the native breast meridian as the reference line. The breast meridian should be delineated by marks at the clavicle and below the inframammary fold (IMF), each of which is relatively immobile during displacement. The ultimate result of this process should be a vertically oriented oval topped by a mosque-shaped dome with its apex approximately 2 cm below the anteriorly transposed IMF and its lower limit 2-4 cm above the native IMF.
Anticipating resection volume helps direct marking of skin. The use of a McKissock-type keyhole can be helpful but is not required, since opportunity for custom siting is available after resection. If developing the nipple-areola complex (NAC) inset position (keyhole) is deferred, do not over-resect skin cephaladly, since this will force unfavorably high NAC positioning in order to avoid scar extension above the NAC.
The author prefers to develop a mosque-shaped keyhole for NAC insetting during de-epithelialization and development of the pedicle, as this method saves time. Skin markings are conservative, with the lower limit of the resection between 2 cm and 4 cm above the native IMF; this location depends on the anticipated resection volume (greater-volume resections warrant higher placement). If necessary, additional skin can be removed postresection. Since this technique employs intraparenchymal pillar suturing to achieve breast shaping, significant, if any, additional skin resection to improve contour is usually not required. Small skin redundancies tend to retract in short order because of inferior resectional or liposuction thinning coupled with an absence of skin loading in the context of natural skin elasticity. Be aware that skin of poor quality is unlikely to recoil with time and should be considered for resection.
Pedicle markings differ based on choice of either superior or superomedial pedicles. The upper border of the superomedial pedicle should obliquely divide the intended NAC inset position between its inferomedial one third and the superolateral two thirds. The lower border is an oblique line, drawn within the planned skin resection margins, that respects and reflects the oblique traverse of the parasternal perforators into the pedicle.

Draw the lateral limb by dropping a vertical line straight down from the starting point of the lateral limb of the inverted "V" where the circular component of the new areolar defect comes together; the width of the pedicle varies according to its length. See the image below.

Preoperative markings of a superomedial pedicle reduction. Notice that the base of the pedicle is made wider for longer nipple transpositions.

The superior pedicle reduction has a pattern of de-epithelization that comes down caudally from the intended NAC inset position, encompassing the new nipple areolar complex and extending approximately 1 cm around it and approximately 2 cm below its caudal border. See the image below.

Preoperative markings of a superior pedicle technique breast reduction.
A retrospective study by Altuntaş et al indicated that owing to greater postoperative sagging of the lower pole of the breast than of the NAC, during inverted T-scar superomedial pedicle breast mammaplasty, the nipple position should be marked 1.5-1.75 cm lower than the portion of the breast with the greatest projection. This, according to the study, will allow the NAC to eventually occupy the correct position. [12]
Intraoperative Details
The superomedial pedicled mammoplasty begins by de-epithelization of the pedicle and circumscription of the NAC with the breasts placed in mammostats to provide skin stretch and hemostasis. The pedicle is developed by incision along markings straight down to but not through the loose areolar connective tissue plane directly above the superficial pectoralis major muscle fascia.
Excess breast tissue is removed in a dermoglandular en-bloc resection with minimal undermining. Areas of redundancy addressed are superior, lateral, and inferior. Conservative resection superiorly is advised in order to prevent inadequate deep support of the transposed NAC at its inset site, which can result in nipple retraction. During resection, dermoglandular lateral flaps 2-3 cm thick are preserved, as they have the benefit of improved vascularity and retained structural integrity. This thick subdermal tissue retained on the lateral flap is helpful in preventing skin dimpling when lateral pillar sutures are placed.
Thin-skin undermining in a mastectomy plane at the inferomedial (caudal to the pedicle) and inferolateral (caudal to the thicker lateral dermoglandular flap) aspects of resection allows for a straight vertical closure without unsightly inferior bulging in all but the largest of reductions. The lateral flap transition from its superior thicker region to the inferior thinner zone is roughly determined as the area where the lateral Wise pattern skin resection would have been performed. Subcutaneous contour irregularities after transposition can be addressed by SAL, which may also be used for fine contouring after final closure.
After resection, the approximate 4-o'clock position of the NAC is affixed to the apex of the mosque-shaped keyhole inset site. A dermal back cut at the most inferior portion of the de-epithelialized pedicle may be required to achieve an adequate arc of rotation. This is particularly true in pedicles that are relatively short and wide. Because of the benefit of greater perforator capture, wider pedicle bases are advised when tenable. The pedicle soft tissue bulk is transposed superomedially and secured in position by intraparenchymal suturing to unify the medial (the now transposed lower pedicle border) and lateral (the thicker portion of the lateral breast flap) pillars. The positional interrelation of the pillars can be manipulated by the surgeon to achieve the desired breast shape. The pillar positioning that is selected should reflect a tension-free NAC inset. See the images below.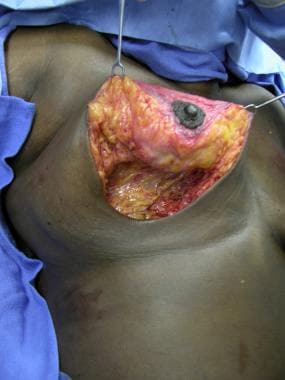 Breast reduction, superior pedicle. The pedicle, now developed, is imbricated superiorly into the new NAC inset position.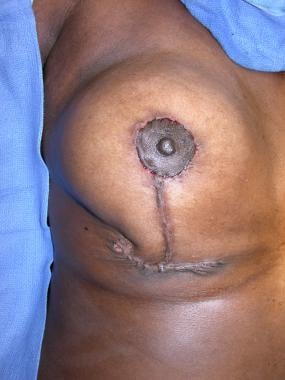 Breast reduction, superior pedicle. The NAC is into the new position. Vertical closure, no inframammary incision line. The lateral dimpling is from intraparenchymal pillar suturing and typically settles out completely within 6 weeks.
The superior pedicle technique varies in that the pedicle is developed along lines directly inferior to the NAC inset position and that resection is inferiorly based. Once resection is complete, the pedicle is folded superiorly to be inset without rotation of the NAC.
Drains are optional.
Postoperative Details
Evaluate the surgical site for presence of hematoma and for sensitivity and viability of the NAC.
Follow-up
Postoperatively, the patient should wear a soft support brassiere without under wire for 3-6 weeks, dependent on observed patient healing.
Complications
Incidence of complications is similar to other techniques of reduction mammoplasty. Hauben reported on 212 patients; in 1 patient total loss of the NAC occurred (the first time he used this technique, the pedicle length was 26 cm, and the patient was a heavy smoker). In addition, he had another partial loss of the NAC. Decreased sensation of the NAC was present, but no incidence was quoted; nipple retraction was present in 2% of patients and hematoma in 2.26%. No transfusion was necessary. [13]
Finger et al reported only 2 partial losses of the NAC (< 25%) and decreased sensation in 15% in 148 patients (291 breasts). Other complications were hypertrophic scars, nipple retraction, and dog-ears. Average blood loss was 200 mL. [14]
Hugo and McClellan reported on 34 patients (68 breasts) with an average of 760 g resected and 12 cm of nipple transposition. One patient (1.4%) had a partial loss of the NAC, and 2 (3%) had infections. [6]
Outcome and Prognosis
Results of breast reduction are satisfactory and among the most well accepted by patients regardless of the technique used. [15] The advantages of the superior pedicle techniques are many for both surgeon and patient. See the images below.
Reduction of the width of the breast is achieved easily without compromising the viability or sensitivity of the nipple-areola complex (NAC), which receives its blood supply from internal mammary and lateral thoracic arteries; nerve supply is from the anterior and lateral intercostal contributions. Symmastia, which cannot be corrected using other techniques without creating scars across the midline, is corrected with the superomedial technique.
The achievable breast projection is superior over other techniques (a cosmetic advantage that is appreciated by surgeons and patients).
Distance from the inframammary fold (IMF) to the NAC does not increase significantly postoperatively with use of the superiorly based techniques. More, they resist change over time and do not develop pseudoptosis, which is a common late finding with the inferior pedicle technique.
Operation times are shorter. These techniques do not employ skin undermining or tailored skin excisions for shaping. Further, dermoglandular resection is completed en-bloc, which is simple and fast.
The superior pedicle technique tends to preserve projection but is limited by pedicle length. This technique is suggested for resections of no more than 1200 g and NAC transpositions of no more than 9 cm.
The superomedial pedicle technique may better preserve sensation to the NAC than the superior pedicle technique. [16, 17] The author has found the superomedial pedicle technique useful for all breast types, not restricted to use on nonsmokers or patients with soft and mobile breasts. The superomedial pedicle technique can be safely used for resections of up to 2000 g and cephalic NAC transpositions of 5-15 cm with reliable preservation of viability and sensibility. Attainable pedicle lengths likely exceed the author's limit of 27 cm.
Recently published articles corroborate the above assertions. Davison et al reported a statistically significant reduction in operation time of 41 min (P = 0.0001) in a matched consecutive cohort of 25 patients. [18] Furthermore, out of 279 patients, all nipples were found to be viable, NAC hypesthesia was reported in only 2 patients, and the overall complication rate was 18% (74% of the patients with complications had BMIs >30). [18] Landau and Hudson looked at the superomedial pedicle technique in 61 patients (122 breasts) over a 10-y period. Mean resection weight was >1300 g per breast. They found a partial areola necrosis rate of 6.5%. All nipples were viable. Minor complications (eg, wound breakdown) were reported in 18% of patients (Landau, Hudson, 2008). [10] These figures attest to the safety and versatility of the superomedial pedicle technique for reduction mammaplasty regardless of breast size or patient BMI.
A retrospective study by Manahan et al of 2152 breast reductions (1148 patients), including with inferior and superior pedicle procedures, indicated that surgical outcomes are negatively impacted by morbid obesity, tobacco use, cardiac disease, and secondary surgery. For example, patients with cardiac disease were more likely to undergo reoperation for scars and fat necrosis, while a body mass index of 35 kg/m or more was associated with an increased risk of infection, seromas, fat necrosis, and minor wounds. [19]
Future and Controversies
Elizabeth Hall-Findlay has shown good results using her combination of superomedial pedicle combined with vertical closure. The long-term results she has presented suggest that the late development of pseudoptosis is less problematic than with other techniques. The learning curve for this technique can be steep. Nevertheless, no other technique appears to have the distinct advantages of this particular approach, with benefits that include faster operative times, greater control over breast shaping, reduced risk of peri-incisional skin necrosis, reduced risk of NAC insensitivity and nonviability, and reduced incidence of fat necrosis, as well as greater durability of the aesthetic result. Although some have cited the steep learning curve as a barrier to wide acceptance of the technique, with proper application, durable, satisfying results are within easy reach.
What would you like to print?