Workup
Consultations
Children who are potential candidates for skeletal distraction are evaluated and managed in a multidisciplinary setting that primarily includes the following clinicians:
Plastic/craniofacial surgeon

Speech/language pathologist
Other specialists, including in otolaryngology, neurosurgery, and sleep medicine, are involved depending on the specific circumstances.
Imaging Studies
The workup primarily relies on radiographic information to define the anatomic deformity and to assess whether distraction osteogenesis is a viable alternative to conventional surgery. Routine radiographic studies typically include computed tomography (CT) scanning with three-dimensional (3-D) reconstructions and dental radiographs (Panorex, frontal, and lateral cephalometric films). [11] These studies serve to give a 3-D representation of the craniofacial abnormality and to determine whether sufficient bony stock is present for device fixation (see the image below). [12] Moreover, with current advancements in software, osteotomies and distraction devices can be virtually simulated.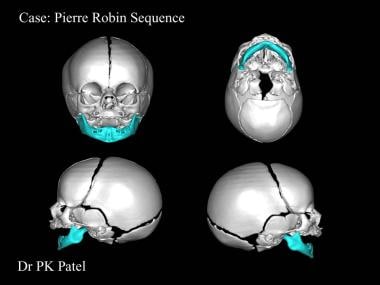 CT imaging illustrating skeletal deformity and airway compromise in infant with Pierre Robin sequence.
Other Tests
Neonates and infants with obstructive apnea may require polysomnography, flexible nasoendoscopy, and direct bronchoscopy for the diagnosis of retroglossal obstruction and synchronous tracheomalacia. [10] Failure of conservative measures should be documented.
What would you like to print?