Workup
Imaging Studies
Radiographic examination is essential for diagnosis and for the classification of all carpal fractures and dislocations. All diagnosed fractures should be carefully examined for evidence of contaminant fractures and for dislocations that are less obvious than the primary injury. Improper positioning of the wrist for radiographs is a common cause of failure to make the correct diagnosis; thus, proper radiographic technique is crucial. All wrist injuries should include 4 views, posteroanterior (PA), lateral, and supinated and pronated obliques. In addition, all wrist injuries should have scaphoid/navicular views because of the relative frequency of scaphoid fracture.
Scaphoid
Radiography
The 4 essential views (ie, PA, lateral, supinated and pronated obliques) identify 97% of fractures. The lateral view is used to assess the degree of scaphoid fracture angulation. On PA views, radial displacement of a fractured scaphoid usually obliterates the linearity of the radial radiolucent soft tissue pad known as the navicular fat stripe sign.
The scaphoid view or navicular view is recommended. This is a PA radiograph with the wrist extended 30° and deviated ulnarly 20°. This view helps to stretch out the scaphoid and is also used for assessing the degree of scaphoid fracture angulation.
A clenched-fist radiograph has also been useful for visualization of the scaphoid waist. This may also assist in demonstrating dynamic scapholunate instability.
Initially, the fracture is not recognizable on a radiograph. Treatment is initiated with immobilization in a thumb spica cast for 2 weeks (allowing for resorption at the fracture site) and then evaluation with repeat radiography. [9]
Bone scan, CT scan, ultrasound, and MRI
In addition to radiographs, bone scans, CT scans, and ultrasonograms [10] have also been reliable in the early (< 24 h) detection of occult nondisplaced scaphoid fractures.
In emergent management, the bone scan is useful to help detect high-probability fractures not visible on standard radiographs (see image below).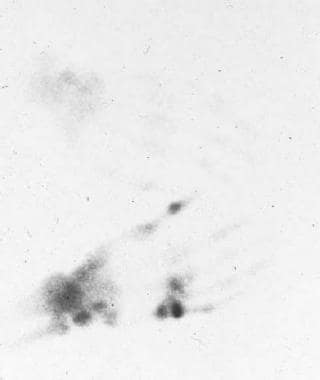 Bone scan of the wrist illustrating increased uptake in the left wrist after Herbert screw fixation of a transscaphoid perilunate fracture dislocation of the wrist 3 months postoperatively.
CT scans are particularly useful for identifying malalignments within the carpus and in the diagnosis of more obscure distal osteocartilaginous fractures.
A study by Gilley et al indicated that scaphoid fracture displacement can be better diagnosed CT scanning than with radiography. The investigators found that CT scans revealed displacement in 26-34% of scaphoid fractures that appeared nondisplaced on radiographs. [11]
MRI has emerged as a useful adjunct in the detection of occult scaphoid fractures as well as nonunions. [12] Dorsay has found that MRI performed in patients with high degree of suspicion reduced the time interval for casting and allowed an earlier return to function. [13] MRI with gadolinium enhancement remains the criterion standard in the diagnosis of scaphoid nonunions with or without avascular necrosis.
Lunate
Radiography
See Lunate fracture in the Pathophysiology section for classification based on radiographic findings. Fractures of the lunate are difficult to diagnose with radiographs; thus, additional CT scan and MRI studies are recommended. Radiography is perhaps more useful after deterioration to Kienböck disease.
The 4 routine views of the wrist are recommended; also include carpal tunnel views. The initial lunate fracture is often difficult to diagnose based on radiographic findings. Fracture lines and fragmentation become evident only weeks later.
During stage IIIB, the collapsing carpus undergoes scapholunate dissociation, which results in flexion of the scaphoid and a ring sign often also seen with progressive perilunate instability, which is discussed further below.
MRI (T1- and T2-weighted images)
Avascular necrosis of the lunate shows the hallmark signal reduction of the lunate.
This is useful in the early stages when initial radiographic findings are normal but clinical findings are suggestive (stage 1).
CT scan
CT scan studies are useful for all stages of disease, particularly in the acute fracture setting.
Bone scan
These may show early changes, but the findings are nonspecific and lead to false-positive and false-negative results.
Perilunate Dislocation
Radiography
In addition to the 4 basic views, PA traction views can also aid in diagnosis and classification. Clenched-fist anteroposterior (AP) views have been shown to help diagnose the more dynamic scapholunate dissociation. Approximately 20% of perilunate injuries are misinterpreted on initial radiographs.
The ring sign may be seen with PA/AP views. In scapholunate dissociation (stage I), ligament instability results in permanent flexion of the scaphoid and a foreshortened appearance on AP/PA cross-section. This end-on projection of the distal pole of the scaphoid produces the classic signet ring sign (also observed in stage IIIB Kienböck disease).
The Terry-Thomas sign may be seen on AP/PA views. Pathognomonic for perilunate instability, this radiologic sign means a gap is present between the lunate and scaphoid, which is considered abnormal if larger than 3 mm on the radiograph.
The spilled-teacup sign may be seen on the lateral view. Normally, the kidney-shaped lunate holds the head of the capitate with its concave surface and articulates with the distal radius with its proximal convex surface. With lunate dislocation (stage IV), the lunate usually flips volarly on its volar radiolunate ligament hinge so that its concavity faces the carpal tunnel. This provides the appearance of a cup turned downward and is referred to as the spilled-teacup sign on lateral-view radiographs.
CT scan, bone scan, MRI: These are useful in the setting of subtle acute, delayed, late, or dynamic carpal instability presentations.
Perilunate Fracture Dislocation
Standard PA (for fracture pattern) and lateral radiographs (for identifying displacement of the carpus)
Typically, these views are sufficient. Traction radiographs also are often helpful.
A delay in diagnosis is not unusual, especially in persons with polytrauma in whom the injury is overlooked.
Poorly taken initial radiographs are usually to blame; radiographs are often misinterpreted, and the fracture is treated as a Colles fracture.
CT scan
This is recommended for late diagnosis and when routine films are difficult to interpret.
Very late presentation after many years includes carpal tunnel syndrome and ruptures of the flexor tendons.
Isolated Carpal Fractures (Excluding Scaphoid and Lunate)
Radiographs
AP, lateral, radial, and ulnar deviation views are used for carpal fractures.
Trapezium, trapezoid, pisiform, and hamate fractures benefit from the addition of carpal tunnel views.
CT scan
Moreover, the trapezium, trapezoid, pisiform, and hamate fractures also may benefit from the addition of a CT scan.
Isolated Carpal Dislocations
Radiographs
With lateral and AP views, projections are minimal. Possible trapezoidal, trapezium, and pisiform dislocations should have oblique views.
CT scan
This is indicated for all complicated presentations.
Fracture Dislocation and Axial Dislocation
Radiographs
AP views allow assessment of the type of axial dislocation (radial vs ulnar).
Lateral radiographs allow a determination of the direction of dislocation.
Additional traction views and CT scan
These may be necessary for a full assessment of the intercarpal ligamentous and carpal articulative derangements.
What would you like to print?