Overview
Background
The term osteotomy, derived from Greek, is defined in the medical dictionary as a surgical operation in which a bone is divided or a piece of bone is excised (as to correct a deformity). This article concerns the surgical technique of cutting bone in the performance of rhinoplasty (nasal surgery).
See the image below.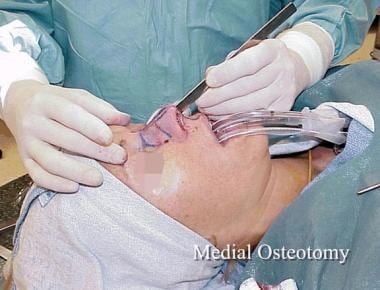 Medial osteotomy being performed during rhinoplasty.
Problem
Most, although not all, rhinoplasties require the use of a form of osteotomy, because most standard rhinoplasties require the movement or alteration of the osseocartilaginous vault that composes much of the nose. For information on various rhinoplasty techniques, see the following eMedicine Plastic Surgery articles:
Epidemiology
Frequency
In 2016, according to statistics from the American Society of Plastic Surgeons (ASPS), approximately 223,000 rhinoplasties were performed in the United States. [1] For each of these surgeries, possibly 2-4 osteotomies were performed.
Indications
In general, indications for osteotomies in rhinoplasty are anatomic findings of a high nasal dorsum that requires "hump" removal, an "open roof" after the hump has been removed, and a wide nasal base. Correcting these conditions requires osteotomies. Understanding these factors requires a familiarity both with the basic anatomy of the nose and surrounding facial and cranial structures and with the goals of aesthetic (cosmetic) and functional rhinoplasty.
Relevant Anatomy
Simplistically, the nose is a structure consisting of a bone and cartilage framework over which is draped a skin envelope. The size, shape, quality and/or thickness, texture, and position of the various parts help determine the appearance and function of the nose. The bony portion is referred to as "the bony vault." According to Oneal, Izenberg, and Schlesinger, "[It] … consists of the paired nasal bones and the frontal ascending processes of the maxilla. The vault is generally pyramidal in shape… The most narrow part of the bony pyramid is at the intercanthal line… Laterally the nasal bones articulate with the ascending or frontal process of the maxilla…" [2] Surgeons who perform rhinoplasties need to have a thorough understanding of nasal anatomy. [3] Refer to the images shown below.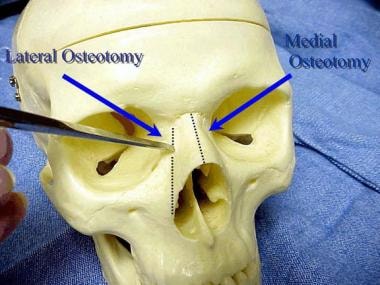 Nasal bones with outline of medial and lateral osteotomies.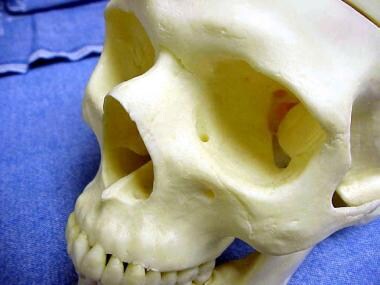 Another view of nasal bones.
Contraindications
Contraindications for osteotomies lay within the contraindications for rhinoplasty. If the surgeon feels the patient is an appropriate candidate for rhinoplasty, osteotomy can be performed.
Aesthetic contraindications may exist wherein the nasal vault does not require narrowing and, even after hump removal, the lateral nasal bony plates lie in close enough approximation that osteotomy is unnecessary. Such decisions are within the purview of the individual rhinoplastic surgeon.
What would you like to print?