Treatment
Surgical Therapy
Two common surgical approaches are the intranasal and intraoral routes.
The intranasal approach uses an incision made in the lateral vestibule that is brought down to the level of the nasal spine. The vertically oriented incision is located in the membranous portion of the septum and is the primary site of subperiosteal elevation underlying the alar bases.
The surgical approach via the intraoral modality commences with an incision through the gingivobuccal mucosa. The dissection is carried out in the subperiosteal pocket, allowing for adequate exposure of the implant site.
Different materials have been used to correct both premaxillary and maxillary hypoplasia.
Materials such as silicone silastic, [19] cartilage, [15] disced or crushed cartilage [20, 21] and/or bony autografts and/or homografts, [22] hydroxyapatite granules, Mersilene mesh, [22] acellular dermis, porous polyethylene, and, in the past, Proplast and Gore-Tex, have been used (see images below for examples). The choice of implant material used should be based on availability, biocompatibility, rate of extrusion, familiarity with the material, and previous surgical outcomes.
Various custom-shaped implants are also available.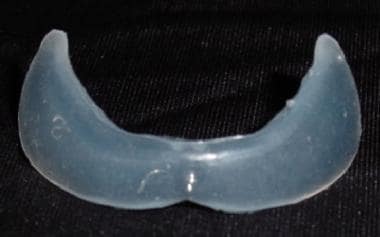 Front view of Brink Peri-Pyriform (tm) silicone implant from Implantech.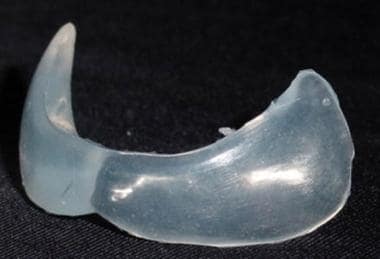 Side view of Brink Peri-Pyriform (tm) silicone implant from Implantech.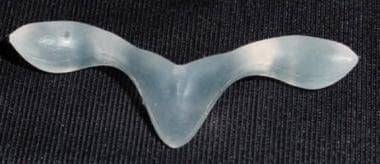 Fanous premaxillary silicone implant
Preoperative Details
Appropriate assessment of the hypoplastic areas and the expected outcome must be reviewed thoroughly with the patient. The surgeon and patient then should decide on the desired degree of correction.
Intraoperative Details
In either approach, care must be taken to avoid the infraorbital neurovascular plexus. Usually, this does not pose a problem because the subperiosteal dissection is not extended into this area unless the implants used are those described by Hinderer. [3]
Postoperative Details
Postoperative antibiotics are administered routinely, and the patient is advised to avoid excessive manipulation of the area.
Follow-up
Patients are usually observed the day after surgery, then at 1 week, 1 month, 3 months, 6 months, and 1 year postsurgery. These regimens are tailored as the surgeon sees fit.
Complications
Complications related to the implant may arise.
If an autogenic implant is used, the possibility of donor site infection and scarring and autograft contamination exists.
Both synthetic and nonsynthetic grafts may extrude or become infected.
Patient dissatisfaction can also occur from an overcorrection or undercorrection or secondary to implant migration.
Paresthesias stemming from infraorbital nerve injury can result and persist indefinitely. Fortuitously, some paresthesias resolve within 6-12 months.
Outcome and Prognosis
Most of the implant material is nonautogenous in nature. Silicone is relatively inert and has a long history of being well tolerated by the body. Infection can occur with any implanted material in the body. If this were to occur with the silicone implant, it would necessitate removal.
Slippage of the implant can also occur if the pocket is too large. Autogenous material such as cartilage is seldom used in this area. The increased effort to harvest this material and shave it is not often warranted. Septal cartilage can be fashioned into a maxillary onlay graft but "results in the long run may be less predictable than alloplastic correction." [10]
The patient and surgeon ultimately decide which implant material to use.
Using information from the American College of Surgeons National Surgical Quality Improvement Program (ACS-NSQIP) database, a study by Knoedler et al indicated that in patients undergoing orthognathic surgery for maxillary or mandibular hypoplasia or hyperplasia, the overall complication risk is low. The postoperative 30-day complication rate was 4.3%, with no instances of mortality and no reported cases of pulmonary embolism, unplanned reintubation, prolonged ventilator dependence, renal disorder, cerebral vascular accident, cardiac infarction/arrest, or sepsis/septic shock. Nearly 90% of surgical adverse events were associated with outpatient procedures. [23]
Future and Controversies
Newer imaging capabilities allowing for more readily available customizable implant creation will become more prevalent. This technology, coupled with newer implant materials, will lead to less traumatic surgical techniques and elevated patient and physician satisfaction levels.
What would you like to print?