Treatment
Medical Therapy
Several different nonsurgical options have been described to treat abnormal scars. Pressure is thought to decrease tissue metabolism and increase collagen breakdown within the wound. [3] The different methods for applying pressure include the use of elastic bandages (eg, ACE wraps) for the extremities, thromboembolic disease stockings for the feet, or Isotoner-type gloves for the hands. Alternatively, custom-fitted compression garments can be used to apply pressure to the more difficult areas, including the lower neck and torso. Obviously, compression ACE wraps or stockings are not useful for areas such as the head and face. Because these devices are uncomfortable, patient compliance varies. Latex-free compression garments and ACE wraps can be found at medical supply stores for those with Latex allergies. Unfortunately, for optimal results, these devices must be used for 6-12 months during the maturation of the wound.
Based on a literature search, Sharp et al developed a best evidence statement regarding the use of pressure therapy for hypertrophic scarring, recommending the following [45] :
Pressure therapy should be used to reduce scar height and erythema

Such therapy should be used for grafts and wounds that require 14-21 days to heal

The therapy should be applied 23 hours per day for 12 months

The therapy should deliver 20-30 mm Hg of pressure

The pressure therapy equipment should be fitted to the patient by a skilled technician

The pressure therapy equipment should be replaced every 2-3 months
Sharp and colleagues did not recommend using pressure therapy to treat abnormal pigmentation or speed up scar maturation. [45]
Silicone gel can be used to treat abnormal scars. Silicone gel has been shown to significantly decrease scar volume when used over time. Studies have demonstrated 80-100% improvement in hypertrophic scar formation. [4, 3, 5, 6] The effect of the silicone gel on the scar is believed to be due to wound hydration. The silicone gel is applied to the wound for at least 12 h/d. Patients find it more appealing to apply the silicone to their wounds at night. Silicone gel is gaining popularity because it can be applied to a smaller area for 12 h/d, usually at night. However, skin breakdown, rashes, and difficulty with wound adherence can lead to disuse. Also, certain areas, such as the face, do not lend themselves to the easy use of such devices.
Accordingly, steroid injections have become a common nonsurgical option in the treatment of problem scars. The steroid used for intralesional injection is triamcinolone (Kenalog). Triamcinolone injections have been the standard treatment to induce flattening, fading, and decreased symptomatology of hypertrophic scars. [7, 8, 9, 10] These injections can be administered as soon as a problem scar is identified. The dose of the injection can vary from 10-120 mg, depending on the size of the scar. [7]
A single-blinded, randomized, controlled study by Nedelec et al found that hypertrophic burn scars that were injected with triamcinolone acetonide demonstrated significantly greater thickness reduction and elasticity increase than did hypertrophic scars treated with usual care. Both the triamcinolone acetate–treated and control scars underwent a significant increase in melanin concentration. [46]
An algorithm has been described that recommends the use of a triamcinolone injection for thin-to-wide hypertrophic scars and silicone for very wide hypertrophic scars. [47] Some patients prefer triamcinolone injections to avoid applying and wearing the silicone every day for 6-12 months, especially on body areas where adherence is poor, such as the face, palms, and soles of the feet. Some patients also prefer triamcinolone injections when compression therapy may not be an option because of the location of the wound (eg, on the face). Minor adverse effects of triamcinolone injections include hypopigmentation and subcutaneous atrophy. [48]
No time constraints exist regarding when the steroid can be administered. Some inject steroids at the time of the wound repair or scar revision. Several studies describe early use of steroid injections to treat hypertrophic scars. In general, more favorable response to steroid injections is seen in the treatment of hypertrophic scars over keloids.
Other nonsurgical options that have been described include vitamin E therapy, zinc oxide therapy, antineoplastic agents, and immunotherapy.
Surgical Therapy
If nonoperative measures are unsuccessful in the treatment of abnormal scars, operative intervention can be considered. [49]
Certainly, the best treatment of abnormal scars is prevention. Closing wounds to orient the wound along the relaxed skin tension lines is important. A standard practice often used rather subconsciously after excision of a lesion involves assessing the direction of least tension based on the configuration of the edges of the wound or by pinching the wound.
The first-line procedure used for scar revision is fusiform excision (see image below). In general, fusiform excision does not require lengthening the scar. In order to avoid canine auricles, ensure the wound has a length-to-width ratio of 4:1. Fusiform excision is most applicable to short wounds oriented along relaxed skin tension lines.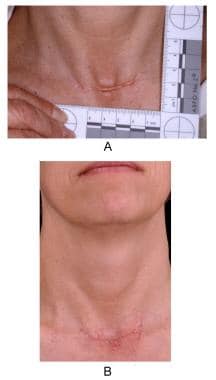 This patient's neck wound developed a hypertrophic scar. It was revised with a fusiform excision and an intraoperative triamcinolone (Kenalog) injection. Postoperatively, the patient used silicone gel daily for 6 months and obtained a very satisfactory result.
The Millard flap procedure is similar to fusiform excision, but it involves preserving the scar and its connection to the underlying fat. The skin is incised in a fusiform fashion around the scar to the subcutaneous level. The scar is then deepithelialized, and the skin edges are approximated over the deepithelialized scar. Sometimes, the wound edges require slight undermining to close over the deepithelialized skin. The Millard flap technique is most suitable for widened depressed scars.
Scars not oriented along the relaxed skin tension lines can be modified with a Z-plasty procedure. Limbs of equal length are created for the Z-plasty. The angle of the Z dictates the length of scar tension distribution and elongation (eg, 30° for 25%, 45° for 50%, 60° for 75%, 75° for 100%, 90° for 120%). If the hypertrophic scar developed because of excessive tension across the wound as a result of unfavorable wound orientation, Z-plasty can sometimes help reorient the wound to distribute tension in a different direction to minimize the risk of recurrence.
The W-plasty technique (see image below) for scar revision is similar to Z-plasty because it breaks up a straight-line scar into a pattern that is less conspicuous. Similar to a fusiform excision, W-plasty involves the removal of skin; therefore, avoid this method if significant tension is present across the wound edges. The technique of W-plasty is time-consuming and challenging; therefore, it is less popular. W-plasty scar revision is most suitable for scars along relaxed skin tension lines; scars with a bowstring contracture; short, depressed scars; and facial scars.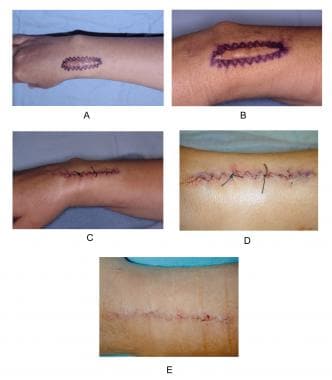 This patient was unsatisfied with her hypertrophic wound across the volar aspect of her forearm. She underwent a W-plasty scar revision because the wound was not under significant tension.
Tissue expansion and serial excision can be considered for larger scar revisions when excess wound tension is predicted. [50] If more than 2 serial excisions are expected, tissue expansion is preferred. Other procedures that have been described to treat scars include dermabrasion, cryosurgery, and laser therapy. [51]
A report by Madni et al indicated that erbium:yttrium-aluminum-garnet (Er:YAG) laser can effectively treat hypertrophic burn scars, with the investigators noting that viscoelastic deformity, elastic deformity, skin roughness, and wrinkle depth were significantly improved in study patients post–fractional ablation. [52]
Widened scars are treated differently than hypertrophic scars. Widened scars can be flat or even depressed. Therefore, the administration of intralesional steroids is not recommended; these agents could worsen the depression. Widened scars are best treated with the Millard 2-flap technique (see image below) over a deepithelialized scar. This technique provides soft tissue fill under the approximated wound edges. Furthermore, if the widened scar recurs, the risk for another recurrence can be minimized by reorienting the wound tension along the lines of relaxed skin tension. Other techniques described in the treatment of widened scars to correct the indentation include insertion of dermal-fat grafts or the injection of fat grafts or other tissue substitutes (hyaluronic acid or calcium hydroxyapatite recombinants). However, these materials are known to resorb with time.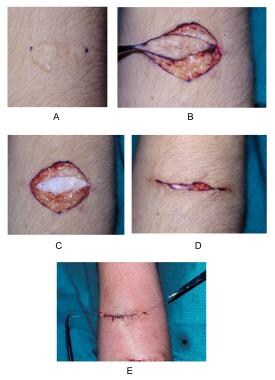 This patient underwent revision of her widened scar with a Millard 2-flap technique. The fusiform was incised around the deepithelialized scar. The wound edges were approximated over the deepithelialized scar. Postoperatively, she wore a compression garment and applied silicone gel for 6 months.
Postoperatively, compression garments and silicone gel are encouraged for 4-6 months to optimize the result and decrease the risk of recurrence. Furthermore, steroid injection can be considered at the time of hypertrophic or keloid scar revision to decrease risk of recurrence. To decrease risk of scar widening, patients are encouraged to refrain from strenuous activities for at least 6 weeks, until which time the wound achieves approximately 80% original wound tensile strength. Patients are monitored for 6 months postoperatively to detect and potentially circumvent recurrences early.
Complications
Postoperatively, patients are at risk for hypertrophic scar and widened scar recurrence. Other risks are similar to any procedure and include infection, hematoma, seroma, painful or unattractive scarring, delayed wound healing, and need for additional surgery. When delayed wound healing transpires over several years (>15y), a risk exists for malignant transformation to a skin cancer similar to a Marjolin ulcer.
Outcome and Prognosis
The risk of recurrence is significant for both hypertrophic and widened scars, and it is increased with repeat operations. The overall risk rate for a recurrence of hypertrophic scars after excision is approximately 50-100%. [53] The risk of recurrence is increased for scars in areas of tension such as the sternum or extremities or in patients with attenuated skin.
Future and Controversies
In conclusion, wound healing requires 1 year, during which time the surgeon and patient should look for and expect improvement. Once the scar has had an opportunity to mature, scar revision can be considered. However, because the recurrence rate associated with revision of abnormal scars is high, the surgeon and patient must have realistic expectations regarding the outcome of this revision.
"The great ignominy of the plastic surgeon is his inability to remove a scar without leaving another one. The best we can do is occasionally improve on another surgeon's scar while indeed he may be improving on several of ours." [54]
What would you like to print?