Overview
Background
History of the Procedure
Minimally invasive techniques for thyroidectomy were introduced in the late 1990s and early 2000s for the surgical treatment of small thyroid nodules. These approaches were developed to minimize postoperative pain, improve cosmetic results, and potentially reduce the length of hospital stay. Two such approaches are the minimally invasive open thyroidectomy (MIT) and the minimally invasive video-assisted thyroidectomy (MIVAT). Minimally invasive approaches are currently used for both thyroid lobectomy and total thyroidectomy by some groups. [1]
An image depicting minimall invasive surgery of the thyroid can be seen below.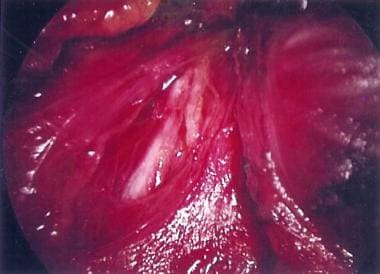 Identification of the recurrent laryngeal nerve during video-assisted right thyroid lobectomy. A parathyroid gland is also identified.
Problem
See the list below:
Thyroid nodule: This is a discrete lesion of the thyroid gland that, after physical examination or ultrasound imaging, is determined to be distinct from the remainder of the thyroid parenchyma. [2]

Differentiated thyroid cancer: This is a papillary or follicular thyroid cancer.
Epidemiology
Frequency
The prevalence of palpable thyroid nodules is 3-7% in North America and increases up to 50% in ultrasonography or autopsy data. [3] About 5% of thyroid nodules are positive for thyroid carcinoma on fine-needle aspiration (FNA).
In the United States, approximately 23,500 new cases of differentiated thyroid cancer are diagnosed yearly. [4]
Papillary thyroid cancer accounts for 75-80% of new cases of thyroid cancer; follicular thyroid cancer accounts for 10-20% of new cases. [5]
Presentation
The following are causes of thyroid nodules: [3]
Benign causes

Multinodular goiter (MNG)

Hashimoto thyroiditis

Thyroid cyst

Follicular adenoma

Subacute thyroiditis

Malignant causes

Papillary carcinoma

Follicular carcinoma

Hürthle cell carcinoma

Medullary carcinoma

Anaplastic carcinoma

Primary thyroid lymphoma

Metastasis
A patient with a thyroid nodule or differentiated thyroid cancer may present with the following:
Palpable thyroid or neck mass

Pressure symptoms such as choking, neck pain, dysphagia, hoarseness, or shortness of breath

Symptoms of hypothyroidism or hyperthyroidism

Incidental finding of thyroid nodule on neck imaging (incidentaloma)
Indications
Minimally invasive video-assisted thyroidectomy (MIVAT) is most commonly used for thyroid nodules within specific size limits and for low-stage papillary carcinoma of the thyroid (PCT). [6, 7, 8, 9] The following are the most widely accepted criteria:
A thyroid nodule size less than or equal to 30 mm in diameter

Stage T1 or small T2 PCT (see Staging)

Total thyroid volume less than 30 mL

No history of thyroiditis or neck radiation
Recent studies have demonstrated that MIVAT can be safely used with patients who have histories of prior thyroiditis, prior MIVAT, and a thyroid volume up to 50 mL (see Controversies). [10, 11]
Relevant Anatomy
The thyroid is a bilobed gland in the midline neck that overlies the proximal trachea. The thyroid isthmus in the midline connects the 2 lobes, and a pyramidal lobe may be present. Two pairs of parathyroid glands (superior and inferior) are usually closely associated with the posterior aspect of the 2 thyroid lobes. The fascia that encapsulates the thyroid gland forms a dense consolidation at its attachment to the trachea known as the ligament of Berry.
The blood supply consists of the superior thyroid artery (STA) and inferior thyroid artery (ITA). The STA is a branch of the external carotid artery. The ITA emanates from the thyrocervical trunk and is also the main blood supply to the parathyroid glands. Venous drainage consists of the superior, middle, and inferior thyroid veins and the thyroid ima vein.
The external branch of the superior laryngeal nerve (EBSLN) courses near the superior thyroid artery adjacent to the superior pole before entering the larynx through the cricothyroid membrane. The recurrent laryngeal nerve (RLN) ascends in the tracheoesophageal groove and courses closely to the ligament of Berry prior to entering the larynx posteriorly at the cricothyroid articulation.
Contraindications
As minimally invasive video-assisted thyroidectomy (MIVAT) continues to evolve, the only absolute contraindications to this procedure are thyroid malignancy beyond low-stage papillary carcinoma and preoperative evidence of lymph node metastasis.
Nodule diameter above 35 mm and thyroid volume over 30 mL are relative contraindications because some groups have demonstrated questions about safety with larger lesions. [11]
Prior conventional thyroidectomy is considered a contraindication by most authors. Some groups consider patients candidates for completion MIVAT if a prior lobectomy was performed via a MIVAT approach. [10]
A history of prior thyroiditis is considered a relative contraindication because some groups have demonstrated that MIVAT can be safely performed in this population. [11]
What would you like to print?