Workup
Approach Considerations
In ovarian hyperstimulation syndrome (OHSS), the hematocrit is the most important measure in deciding if a patient should be hospitalized. If the patient's hematocrit level is greater than 60% and if she has ascites, hospitalize her immediately.
Laboratory monitoring may involve the following parameters:
Complete blood count (CBC) with differential - This is helpful because decreased intravascular volume leads to hemoconcentration and an increased hematocrit

Coagulation profile, including the prothrombin time (PT), activated partial thromboplastin time (aPTT), and international normalized ratio (INR) - These findings aid in detecting a hypercoagulable state and in monitoring anticoagulation
Beta-hCG concentration
A beta-hCG measurement is especially useful at more than 12 days after an injection of hCG. A positive result at this stage indicates pregnancy, an endogenous source of hCG for OHSS. Vascular endothelial growth factor (VEGF) receptors are upregulated by hCG; this upregulation increases third spacing. [22] Mild OHSS may deteriorate to severe OHSS because of the increased availability of hCG.
Complete metabolic panel
Liver function is decreased, as indicated by increased concentrations of aspartate aminotransferase (AST), alanine aminotransferase (ALT), and alkaline phosphatase.
Renal function is reduced, blood urea nitrogen (BUN) and creatinine values are increased, and albumin and protein levels are decreased. Electrolyte imbalances, hyperkalemia, and acidosis may be present.
Estradiol levels
Estradiol levels are increased. Laboratory findings of a serum estradiol concentration of greater than 2000 pg/mL and a progesterone concentration of greater than 30 ng/mL in the early part of the luteal phase are warning signs of developing OHSS. [23]
Signs of worsening OHSS
Signs that may indicate a progression in the severity of OHSS are increases in the hCG level, increases in hematocrit level, hypoproteinemia, and hypoalbuminemia (third spacing). Additional signs are decreasing renal and liver function.
OHSS is critical when the signs and symptoms of severe OHSS are present with any of the following findings: renal failure, ARDS, thromboembolism, or a hematocrit level greater than 60%.
Imaging studies
Ultrasonography may be needed to measure the size of the ovaries, to assess the follicles, and to evaluate ascites (see image below). Chest radiography may be indicated if dyspnea is present.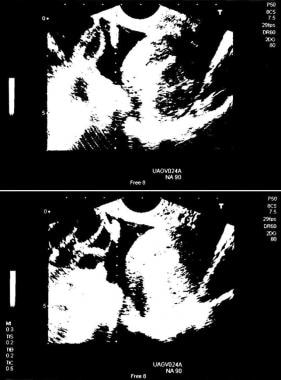 Ultrasonographic presentation of ovarian hyperstimulation syndrome.
What would you like to print?