Workup
Laboratory Studies
There are no laboratory studies that would assist in diagnosis of spinal instability. Laboratory studies can be helpful in diagnosing certain conditions that could result in spinal stability, such as spine infections (complete blood count [CBC], erythrocyte sedimentation rate [ESR], C-reactive protein [CRP], blood cultures), rheumatoid arthritis (rheumatoid factor [RF]), ankylosing spondylitis (HLA-B27), multiple myeloma (serum immunoelectrophoresis, urine Bence-Jones proteins), and others.
Laboratory studies are routinely performed as a part of preoperative preparation for spine surgery.
Imaging Studies
Magnetic resonance imaging (MRI) of the spine and plain radiography with flexion and extension are the most useful imaging studies for evaluation of spinal instability. In addition to demonstrating vertebral displacement, vertebral deformation and neural compression, MRI provides invaluable information about spinal cord injury, neoplastic and infectious processes, and ligamentous disruption.
Computed tomography (CT) myelography is used when MRI cannot be obtained or has not provided the resolution necessary to assess the extent of neural compression. Plain CT is useful for assessing bone anatomy in the setting of vertebral fractures, spondylolysis, previous spine surgery, and congenital spine anomalies. CT may also be used to assess certain bony parameters (eg, pedicle size in the thoracolumbar spine, lateral mass anatomy in the cervical spine, and vertebral artery anatomy in the atlantoaxial [C1-2] region) in preparation for instrumentation of the spine.
To evaluate bone integrity before fusion when osteoporosis is suspected, a bone density scan is performed. Radionuclide bone scans have been supplanted by high-resolution CT for assessment of pseudarthrosis.
Other Tests
Electromyography (EMG) may be used to confirm nerve-root compression but does not play a direct role in establishing the diagnosis of spinal instability.
Procedures
Selective nerve-root injections can be used as a diagnostic tool to confirm that a particular nerve root is responsible for the pain syndrome. They are also used in a therapeutic capacity in nonsurgical management of spine disorders.
CT-guided biopsy/aspiration is used when tumor or infection is suspected and when the possibility of nonsurgical treatment is being entertained. When surgery has to be performed to decompress or stabilize the spine, the diagnosis can be obtained intraoperatively.
Substantial controversy exists regarding the value of diskography in diagnosis of diskogenic pain and in patient selection for fusion surgery. When performed, it should be accompanied by measurements of intradiskal pressure, documentation of severity and concordance of pain during injection, and postdiskography CT.
Histologic Findings
No histologic findings are relevant to the diagnosis of spinal instability, except when a neoplasm is the source of instability.
Staging
Because spinal instability is a heterogeneous condition, no uniform staging or grading system exists that would be relevant to all forms of spinal instability.
Spondylolisthesis, defined as anterior translation of a vertebral body in relation to the adjacent caudal vertebral body, is graded according to the system in Table 1 below. (See the image below.)
Table 1. Grading of Spondylolisthesis (Open Table in a new window)
Slip Distance/Anteroposterior Diameter

of Vertebral Body

Grade

0-25%

1

25-50%

2

50-75%

3

75-100%

4

>100%

Spondyloptosis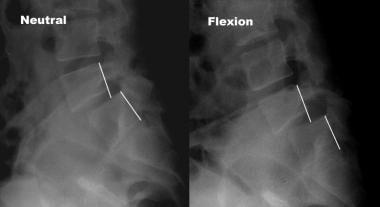 Grade 1 spondylolisthesis in neutral position progresses to grade 2 with flexion, indicating overt instability in this case.
In the lumbar spine, spondylolisthesis is either isthmic, degenerative, or traumatic. Isthmic spondylolisthesis occurs because of a congenital weakness and subsequent fracture of pars interarticularis (usually of L5; see the image below), resulting in uncoupling and glacial anterior translation of one vertebral body over another.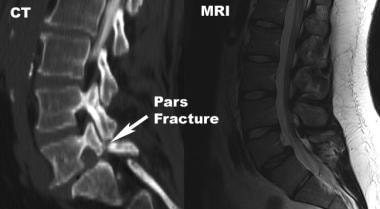 Grade I isthmic spondylolisthesis at L5-S1. Arrow depicts L5 pars fracture.
Degenerative spondylolisthesis occurs because of severe degeneration of facet joints and incompetence of facet capsules, which lose the capacity to resist the flexion moment, resulting in translation. Traumatic spondylolisthesis represents a fracture-dislocation of the spine.
What would you like to print?