Presentation
History
The itch of brachioradial pruritus is described as intense, burning, and prickling. It is localized to the dorsolateral aspects of the bilateral upper arms, forearms, and shoulders. Scratching is reported to make the discomfort worse, and many patients find that the only therapy that brings relief is the application of ice packs or cold, wet towels. [3, 9, 23] The discomfort is typically worse at night and, for some patients, may interfere with falling asleep. [4] The median duration of symptoms has been reported as 4.5 years, [2] but patients have reported a continuation of symptoms from this condition for as long as 18 years. [1] Rarely, patients may initially experience symptoms typical of brachioradial pruritus, followed by the onset of generalized pruritus. [34]
Physical Examination
Despite the severity of symptoms, no associated erythema or skin eruption is seen. Evidence of excoriation or lichenification may be present in the affected areas.
Altered sensation to pinprick and temperature in the distribution of the posterior cutaneous nerve of the forearm, which supplies the skin over the proximal brachioradialis muscle, may be observed. [8] Pronounced heat hyperalgesia in the C5 and C6 dermatomal distribution [9] and pinprick hyperesthesia in the C5-C8 distribution [10] may be seen.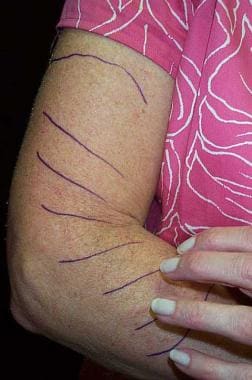 Area of pruritus demarcated in pen in a middle-aged woman with brachioradial pruritus. Macroscopically, no skin changes are visible.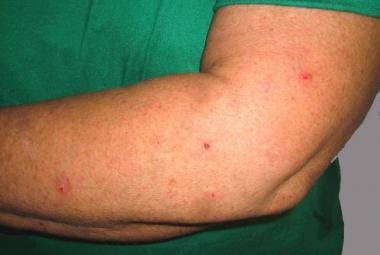 Subtle excoriations on the dorsal forearm of a middle-aged woman with brachioradial pruritus.
Complications
Psychiatric symptoms (eg, anxiety, depression) may develop over time in patients with unremitting symptoms. The intense tingling, burning, and itching associated with the disease often keeps patients awake at night. [4] Frustration from a lack of relief of symptoms with conventional antipruritis agents is common.
What would you like to print?