Periprocedural Care
Preprocedural Evaluation
A review of the clinical evaluation and workup is important in planning for the surgical procedure. Determining the nature and location of the pathology in the ankle joint will help in selecting the equipment and arthroscopic portals. Consultation with a hematologist and supplementation of coagulation factors are necessary if arthroscopic synovectomy is planned in chronic forms of hemarthrosis resulting from hematologic disorders.
Clinical findings
Clinical findings in patients with ankle joint pathology vary according to the condition present. Chronic pain after an ankle sprain occurs in 20-40% of cases. Pain, swelling, and tenderness in the anterolateral region of the ankle are indicative of soft-tissue impingement, especially if the tenderness is increased with ankle dorsiflexion.
Ankle swelling, pain, catching, locking, popping, and feelings of instability or of the ankle giving way are associated with osteochondral lesions of the talus, loose bodies, and degenerative disorders of the ankle.
Tenderness along the anterior border of the distal tibia, along with reduced range of motion (ROM) in the ankle joint, is associated with bony impingement.
Laboratory studies
Routine preoperative blood work is performed if indicated. A complete blood count (CBC), assessment of the erythrocyte sedimentation rate (ESR), and measurement of C-reactive protein (CRP) levels are necessary if infection is suspected. Additional blood work to check the autoimmune profile, such as rheumatoid factor and antinuclear antibodies, may be necessary if inflammatory arthritis is suspected.
Radiography
Weightbearing anteroposterior, mortise, and lateral views of the ankle joint are helpful in detecting bony abnormalities (eg, malalignment, incongruity, bony spurs, loose bodies, and cysts in the talar dome). They may reveal calcifications or heterotopic bone in the interosseous space, which indicates preexisting injury to the distal tibiofibular syndesmosis and ossicles along the tip of the fibula and the lateral talar dome, consistent with anterior talofibular ligament injuries. Stress view radiographs are helpful in determining ankle ligament laxity.
Computed tomography
Computed tomography (CT) can be helpful in obtaining better bony detail, if necessary. For example, in planning treatment of an osteochondral defect, the dimensions of a bony cyst are better determined with CT than with radiography or magnetic resonance imaging (MRI). [29]
Magnetic resonance imaging
MRI provides excellent detail of the soft tissues and is very useful for detecting tears and abnormalities of the ligaments and tendons, as well as evaluating osteochondral integrity. An abnormal signal in sagittal T1 and STIR (short tau inversion recovery) images helps identify a collection of fluid (edema) or soft tissue that has caused displacement of the subcutaneous fat normally found immediately adjacent to the fibula anteriorly. A dynamic MRI can demonstrate soft-tissue impingement. [30]
Joint aspiration
Joint aspiration can be performed if infection is suspected. A dark serosanguineous fluid is a feature associated with pigmented villonodular synovitis.
Equipment
Ankle arthroscopes include the following:
Smaller-diameter scopes, 1.9 and 2.7 mm (30° and 70°) - These provide an excellent picture and a wide-angle field of vision; they take up less room, so that there is less crowding with instrumentation; they are associated with a lower risk of chondral damage; they are delicate and, therefore, associated with an increased risk of bending and breaking; they are more useful in tight ankle joints; they have a shorter lever arm that generates less torque

Larger-diameter scopes, 4.0 mm (30° and 70°) - These provide a larger and clearer picture and are more resistant to bending or breakage

70° scopes - These provide better vision over the dome of the talus and in the medial and lateral gutters
Arthroscopic instruments include the following:
Shavers and burrs, 2.0, 2.9, and 3.5 mm

Ring and cup curettes, 3.5 and 4.5 mm

Probes, 1.5 mm

Graspers and baskets, 2.9 and 3.5 mm

Osteotomes, 2.9 mm

Pituitary rongeurs

Microfracture picks, 90° and 70°

Banana blades

Microvector guide
Ankle distraction devices are also employed. Their main advantage is that they provide better visualization of the joint and of structures otherwise poorly seen, such as the posterior talofibular ligament, flexor hallucis longus tendon, and calcaneofibular ligament. The main risk is the potential for nerve injury. There are two main approaches to ankle distraction, as follows:
Invasive - Unicortical pins are inserted proximally in the tibia and distally in the calcaneus; the points where the pins are inserted can be stress risers; this approach is contraindicated in patients with complex regional pain syndrome, open epiphysis, pyarthrosis, or soft tissue infection

Noninvasive - An ankle strap is connected to a distraction device attached to the table frame or to a belt worn by the surgeon (see the images below); this approach has replaced the invasive method, which is now rarely used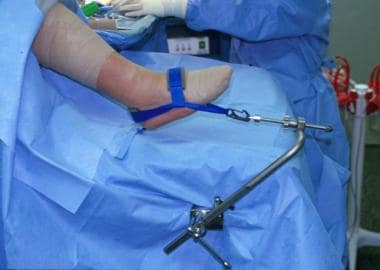 Ankle stirrup attached to a distraction device fixed to the operating table.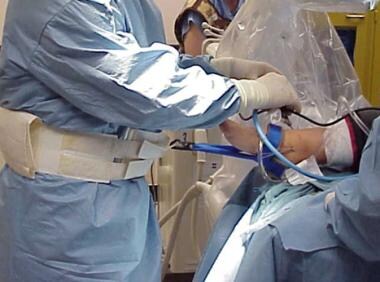 Ankle distraction stirrup attached to a belt worn by the surgeon.
Patient Preparation
Three positions are commonly used for ankle arthroscopy: supine, lateral, and prone. Use of a thigh holder in the supine position helps provide countertraction and elevates the ankle above the table to allow room for maneuvering the instruments through the posterior portals.
The operating table foot pad can be removed to allow even better access. However, the thigh holder should be well padded to prevent injury to the sciatic nerve and should be positioned away from the popliteal fossa. It is set to flex the hip at 45°.
The patient is secured with side supports or belts. A bolster placed under the hip or tilting the table brings the ankle into a neutral orientation. All bony prominences are padded, and the patient is prepared and draped to isolate the operative area below the knee in a sterile field.
Monitoring & Follow-up
After the procedure, further management and follow-up vary, depending on the condition, on the arthroscopic procedure performed, and on any concomitant surgery. Wounds are reviewed at 1 week, when the splint is discarded and a compression stocking and a supportive brace are provided. Weightbearing is allowed when tolerated, which is usually about 3 weeks after a soft-tissue procedure and about 6-8 weeks after a bony procedure. Physical therapy is started at 2-3 weeks after surgery, and sports activities can be resumed after 6 weeks.
What would you like to print?