Workup
Imaging Studies
The most relevant imaging studies include weightbearing anteroposterior (AP) and lateral radiographs of the ankles and feet. In the presence of concomitant limb deformities, a full-length standing AP radiograph of the legs is useful.
Unless a traumatic or other physeal bar is suspected, advanced imaging, such as computed tomography (CT) or magnetic resonance imaging (MRI) is not warranted. At the time of surgery, an arthrogram may be useful in outlining the cartilaginous anlage of the distal tibia-fibula. This is sometimes helpful in young children with skeletal dysplasias.
Other Tests
For generalized conditions, gait analysis may be interesting to document. In particular, comparison of pretreatment and posttreatment pedobarographs may be revealing as foot pronation improves.
There may be an occasional need for consultation by a geneticist or neurologist, especially for children with suspected syndromes. There may also be indications for electromyography (EMG), nerve conduction studies, or muscle biopsy. However, the majority of patients with progressive ankle valgus have well-established and chronic conditions, such as cerebral palsy, spina bifida, and arthrogryposis (amyoplasia).
Staging
The staging schema proposed by Malhotra is germane and may be used to document the severity and progression of untreated ankle valgus. [8] With reference to children with spina bifida, Malhotra discussed the following triad of findings (see the image below):
Proximal migration of the fibular physis

Lateral wedging of the distal tibial epiphysis

Lateral tilt of the talus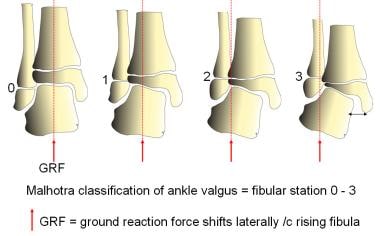 Malhotra classified progressive ankle valgus, which is directly proportional to the degree of fibular physis elevation (stage 0 = normal). The described triad of fibular physis elevation, wedging of the lateral tibial epiphysis, and ankle tilt may be accompanied by horizontal expansion of the fibular epiphysis (impingement), medial clear space widening, and avulsion injuries of the tip of the medial malleolus.
The wedging of the lateral distal tibial epiphysis progresses as the stages increase. The situation is compounded by lateral shift of the ground reaction forces. In addition to the triad, one may observe widening of the distal fibular epiphysis consistent with lateral shift of the ground reaction forces, increased fibular weightbearing and impingement on the talus-calcaneus laterally. In some cases, there is also widening of the medial clear space of the ankle and an obvious "os subtibiale."
Valgus of up to 6º (normal, 3º) or a lateral distal tibial angle (LDTA) less than 84º (normal, 87º) may be observed unless there are related symptoms. Progressive deformities are frequently encountered as children grow older and will warrant intervention.
Generally, the symptoms correlate with the stage of valgus and include the following:
Lateral impingement–ankle pain

Rapid shoe destruction

Brace intolerance

Medial skin breakdown (advanced cases)
What would you like to print?