Treatment
Approach Considerations
Indications for surgery
Children with teratologic fixed knee flexion deformity (FKFD) noted in the nursery are likely to undergo surgical treatment within the first 24 months of life. Depending on the need to correct hip and foot deformities, such treatment may be multilevel or simultaneous, or it may have to be staged.
Hamstring lengthening and posterior capsulotomy may constitute the initial treatment. [19, 20, 21, 22, 23] As these children grow older and the deformity recurs, guided growth or supracondylar femoral osteotomy may be warranted. Patellar realignment may be necessary in some patients, and postoperative bracing and physical therapy may be indicated. The goal is to gain full extension and facilitate standing and walking.
Children with neurogenic FKFD will be considered together, with the acknowledgment that spasticity management for cerebral palsy and spinal cord detethering for spina bifida may play an important role.
For younger children, hamstring stretching, physical therapy, and bracing are useful temporizing measures. However, with growth, there may be inexorable progression of a crouch gait due to the insidious evolution of FKFD. When the fixed deformity surpasses 10º, most patients start to manifest symptoms such as fatigue, pain, or brace intolerance; these symptoms escalate when the deformity exceeds 20º. The energy costs of walking increase as endurance and velocity decrease. [15, 16]
Osteotomy
The indications and techniques for supracondylar osteotomy of the femur have been well described in standard textbooks and journals. Opinions vary as to whether internal or external fixation is preferable. In addition to the known risks of fixation failure, overcorrection or undercorrection, fracture, neurovascular compromise, skin slough, and recurrent deformity are very common.
Frame distraction
There are specific situations in which the best option is gradual distraction and extension employing an external fixator. [24] This may best serve those patients who have neglected or teratologic deformities, such as pterygium syndrome, or have reached skeletal maturity. Despite the touted advantages, it is a costly and slow process that usually requires a posterior release and that may not be well tolerated by the patient. Unfortunately, there is an acknowledged high rate of recurrent deformity despite postoperative bracing.
Guided growth
The distal femoral physis grows fairly rapidly, even in this population. Furthermore, skeletal maturity may be delayed, extending the window of opportunity for gradually straightening the knee by means of distal anterior femoral hemiepiphysiodesis. This may be safely undertaken even in relatively young children, without causing permanent growth arrest. [24, 25] Staples were formerly preferred for this purpose; however, the rate of correction has been improved by using a pair eight-plates (Orthofix), one on each side of the patellofemoral sulcus. (See the image below.)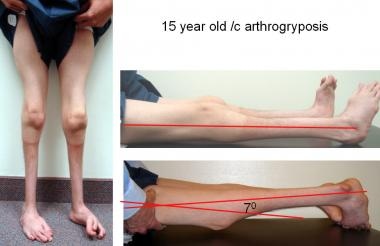 This ambulatory 15-year-old boy with arthrogryposis has never had an osteotomy; he was managed with stapling, followed by eight-plates, when he developed a recurrence. He has full extension on the right and 7º residual fixed knee flexion deformity on the left. The eight-plates are still in situ (on the left) pending further growth.
Contraindications for surgery
There are few contraindications for surgical correction of FKFD.
Contraindications for osteotomy include the following:
Nonambulatory status

Stiff or unstable knee

Severe osteopenia (fixation issues)

Flaccid paraplegia
Contraindications for guided growth include the following:
Closed physes

Stiff or unstable knee
Medical Therapy
Medical therapy for FKFD usually consists of onabotulinumtoxinA injections in the hamstrings or baclofen administered orally or through an intrathecal pump (for cerebral palsy). [26] This is only useful for the dynamic component of crouch gait; it may be an adjunct to osteotomy or guided growth. The patient is often working with a physical therapist on hamstring stretching, quadriceps strengthening, and gait training. This approach is suitable for younger patients, but after the age of 10 years, deformities are likely to progress despite concerted efforts to the contrary.
Surgical Therapy
Posterior capsulotomy/hamstring recession
This relatively invasive soft-tissue procedure poses some risks to the posterior neurovascular structures and requires immobilization with braces, casts, or frames. (See the image below.)
Osteotomy
Supracondylar extension osteotomy of the femora has a long track record and is the default approach for many surgeons. Unfortunately, there are associated drawbacks, not the least of which is recurrence with growth, thus mitigating the temporary benefit of this maximally invasive treatment. (See the images below.) The varied techniques, tricks, results, and complications have been well described in standard textbooks and journals.
Frame distraction
With or without soft-tissue release, some authors favor frame distraction as a means of gradual correction of FKFD. However, the bilateral nature of these problems makes this method relatively expensive and unwieldy. Furthermore, even with protracted bracing, recurrence is relatively common.
Guided growth
Guided growth is a newer approach that consists of anterior hemiepiphysiodesis of the distal femora. [27] Staples were originally used, but it became apparent that some children were relatively small for the Blount staples. [25] These rigid devices would occasionally migrate or permit relatively slow correction.
Using a pair of eight-plates as an alternative has resolved the problem of hardware migration and enabled more rapid correction. The titanium plates, though intracapsular, are nonarticular, being placed medial and lateral to the patellofemoral sulcus. Thus, they are well tolerated, even by young children. (See the images below.)
If one elects to employ guided growth, it is important to ascertain whether the distal femoral physes are open and whether there is, ideally, 12 months or more of predicted growth remaining. The decision to undertake concomitant multilevel reconstructive procedures, including hamstring recession for dynamic contracture, is left to the discretion of the surgeon.
Note, however, that as FKFD gradually corrects, there may be beneficial effects upon the hip, spine, and ankle. Therefore, it may be wise to await full knee extension and address residual deformities at the time of eight-plate removal.
The key aspects of the procedure may be summarized as follows:
Supine position with knee flexed on bolster

Tourniquet control

Image intensifier: parked in cross-table, horizontal position

Two incisions (3 cm long), medial and lateral to the patella

Open capsule and synovium

Keith or similar needle (sequentially) placed into the anteromedial and anterolateral physis

Application of an eight-plate (eg, Orthofix), usually 16 mm

Introduction of 1.6 guide pins, first epiphyseal and then metaphyseal - Pins need not be parallel but should avoid the physis and joint

Predrilling of cortex (to a depth of 5 mm)

Insertion of the 4.5-mm titanium, self-tapping, cannulated screws (24 or 32 mm in size)

Soft dressing
Postoperative Care
Typically, treatment is provided either on an outpatient basis or with an overnight stay. Immediate range of motion and weightbearing are encouraged. Bracing and physical therapy are resumed as indicated.
One study found that in children with cerebral palsy, the pain pump is effective in postoperative pain management after lower extremity orthopedic procedures. [28]
Complications
Complications of posterior capsulotomy include the following:
Neurovascular damage

Undercorrection or overcorrection (posterior cruciate ligament release)

Recurrent deformity
Complications of supracondylar osteotomy include the following:
Neurovascular damage

Loss of fixation

Undercorrection or overcorrection - 2º varus or valgus

Pathologic fracture

Recurrent deformity
Complications of frame distraction include the following:
Pin tract problems

Infection

Recurrent deformity
Complications of guided growth include the following:
Undercorrection, if not enough growth remains

Overcorrection, if the patient is lost to follow-up

Recurrent deformity

Premature growth arrest will not occur if the periosteum is protected
When compared to the other options, guided growth has far fewer risks and complications and is more cost-effective. The procedure is well tolerated, and the recovery is rapid. It may be repeated as necessary and is readily combined with other procedures as indicated.
Long-Term Monitoring
The patient should be seen at 3-month intervals to measure FKFD and assess gait. Functional limb length and stride length will improve as the knee straightens.
Remove plates if and when the knee is fully extended (avoid recurvatum). Reinsert plates as needed if FKFD recurs with growth.
Follow the patient until skeletal maturity isn reached.
What would you like to print?