Workup
Laboratory Studies
There are no particular laboratory studies that are relevant to the correction of fixed knee flexion deformity (FKFD). The only exception may be preoperative pulmonary function screening for patients in whom general anesthesia is associated with high risk.
Imaging Studies
Patients with FKFD may not be able to cooperate for meaningful full-length weightbearing anteroposterior (AP) radiographs of the lower extremities. It should be noted that if the x-ray beam is nonorthogonal to the distal femoral physis, physeal closure may incorrectly be suspected.
A close-up lateral radiograph of the knees will demonstrate whether or not the physes are open. It will demonstrate the presence or absence of posterior subluxation of the tibia relative to the femur. This view will also reflect the relative position of the patella and occasional disruption (tension failure) of the extensor mechanism in the form of patellar and/or tibial tuberosity avulsion. (See the image below.)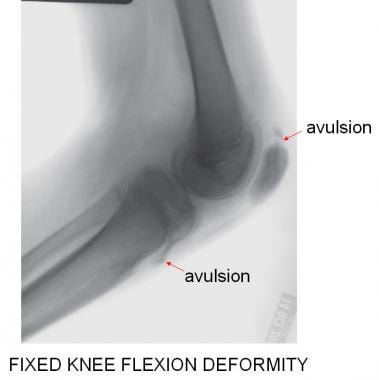 The lateral radiograph best demonstrates the open physes and the stigmata of chronic fixed knee flexion deformity. This patient has avulsion "fractures" of the superior pole of the patella and of the tibial tubercle.
If there is doubt about the time remaining for growth, a hand (Greulich and Pyle) or elbow (Demiglio) radiograph may be useful in estimating skeletal maturity.
Advanced imaging such as arthrography, computed tomography (CT), or magnetic resonance imaging (MRI) is not likely to be of any benefit with respect to assessing FKFD.
Other Tests
If available, gait analysis may help document the effect of FKFD on the overall gait pattern. [15, 16, 17] Furthermore, concurrent and exacerbating sagittal plane deformities such as lumbar lordosis, pelvic tilt, hip flexion, and equinus or calcaneus may be identified. Many children need simultaneous or staged multilevel, and often bilateral, surgical intervention. [15, 18]
Procedures
There may be an occasional need for consultation by a geneticist or neurologist, especially for those children with suspected syndromes. There may also be indications for electromyography (EMG), nerve conduction studies, or muscle biopsy. However, the majority of patients with FKFD have well-established and chronic conditions, such as cerebral palsy, spina bifida, or arthrogryposis (amyoplasia).
Histologic Findings
Generally, histologic studies are not relevant or necessary. The correction of FKFD is the same, with or without this information. An exception would be a muscle biopsy for the workup of suspected myopathy.
Staging
The degree of FKFD is often best measured with a goniometer. One should differentiate between dynamic contracture and fixed deformity because their treatments differ. These are not mutually exclusive; a patient may have one or both.
For dynamic contractures, the generic options include hamstring stretching, physical therapy, orthoses, spasticity management (Botox/baclofen), and hamstring recession (proximal or distal).
Fixed deformities greater than 10º should be monitored, but surgical intervention is unlikely. However as the deformity surpasses 10º, progression is likely with growth, and surgical intervention should be considered.
What would you like to print?