Periprocedural Care
Preprocedural Planning
A routine preoperative workup consisting of laboratory evaluation (including blood work, urinalysis, and any other studies deemed necessary), complete medical workup, radiography, and electrocardiography (ECG) is necessary. Additional studies may be warranted, depending on patient comorbidities. No special workup is indicated for hip resurfacing patients as compared with standard total hip arthroplasty (THA) patients.
Preoperative templating is mandatory in planning a successful hip resurfacing. It is essential to obtain an anteroposterior (AP) radiograph of the pelvis (see the image below), a frogleg lateral view of the proximal femur, and a true lateral view of the hip joint so as to properly evaluate osteophytes, the femoral neck-shaft angle, and femoral neck anteversion. Deformity of the femoral head and cyst size and orientation should be evaluated, as well as leg lengths, femoral offset, and the overall shape of the femoral head and acetabulum.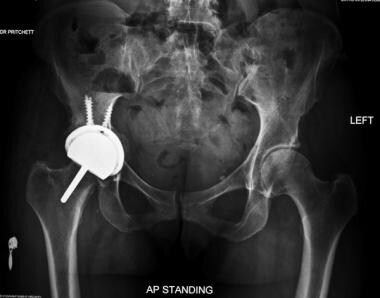 Anteroposterior radiograph of a polyethylene hip resurfacing prosthesis.
If there is any doubt about leg lengths, computed tomography (CT) can provide definitive evaluation. The opposite hip joint should be evaluated on the AP radiograph for comparison of leg lengths and existing offset relations. In selected patients, other studies (eg, vascular indices, spinal radiographs, magnetic resonance imaging (MRI) of the hip or spine, and evaluation of the ipsilateral knee joint) may be required.
If there is any doubt about existing hip disease, MRI or a diagnostic injection into the hip joint may be useful. If a fluoroscopically guided hip joint injection relieves pain, then the pathology is probably localized to the intra-articular joint.
Careful examination and the use of selected diagnostic modalities may be needed to rule out spinal stenosis, herniated lumbar disk, vascular claudication, incarcerated hernia, meralgia paresthetica, snapping psoas tendon, hip bursitis, transient osteoporosis, malignancy, stress fracture, and other conditions that can mimic the pain and other symptoms of hip degeneration.
With regard to histologic studies, hip resurfacing (unlike THA, in which the retrieved femoral head can be examined histologically) yields specimens that are mechanically deformed as a consequence of reaming. Thus, only shavings from the acetabulum and the femoral head are typically available for pathologic analysis.
A retrospective study by Gaillard-Campbell evaluated the cost-effectiveness and safety of outpatient hip resurfacing in 485 procedures performed by two experienced surgeons. [32] Clinical outcomes, patient satisfaction, and average insurance reimbursement were compared with corresponding figures for hip replacement. No major complications occurred within 6 weeks. Of the 39 patients with previous inpatient experience, 37 (95%) considered their outpatient experience superior. The average payment for outpatient resurfacing was $26,000, compared with an average reimbursement of $50,000 for hip arthroplasty at local hospitals.
Monitoring & Follow-up
Patients typically require protected weightbearing with crutches for 6 weeks after surgery to allow soft tissues to heal and minimize the risk of a femoral neck fracture. Hip precautions are probably safest during this time at least, in light of the extensive dissection and disruption of the short external rotators inherent in the standard posterior approach to the hip joint. Long-term hip precautions are not necessary, because the large femoral head diameter protects against the risk of dislocation.
What would you like to print?