Overview
Practice Essentials
A fistula is an abnormal communication between two epithelialized surfaces; an enterocutaneous fistula (ECF), as the name indicates, is an abnormal communication between the small or large bowel and the skin. An ECF can arise from the duodenum, jejunum, ileum, colon, or rectum. (See the image below.)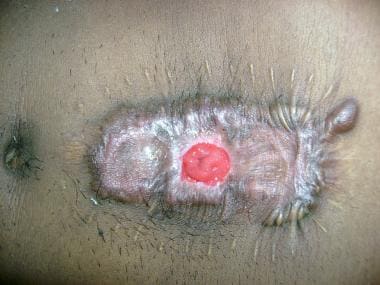 Almost healed wound around an enterocutaneous fistula.
Although fistulas arising from other regions of the gastrointestinal (GI) tract (eg, stomach and esophagus) may sometimes be included in the definition of ECF, the discussion in this article is limited to the conventional definition of this condition. A fistula-in-ano, though anatomically an ECF, conventionally is not referred to as such, because its presentation and management are different.
An ECF, which is classified as an external fistula (as opposed to an internal fistula, which is an abnormal communication between two hollow viscera), is a complication that is usually seen after surgery on the small or large bowel. In one study, about 95% of ECFs were postoperative, and the ileum was the most common site of ECF [1] ; 49% of fistulas were high-output, and 51% were low-output.
ECFs are a common presentation in general surgical wards, and despite advances in the management of these lesions, they are still responsible for a significant mortality (5-20%), attributable to associated sepsis, nutritional abnormalities, and electrolyte imbalances.
Understanding the pathophysiology of, as well as the risk factors for, ECFs should help to reduce their occurrence. Moreover, the well-established treatment guidelines for these lesions, along with some newer treatment options, should help clinicians achieve better outcomes in patients with an ECF.
The conventional therapy for an ECF in the initial phase is always conservative. (See Treatment.) Immediate surgical therapy on presentation is contraindicated; however, patients who have an ECF with adverse factors may require early surgical intervention. Treatment of ECFs continues to be a difficult task.
In a landmark article, Edmunds et al provided a comprehensive discussion of ECF. [2] Of 157 patients in the study, 67 developed ECF following surgery. Important complications of ECF included fluid and electrolyte imbalance, malnutrition, and generalized peritonitis. Mortality was 62% in patients with gastric and duodenal fistulas, 54% in patients with small-bowel fistulas, and 16% with colonic fistulas.
Etiology
An ECF can occur as a complication following any type of surgery on the GI tract. Indeed, more than 75% of all ECFs arise as a postoperative complication, whereas about 15-25% result from abdominal trauma or occur spontaneously in relation to cancer, irradiation, inflammatory bowel disease (IBD), or ischemic or infective conditions. The etiology of ECFs can thus be characterized as postoperative, traumatic, or spontaneous.
Postoperative
Postoperative causes of ECFs include the following:
Disruption of anastomosis

Inadvertent enterotomy - Occurs especially in patients with adhesions, when dissection can cause multiple serosal tears and an occasional full-thickness tear

Inadvertent small-bowel injury - Occurs during

abdominal closure

, especially after ventral hernia repair
Disruption of anastomosis can result from inadequate blood flow due to an improper vascular supply, especially when extensive mesenteric vessels have to be ligated. Tension on anastomotic lines following colonic resection, restoration of continuity without adequate mobilization, or a minimal leak or infection can lead to perianastomotic abscess formation, resulting in disruption, as seen in patients with anterior resection for rectal carcinoma. In addition, if anastomosis is performed in an unhealthy (eg, diseased or ischemic) bowel, it can lead to disruption and cause an ECF.
Inadvertent picking up of the bowel during abdominal closure can result in a small-bowel fistula; this especially can occur with the use of open inlay mesh or intraperitoneal onlay mesh repair by the laparoscopic method, when the viscera comes in contact with the mesh, leading to adhesions and sometimes to disruption.
Gastroduodenal fistulas are seen most often after surgery for perforated peptic ulcer, especially in developing countries, where perforated peptic ulcer is more common. In patients with a perforated duodenal ulcer, when the perforation is large, extensive contamination is present. When the duration between perforation and surgery is long, there is a high possibility of a postoperative leak, leading to a lateral duodenal fistula. This problem is difficult to treat, and mortality is high. Other causes of gastroduodenal leakage include surgery for stomach and the biliary tract cancers.
A colocutaneous fistula can develop after colonic surgery, especially when the blood supply to a low colorectal/anal anastomosis is compromised or when there is tension at the anastomotic suture line. This type of fistula can also result from diseases of the colon, such as IBD or malignancy leading to perforation, pericolic abscess formation, and ECF.
Surgery for appendicitis, appendicular perforation at the base, or drainage of an appendicular abscess can also lead to a colocutaneous fistula. Radiation therapy is also another major cause of colonic fistula. [3] In rare cases, migration of a polypropylene or composite mesh from a hernia repair can lead to ECF formation. [4, 5]
Hew et al reported a rare case of ECF following migration of a hepatic artery infusion catheter in a patient with colorectal liver metastasis. [6]
Traumatic
Traumatic ECF results from iatrogenic surgical trauma to the bowel that may or may not be recognized. Road traffic accidents with injury to the gut can also lead to an ECF. [7]
Spontaneous
Spontaneous causes of ECF, seen in about 15-25% of cases, include the following:
Ulcerative colitis (UC) can also lead to spontaneous ECF, but most cases of ECF associated with this IBD occur as a postoperative complication of restorative proctocolectomy. [8] Rarely, inadvertent incision of a malignant tumor can lead to an ECF (see the image below). In this patient, a urachal tumor was inadvertently incised when the patient underwent an appendectomy by midline incision. The patient presented with ECF (colocutaneous fistula) as the urachal tumor that ulcerated on the abdominal wall postoperatively had also infiltrated the sigmoid colon.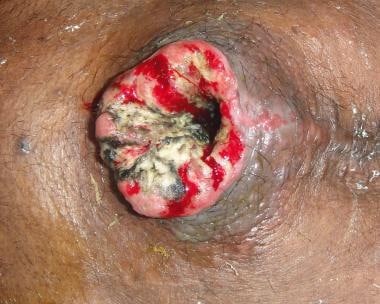 Postoperative malignant enterocutaneous fistula.
A duodenal fistula can occur in association with a perforated duodenal ulcer, but again, it most often arises postoperatively, resulting from a leak.
Prognosis
ECF is a common condition in most general surgical wards. Mortality has fallen significantly since the late 1980s, from as high as 40-65% to as low as 5-20%, largely as a result of advances in intensive care, nutritional support, antimicrobial therapy, wound care, and operative techniques. [9, 10] Even so, the mortality is still high, in the range of 30-35%, in patients with high-output ECFs.
Once a patient develops an ECF, the morbidity associated with the surgical procedure or the primary disease increases, affecting the patient's quality of life, lengthening the hospital stay, and raising the overall treatment cost. Malnutrition, sepsis, and fluid electrolyte imbalance are the primary causes of mortality in patients with an ECF.
Another factor that may be a predictor for poor healing outcomes is psoas muscle density, which can reflect sarcopenia. [11] Assessment of psoas muscle density can identify patients with ECF who will have poorer outcomes, and these patients may benefit from additional interventions and recovery time before operative repair.
If sepsis is not controlled, progressive deterioration occurs, and patients succumb to septicemia. Other sepsis-related complications include intra-abdominal abscess, soft-tissue infection, and generalized peritonitis. [12]
However, patients with an ECF with favorable factors for spontaneous closure have a good prognosis and a lower mortality.
Favorable factors for spontaneous closure
Spontaneous closure of an ECF is determined by certain anatomic factors. Fistulas that have a good chance of healing include the following:
End fistulas (eg, those arising from leakage through a duodenal stump after Pólya gastrectomy)

Jejunal fistulas

Colonic fistulas

Continuity-maintained fistulas - These allow the patient to pass stool

Small-defect fistulas

Long-tract fistulas
In addition, a fistulous tract of more than 2 cm has a higher possibility of spontaneous closure. Spontaneous closure is also possible if the bowel-wall disruption is partial and other factors are favorable. If the disruption is complete, surgical intervention is necessary to restore intestinal continuity.
Unfavorable factors for spontaneous closure
When an ECF is associated with adverse factors, then spontaneous closure does not commonly occur, and surgical intervention, despite its associated risks, is frequently required. In these patients, the outcome is less likely to be good. [13]
Factors preventing the spontaneous closure of an ECF can be remembered by using the acronym FRIEND, which represents the following [14] :
Foreign body

Radiation

Inflammation/infection/IBD

Epithelialization of the fistula tract

Neoplasm

Distal obstruction - A distal obstruction prevents the spontaneous closure of an ECF, even in the presence of other favorable factors; if present, surgical intervention is needed to relieve the obstruction
In addition, lateral duodenal, ligament of Treitz, and ileal fistulas have less tendency to spontaneously close. [12]
Excoriation
Skin excoriation (see the image below) is one of the complications that can lead to significant morbidity in patients with ECF. When the enteric contents are more fluid than solid, this becomes a difficult problem; the skin excoriation makes it difficult to put a collecting bag or dressings over the fistula, and more leakage leads to an increase in the excoriation.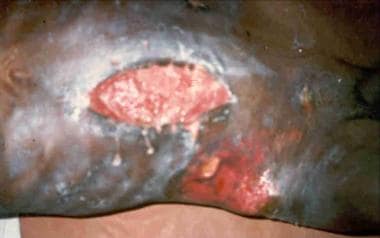 Enterocutaneous fistula with severe skin excoriation.
What would you like to print?