Workup
Laboratory Studies
The following laboratory studies are performed in the evaluation of an enterocutaneous fistula (ECF):
Total white blood cell (WBC) count - This is important because sepsis can lead to leukocytosis

Serum sodium, potassium, and chloride levels - Electrolyte abnormalities can result from fluid and electrolyte loss

Complete blood count (CBC), total proteins, serum albumin, and globulin - These can demonstrate the presence of malnutrition-associated anemia/hypoalbuminemia

Serum transferrin - Low levels (< 200 mg/dL) are a predictor of poor healing

Serum C-reactive protein (CRP) - Levels may be elevated
Imaging Studies
Fistulography
During fistulography (see the images below), a water-soluble contrast agent is injected into the fistulous tract.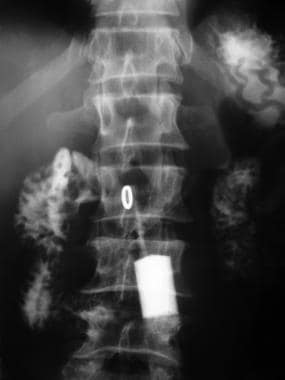 Fistulogram showing enterocutaneous fistula.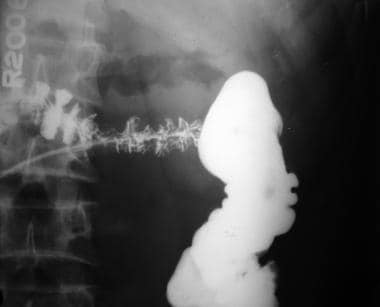 Fistulogram showing a colocutaneous fistula following anastomotic leak after colostomy closure.
Fistulography is conventionally performed 7-10 days after the presentation of an ECF and provides the following information:
Length of the tract

Extent of the bowel-wall disruption

Location of the fistula

Presence of a distal obstruction
Water-soluble contrast enema
The different types of tracts that can be seen by using a water-soluble contrast enema (WCE) in patients with ECF with failure of low colorectal anastomosis may be classified as follows [18] :
I – Simple, short blind ending, < 2 cm

II - Continuous linear, long single, >2 cm

III - Continuous complex, multiple linear
Tract positions are as follows:
Anterior - Ventral (10-o'clock to 2-o'clock position)

Posterior - Dorsal (4-o'clock to 8-o'clock position)

Lateral - Right (2-o'clock to 4-o'clock position) or left (8-o'clock to 10-o'clock position)
Additional tract features seen with a WCE include a cavity (pooling of contrast within space), a stricture (narrowing of anastomosis, with hold of contrast), or both. The presence of a stricture and a large cavity on WCE predicts failure of healing.
Computed tomography
Computed tomography (CT) is useful for demonstrating intra-abdominal abscess cavities. Such cavities can develop if an ECF has an indirect tract when it first drains into an abscess cavity and then drains to the exterior cavity. If an ECF is associated with intra-abdominal sepsis, then interloop abscesses may be present.
Ultrasonography
A comprehensive ultrasound examination has been employed for the evaluation of postoperative complications after hernia repair. Whereas point-of-care ultrasound (POCUS) has been commonly used for abscess evaluation, it can also be an alternative in an emergency presentation of an ECF. [19]
Other Tests
Oral administration of a nonabsorbable marker (eg, charcoal or Congo red) can help confirm the presence of an ECF.
Methylene blue diluted in saline can be administered through a nasogastric tube as a simple bedside test to confirm the presence of an ECF, especially in patients with a gastrocutaneous or lateral duodenal fistula. This test can also help to determine whether the leak is from a segment that is in the continuity of the gastrointestinal tract, especially in the case of proximal fistulas. However, because methylene blue loses diagnostic efficacy as it becomes diluted with intestinal secretions, its role in identifying distal ECFs is limited.
What would you like to print?