Follow-up
Further Outpatient Care
Patients must receive further care to determine the response to patient education and speech therapy and to assess the need for referral for psychiatric care.
Many patients with vocal cord dysfunction (VCD) are treated inappropriately with corticosteroids if they present to an emergency department or acute care facility even after the diagnosis of VCD is established. A handout (see below) for the patient to show to new physicians may be helpful to avoid inappropriate treatment.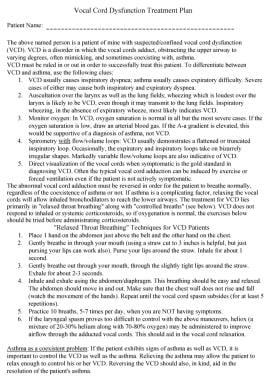 Vocal cord dysfunction treatment plan.
Deterrence/Prevention
Deterrence and prevention can be achieved by adherence to speech therapy guidelines and exercises and by relaxation therapy or other measures to decrease anxiety.
Avoidance or control of precipitating factors when identified (eg, exercise, environmental or occupational irritants, rhinosinusitis, gastroesophageal reflux disease) [36, 37, 38]
Prognosis
Prognosis is good with effective response to speech therapy, which allows patients to take control of their disorder.
Patient Education
Patient education ideally uses a multidisciplinary approach with involvement of a physician and speech therapist and, if needed, a psychiatrist.
The physician's role is to inform the patient of test findings, especially the absence of diseases such as asthma, and to explain the nature of the condition. Patients often express a positive reaction to the initial explanation, and such a reaction usually implies a good prognosis.
The following websites provide online patient educational sources:
What would you like to print?