Treatment
Approach Considerations
Patients must receive further care to determine the response to patient education and speech therapy and to assess the need for referral for psychiatric care.
Many patients with vocal cord dysfunction (VCD) are treated inappropriately with corticosteroids if they present to an emergency department or acute care facility even after the diagnosis of VCD is established. A handout (see below) for the patient to show to new physicians may be helpful to avoid inappropriate treatment.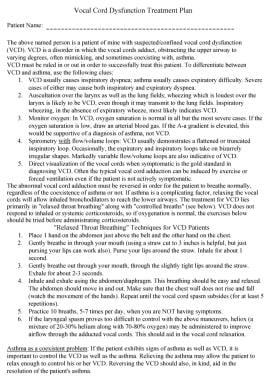 Vocal cord dysfunction treatment plan.
Medical Care
A multidisciplinary approach with a physician and speech therapist and a psychiatrist, if needed, is usually effective. [12]
Speech therapy
The mainstays of treatment for vocal cord dysfunction (VCD) involve teaching the patient vocal cord relaxation techniques and breathing exercises. These procedures have been very successful and are used concomitantly with psychological support in difficult cases. [2, 6, 7]
The role of the speech therapist is to effectively teach and communicate a comprehensive speech therapy plan with appropriate breathing exercises. When a knowledgeable speech therapist is not available, the patient can be taught a breathing relaxation exercise with the use of a simple handout. See the image below.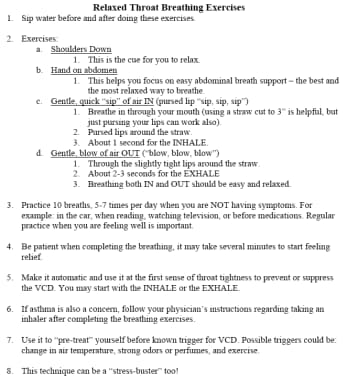 Relaxed throat breathing exercises.
Psychotherapy
The role of the psychiatrist is to implement cognitive behavior psychotherapy or general psychotherapy based upon evaluation of psychiatric and/or personality disorders. [2, 6, 18, 7]
According to a systematic review of psychological interventions for patients with VCD, techniques such as psychotherapy, behavioral therapy, use of anti-anxiety and anti-depressant medications, and hypnotherapy in conjunction with breathing exercises may be effective treatment methods. [38] One study shows psychotherapy directed towards somatoform and conversion disorders may increase efficacy when added to traditional treatment regimens. [16]
Helium-oxygen therapy
This therapy consists of administration of a helium-oxygen mixture (heliox), which is less dense than air and thus reduces the turbulence in the airway during inspiration.
Heliox administration provides only a short-term benefit, but it may be very helpful in the emergent treatment of acute VCD. [39, 40]
Anticholinergic agent
Inhaled ipratropium may be helpful treatment in patients with exercise-induced VCD. In a series of 6 patients receiving treatment with inhaled ipratropium, all patients reported improvement in symptoms. [36, 37]
Botulinum toxin
An intralaryngeal injection of botulinum toxin relieves symptoms by blocking acetylcholine release at the motor end plate and creating a laryngeal muscle weakness, thus facilitating inspiratory and expiratory airflow.
Its use is considered experimental, and equivocal reports in the literature illustrate both effectiveness and lack of benefit. [41, 42]
Panting
This maneuver causes the adducted vocal cords to relax, which increases the glottic aperture.
Topical lidocaine
This may be applied to the larynx.
The mechanism of action is to break the cycle of hyperactive glottal and supraglottal muscle contractions. [43]
Consultations
Consultation with the following specialties may prove useful:
Diet
No diet restrictions are necessary.
Prevention
Deterrence and prevention can be achieved by adherence to speech therapy guidelines and exercises and by relaxation therapy or other measures to decrease anxiety.
Avoidance or control of precipitating factors when identified (eg, exercise, environmental or occupational irritants, rhinosinusitis, gastroesophageal reflux disease) [44, 45, 46]
What would you like to print?