Overview
Background
In 1994, Dake et al first reported the use of thoracic "stent-grafts" for the treatment of descending thoracic aortic aneurysms (TAAs) in patients who were believed to be at excessive risk with conventional open surgery. [1] They showed that placement of thoracic stent grafts, otherwise known as thoracic endovascular aortic repair (TEVAR), could be performed from a technical standpoint with relatively low morbidity; however, they noted that long-term follow-up would be required. The initial stent grafts were actually constructed by the implanting physicians themselves; later, the devices were restricted to those under investigational study.
In 2005, the US Food and Drug Administration (FDA) approved the first commercially available thoracic stent graft, the W. L. Gore TAG endograft system (Flagstaff, AZ); in 2008, the FDA approved the Cook Zenith TX2 (Bloomington, IN) [2] and the Medtronic Talent (Santa Rosa, CA) thoracic endograft systems. All three of these devices were approved for use in the treatment of TAAs.
The randomized clinical trial that led to the approval of the TAG device demonstrated that in patients with appropriate anatomy, TEVAR could be performed with lower operative mortality than open surgical repair (2.1% vs 11.7%) and with less spinal cord ischemia (3% vs 14%), respiratory insufficiency (4% vs 20%), and renal failure (1% vs 13%). [3] However, TEVAR yielded more vascular access–related complications. Importantly, a small percentage of patients who were undergoing TEVAR did not have their aneurysms entirely excluded from the aortic circulation at 1- and 2-year follow-up. As in the 1994 study by Dake et al, the authors maintained that all patients undergoing TEVAR required close long-term follow-up.
Dake et al and investigators in Europe later showed that TEVAR was technically feasible in patients with descending thoracic aortic dissections (patients with tears in the wall of their aortas). [4] Nonetheless, ongoing studies are still trying to identify which patients with thoracic aortic dissection can benefit from TEVAR. Patients with complicated dissections, including those involving malperfusion (where a blood supply is impeded by flaps of aortic tissue caused by the dissection), appear to benefit from TEVAR to seal the site of dissection and reappose aortic wall layers. [4]
It should be noted that historically, open surgical approaches in patients with dissection-related malperfusion have had a high mortality. [5] Accordingly, a US clinical trial examined TEVAR for patients with complicated dissection (STABLE trial, Cook Inc, Bloomington, IN). This multicenter study included patients with complicated type B aortic dissection (cTBAD) who were treated with an endovascular system consisting of proximal TX2 thoracic stent grafts and distal bare-metal dissection stents (Zenith Dissection Endovascular System; Cook Medical, Bloomington, IN). Indications for enrollment included the following:
Branch-vessel malperfusion

Impending rupture

Aortic diameter ≥40 mm

Rapid aortic expansion

Persistent pain or hypertension despite maximum medical therapy
In this trial, the 30-day mortality was 5% (2/40); two more deaths occurred after 30 days, leading to a 1-year survival rate of 90%. The investigators noted aortic remodeling with a decrease in false lumen diameter and an increase in true lumen diameter, with complete thrombosis of the false lumen in 31% at 1 year.
It would seem logical that TEVAR could also be used in patients with uncomplicated dissections. To address this question, a prospective, randomized clinical trial was completed in Europe, the INSTEAD XL trial (INvestigation of STEnt grafts in patients with type B Aortic Dissection). [6] Initially, at 1 year, this trial did not show a mortality benefit [6] ; however, 5-year follow-up revealed an aorta-specific survival benefit in patients treated with TEVAR vs medical therapy (6.9% vs 19.3% risk of aorta-specific mortality), as well as less disease progression risk (27.0% vs 46.1%). [7]
Since the 2005 FDA approval of the TAG device for thoracic aneurysms, the use of endovascular stent grafts for thoracic aortic disease has increased dramatically. Surgeons have subsequently devised novel techniques to facilitate the use of TEVAR in higher-risk patients with more complex anatomy. Branch vessels that would have been occluded by the stent grafts can often be bypassed, and the landing zone can be moved more proximally to allow an adequate seal. [5, 8, 9]
Additionally, trials are currently under way that are aimed at addressing thoracic aortic pathology encroaching on or involving the arch branch vessels, such as the Gore Thoracic Branch Endoprosthesis (Gore TBE) trial (see the first image below) and the Medtronic MonaLSA trial (see the second image below).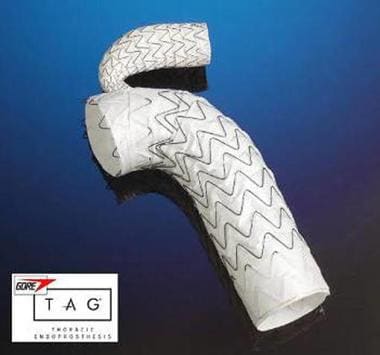 Gore Thoracic Branch Endoprosthesis (Gore TBE). Courtesy of WL Gore & Associates, Inc (Investigational use only. Limited by US law to investigational use.).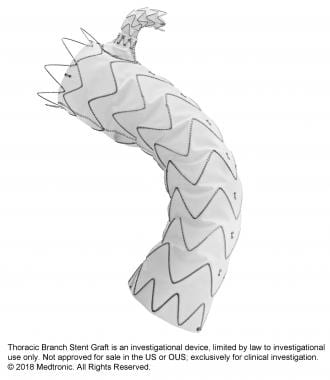 Medtronic Thoracic Branch Stent Graft. Courtesy of Medtronic (Investigational device; use is limited by law to clinical investigational use only. It is not approved for sale in the US or OUS.).
Indeed in the authors' own experience at the University of Florida, a severalfold increase has been seen in TEVAR over open cases in the past few years (see the image below).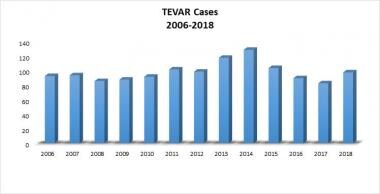 The University of Florida/Shands Hospital's experience with open repair and Thoracic EndoVascular Aortic Repair (TEVAR) repair of thoracic aortic disease with a shift toward TEVAR.
Over time, various smaller-profile TEVAR devices have been investigated through trials. At present, the Cook Alpha is the smallest-profile device that may be considered in patients with small iliac arteries. The Medtronic Navion is another lower-profile TEVAR device that has been approved by the FDA.
TEVAR has been around for two decades and has come to be established as first-line treatment for most descending thoracic aortic pathology, aneurysms, dissections, and penetrating aortic ulcers, yielding a significant reduction in morbidity and mortality as compared with open surgical repair. Improved materials, reduced delivery sheath sizes, enhanced conformability, the development of tapered grafts, and the availability of a wider range of sizes have all improved the applicability of TEVAR and the outcomes of the procedure over this initial decade of widespread use.
Indications
Descending thoracic aortic aneurysm
The official FDA-approved "on-label" indication for the stent grafts currently available commerciall yin the United States (W. L. Gore C-TAG, Cook Alpha, Medtronic Valiant, Navion, and Bolton Relay) is for treatment of descending TAAs with a diameter at least two times greater than that of the adjacent aorta. Furthermore, there must be sufficient aorta (typically 2 cm) of normal dimensions on either side of the aneurysm (the so-called proximal and distal landing zones) to allow the stent graft to adhere (seal) to the aortic walls and achieve exclusion of the aneurysm.
Complicated descending thoracic aortic dissection
TEVAR is increasingly being considered the optimal treatment of complicated descending thoracic aortic dissections in preference to open surgery. [4, 5] Clinical experience over time, the ongoing evolution of endovascular devices, and several multicenter trials have led to FDA approval of Medtronic and Gore thoracic stent graft devices for use in patients with acute and chronic dissection. In the United States, the Zenith TX-D endograft system (Cook, Bloomington, IN), as of January 2019, is in the process of seeking approval for use in complicated dissection.
Focal penetrating ulcer
Patients with focal penetrating ulcers in the thoracic aorta constitute another group in which TEVAR may prove beneficial because these patients have defined, limited areas of the thoracic aorta where loss of endothelial integrity can lead to potentially life-threatening rupture. Coverage of the ulcer with a stent graft can be performed with minimal morbidity. However, patients with penetrating ulcers often have extensive peripheral vascular disease, which may limit their suitability for TEVAR. [6, 10]
Aortic trauma
TEVAR can be life-saving and has now become the standard of care for patients with thoracic aortic trauma resulting in intimal tears, pseudoaneurysms, or frank ruptures. [11]
Contraindications
Patients undergoing TEVAR must have anatomy that is suitable for deployment of the endografts. The following would be contraindications for placement of TEVAR devices:
Proximal or distal landing-zone aortic diameter beyond the range of 18-42 mm (fusiform and saccular aneurysms/penetrating ulcers), 18-44 mm (blunt traumatic aortic injuries), or 20-44 mm (dissections)

Proximal and distal aortic neck lengths < 20 mm (fusiform and saccular aneurysms/penetrating ulcers, blunt traumatic aortic injuries); the proximal extent of the landing zone is dissected

Iliac/femoral access vessel morphology that is not compatible with vascular access techniques, devices, or accessories; however, an iliofemoral or aortofemoral conduit may be created to facilitate the use of TEVAR for the thoracic aortic pathology

Involvement of branch vessels (including the celiac and subclavian or carotid arteries); however, these branch vessels can often be bypassed to create landing zones in so-called hybrid techniques,

[12]

or the use of branch graft trial devices may be considered
Patients with connective tissue disorders in whom a high likelihood exists of further tissue degeneration (eg, those with Marfan disease) were specifically excluded from the trials that led to FDA approval of the devices available in the United States (Cook Alpha, C-TAG, Medtronic Valiant, Bolton Relay).
What would you like to print?