Periprocedural Care
Equipment
The equipment employed for compartment pressure monitoring includes the following:
Stryker Intra-Compartmental Pressure Monitor System (Stryker Surgical, Kalamazoo, MI; see the first image below)

Syringe, prefilled with saline

Side-port needle

Diaphragm chamber

Arterial line transducer system (see the second image below) - This system, used with a simple or side-port needle, provides a high degree of accuracy for simple episodic readings; the commercially available Stryker system (see the first image below) provides consistent accurate readings for episodic and extended monitoring situations; the mercury manometer system is the least accurate measurement system, is no longer available, and therefore is not described here

Intracompartment needle - Needles available for placement into the compartment for pressure measurement include a simple 18-gauge needle, an 18-gauge spinal needle (for deep compartments), and the side-port needle (Stryker); the side-port needle and slit catheter have comparable efficacy in this setting, whereas a simple 18-gauge needle is less precise

High-pressure tubing

Pressure transducer with cable

Pressure monitor/module

Sterile saline

Transducer stand that allows variable height

Two three-way stopcocks

Syringe, 20 mL

Stryker.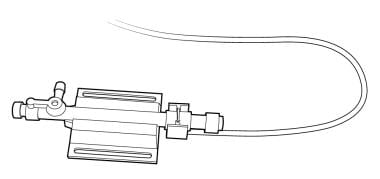 Arterial line transducer.
Patient Preparation
Anesthesia
The skin should be anesthetized with a small amount of local anesthetic, with care taken to avoid injection into muscle or fascia. Excessive deep infiltration may falsely elevate the compartment pressure reading. Lidocaine 1-2% without epinephrine is sufficient to provide local anesthesia (see Local Anesthetic Agents, Infiltrative Administration).
Consider procedural sedation and analgesia in any patient who may be uncooperative and unable to hold the extremity still during the procedure. Any struggling or movement that requires restraint of the extremity may falsely elevate the compartment pressure.
Positioning
The positioning of the patient and the extremity for compartment pressure measurement depends on the extremity being studied, the compartment being studied, and the presence or absence of coexisting injury.
Patients should be comfortable, usually in the supine or prone position. The compartment to be measured should be at the same level as the heart. The patient and extremity should be positioned so that the needle can be introduced perpendicularly to the muscular compartment being measured. Remove any obstructions at the needle's entry point into the skin, as well as all structures that may put pressure on the compartment and falsely elevate the pressure.
What would you like to print?