Treatment
Medical Care
High-potency topical steroids have historically been the mainstay of treatment, and frequently the condition responds rapidly. [1, 7] Topical tacrolimus ointment has also been reported to be helpful, both alone and in addition to oral prednisone. [14, 22, 23, 24] Other treatments reported to be effective include topical and oral retinoids, topical calcipotriol, and oral zinc sulfate, but experience is limited and results appear varied. [5, 6] A single case report described significant improvement following 3 weeks of cyclosporine 3 mg/kg/day in a patient unresponsive to 4 weeks of topical clobetasol, with recurrence following withdrawal of cyclosporine. [25] An additional report described improvement with topical dapsone in four patients, the majority of whom had tried multiple topical and oral therapies with no success. [26] However, once again, evidence regarding these treatments is limited to case reports and case series. Erosive pustulosis of the scalp may recur following treatment.
In the authors' experience, a highly successful treatment plan includes debridement of the overlying crust with curettage, followed by electrodessication and application of topical mupirocin 2% (applied by the patient once or twice daily). A culture is taken prior to treatment to rule out secondary infection, and biopsy specimens are obtained from any regions suggestive of carcinoma. The patient is seen every 2-3 weeks until lesions have completely resolved, which generally requires no more than three treatments. See the images below.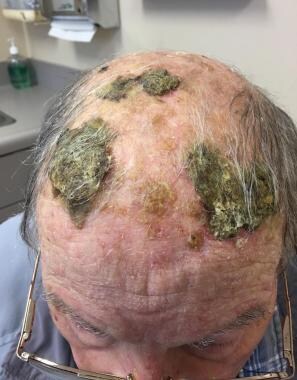 Erosive pustulosis of the scalp prior to curettage.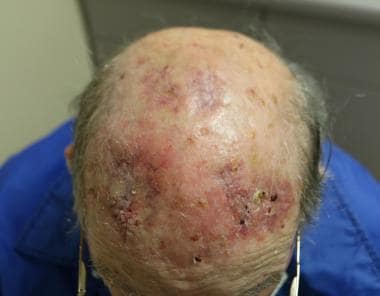 Erosive pustulosis of the scalp 4 weeks following two treatments of curettage debridement with electrodesiccation performed at 3-week intervals.
Additional therapeutic modalities used in conjunction with curettage have been reported successful, including application of a novel silicone gel dressing (Stratamed) immediately following curettage and the use if aminolevulinic acid photodynamic therapy 1-2 weeks following curettage. [27, 28, 29] Although erosive pustulosis of the scalp has been reported to be associated with photodynamic therapy, it was also reported to resolve with photodynamic therapy following curettage in another patient. [30] However, the limited data make it unable to be determined if debridement alone would have exhibited similar results.
A single case report described the significant improvement of chronic, severe erosive pustular dermatosis of the scalp with the use of a fractional 2940-nm erbium:yttrium aluminum garnet (YAG) laser in addition to the patient's topical regimen. [31] Another case study reported the use of dehydrated human amnion/chorion membrane allograft (dHACM) to successfully treat erosive pustulosis of the scalp associated with lamellar ichthyosis. [32] A more recent case report described the successful use of oral tofacitinib in treating erosive pustular dermatosis of the scalp. [33]
Erosive pustulosis of the scalp patients should continue to be observed because carcinomas such as squamous cell carcinoma and basal cell carcinoma have been reported to arise secondarily in some cases. [34]
Surgical Care
Surgical excision is not necessary unless carcinoma has been demonstrated on histology. In the authors' experience, debridement of the overlying keratotic plaques should be performed with local anesthesia and curettage. Antibiotic ointment, such as mupirocin 2%, should be applied until treated regions are fully healed in order to prevent secondary infection.
Consultations
Consultation with a dermatologist should be considered.
Diet
No special dietary needs are required in erosive pustulosis of the scalp.
Activity
No activity restrictions are necessary in erosive pustulosis of the scalp.
Long-Term Monitoring
Long-term follow-up for erosive pustulosis of the scalp is indicated to monitor for possible associated morbidity, including scarring and the development of cutaneous malignancy in this high-risk population. [5] Since erosive pustulosis mainly occurs on sun-damaged skin of elderly patients, routine skin screening should be performed.
What would you like to print?