Periprocedural Care
Equipment
Equipment for needle cricothyroidotomy and percutaneous transtracheal jet ventilation (PTJV) consists of the following [7, 21] :
High-pressure noncollapsible oxygen tubing

Needle catheter, 13 or 14 gauge

Oxygen source with a flow at 10-15 L/min

Manual jet ventilator/insufflator device
If a manual jet ventilator/insufflator device is not available, needle cricothyroidotomy and PTJV can be performed with equipment that is readily accessible in emergency settings, is simple to assemble, and is easy to use. This equipment includes the following:
Oxygen source with a flow at 10-15 L/min

Commercial bag-valve-mask device (eg, Ambu bag) that includes noncollapsible oxygen tubing and a reservoir bag

Large-bore over-the-needle intravenous (IV) catheter (14 gauge; 2 in. [5 cm])

Plastic syringe, 3 mL, with Luer-Lok tip that fits tightly into a 7.5-mm inner diameter endotracheal tube adapter

Endotracheal tube adapter, 7.5 mm inner diameter
Equipment assembly
Connect the IV catheter to a 3-mL syringe barrel (with its plunger removed). Connect the 3-mL syringe barrel to the 7.5-mm inner diameter endotracheal tube adapter.
Lock the valve of the bag-valve-mask device, and connect its oxygen tubing to an oxygen source with a flow at 10-15 L/min. Connect the endotracheal tube adapter to the bag-valve-mask device.
Manually ventilate, alternating 1 second of compression with 4 seconds of relaxation (ventilations are guided with chest rise).
Patient Preparation
Anesthesia
Lidocaine 1-2% at a dose of 2-3 mL is generally sufficient for local skin anesthesia via infiltrative administration in patients who are alert and awake. Injection of a small amount of anesthetic percutaneously into the trachea itself will blunt the cough response as well.
For more information, see Local Anesthetic Agents, Infiltrative Administration.
Positioning
The patient ideally should be positioned to expose the neck and its landmarks (see the image below). If no contraindications are present (eg, known or suspected cervical spine injury), place the patient's head in a hyperextended or "sniffing" position. Extension of the neck aids identification of the anatomy and control of the cricoid space.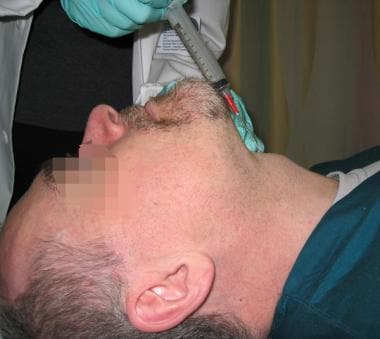 Percutaneous transtracheal jet ventilation (PTJV). Landmarks and positioning.
The cricothyroid membrane is located by identifying the dip or notch in the neck below the laryngeal prominence. This membrane is bounded by the thyroid cartilage superiorly and the cricoid cartilage inferiorly. The landmarks are most easily found by placing the index finger on the prominence of the thyroid cartilage and slowly palpating downward until the finger "drops off" the thyroid cartilage and onto the cricoid membrane.
Airway protection during PTJV is accomplished by positioning the patient to allow drainage of secretions away from the larynx during expiration, so that upward gas flow through the larynx causes secretions and blood (for example) to be blown away from the larynx.
What would you like to print?