Periprocedural Care
Equipment
Ventilating devices that may be used in noninvasive ventilation (NIV) include the following:
Ventilators (see the first and second images below)

Negative-pressure ventilator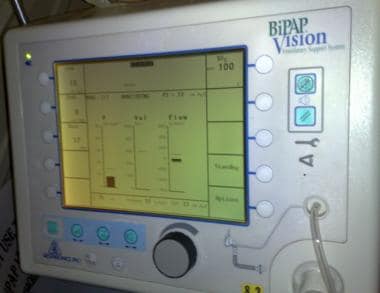 Bilevel positive airway pressure (BiPAP) vision ventilator.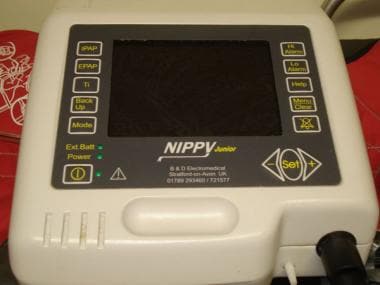 NIPPY ventilator (B&D Electromedical, Warwickshire, UK).
Interface appliances that may by used in NIV include the following:
Nasal/nasopharyngeal prongs (see the first image below)

Nasopharyngeal tube for continuous positive airway pressure (CPAP)

Nasal mask (see the second image below)

Face mask (see the third, fourth, and fifth images below)

Head mask

Cuirass (see the sixth image below)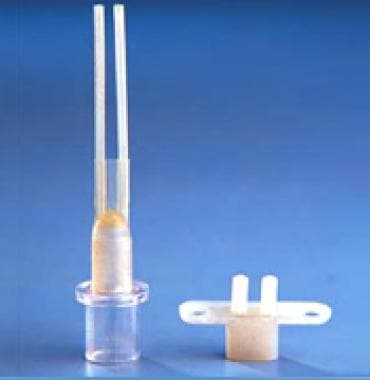 Nasal and nasopharyngeal prongs for continuous positive airway pressure (CPAP).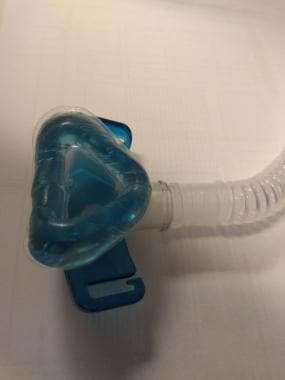 This cushioned nasal mask (least invasive mask available) provides comfort by covering only nostrils. Stretchable strap around neck helps secure mask in place. Pressure over nasal cartilages and nasal septum should be preventing by checking frequently.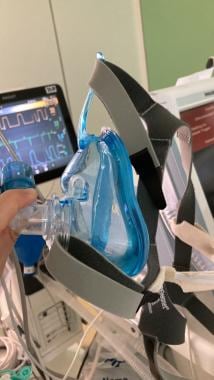 Noninvasive ventilation face mask that covers nose and mouth is shown with attachments, prior to fixation on patient's face. Straps help secure mask tightly onto forehead and along sides of cheeks going around head, thereby maintaining tight seal.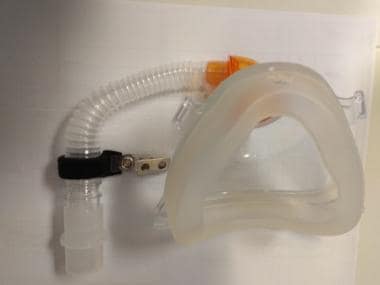 This whole-face mask for noninvasive ventilation is very useful, especially with pediatric patients, in that it covers entire face while maintaining transparency so that children can appreciate presence of parents or caregivers. It helps improve compliance and reduce anxiety.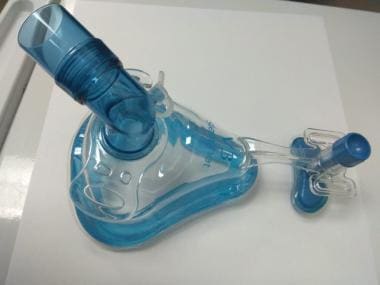 This full-face mask is suitable for noninvasive ventilation in that it provides seal over nose and mouth with minimal tension. Forehead cushion helps stabilize mask over front of forehead, thereby releasing pressure over nasal bridge.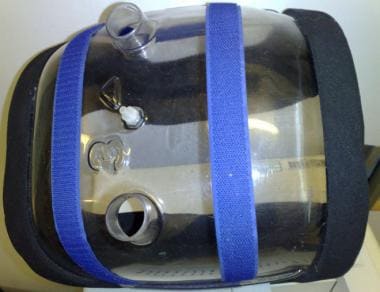 Cuirass.
Patient Preparation
Anesthesia
Mild sedation and analgesia may be required to keep the patient comfortable. Anxiolytics may be helpful for patients experiencing claustrophobia from the face mask or for patients with increased respiratory rates secondary to anxiety. However, extreme caution must be exercised in using sedative agents in the setting of respiratory difficulty; these agents may depress respiratory drive and lead to hypercarbia or respiratory failure, thereby necessitating intubation. The respiratory effort of the patient must be maintained.
Patients generally are cooperative and do well with explanation of the application procedure.
Positioning
In noninvasive positive-pressure ventilation (NIPPV), positioning for face mask or nasal mask application is as follows [12] :
Seat the patient in a bed or chair in a 30-90º upright position.

Position the mask so that the nasal portion of the mask fits just above the junction of the nasal bone and cartilage

A strap is needed to maintain correct positioning of most interfaces and is important for patient comfort; simple disposable Velcro straps are most often used, and these should be fastened so that one or two fingers can pass between the headgear and the face; it should be noted that erosion of the nasal bridge and nasal cartilage can occur with long-term use
Positioning for nasal prong application is as follows:
Nasal prongs should fill the nasal openings completely without stretching the skin or putting undue pressure on the nares, and the corrugated tubing should not be touching the patient's skin

No lateral pressure should be exerted on the septum; such pressure could pinch or twist the septum
Consider the following when setting up the machine:
Humidifier - Use a disposable humidifier top with a 1-L bag of water attached; adequate humidity prevents drying of secretions

Oxygen flow - A gas flow of 6-10 L/min is delivered via a blender; this amount of gas flow provides adequate pressure to wash out carbon dioxide in the system, compensate for normal air leakage from tubing connections, and generate adequate pressure

Occlude the pressure line connection port with the white plug provided; this completes the NIPPV circuit

For CPAP, set the default pressure at 4-6 cm H 2O; pressures of 10 cm H 2O or higher may be used on an individual basis, depending on the patient's pathophysiology; remember to check the water level and adjust for evaporation, as necessary

For bilevel positive airway pressure (BiPAP), common settings are about 15 cm H

2

O for inspiratory positive airway pressure (IPAP) and about 5 cm H

2

O for expiratory positive airway pressures (EPAP); for more details, see

Noninvasive Positive-Pressure Ventilation

Suction the airway, if necessary, before applying the face mask
What would you like to print?